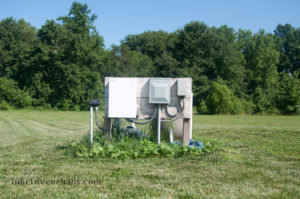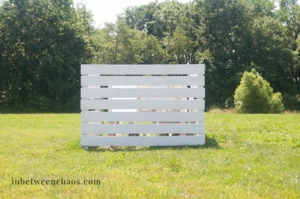 One of the first things you see when you pull up to our house is the pool filter… not exactly welcoming! We placed it with plans to one day build a garage/ pool house, but now after needing funds for our investment houses and getting laid off, that plan is on hold.  So, I knew I needed to do something with that pool filter.  I shopped all of the pre-made enclosures and screens, but I easily could have spent $150 just to shield off two sides.  So for less than $40 (woo hoo!) I was able to block off 3 sides! It was a quick fun project that is functional and impactful.  And the kids helped… bonus!
This enclosures measures 70″ across the front, 6′ on the sides, and is 52″ tall.  I used cedar fence pickets, which are 5 1/2 inches wide.  They are super cheap but also imperfect.  There are slight variations in width and some of the boards cup a bit.  If you're looking for perfection, buy 1x6s.  I used pickets, because perfection just wasn't important on this project (it rarely is to me!) and it helped the wallet!
Supplies:
2 2x4s @ 10′
21 cedar fence pickets – each is about  $1.50
2″ deck screws
 I cut the dog ears off of the pickets, leaving each picket at 70″.  I cut each 2×4 into 2 pieces at 52″ for the posts.
I laid my 2x4s down and started with the top picket, overhanging the ends of the picket over the 2×4 by 5/8″ on each side.  To easily measure this, I used a scrap dog ear end I had cut.  Check for square, and screw in using the deck screws.

I then moved down to the next picket, leaving a 1″ gap.  This part moved very quickly, and before I knew it, my front panel was done.
For this next part, it's way easier if you have a helper, preferably one older than 7 years old.  But I'm stubborn, it was right before the tax deadline when hubby was no where to be found, and I insisted on getting this done myself.  Here's how I did it:

I flipped the front panel bottoms up, and laid down my top side picket on the ground.  I butted the end of the picket with the end of the top front picket, squared it up and screwed it in to the side of the front post.
Next, I stood up my next 2×4 post at the end of the side picket I just screwed in.  The picket should be flush to the sides and top of the 2×4.  I checked for square and screwed it in.
At this point, the panels will stand on their own.  I used clamps to hold up each picket and screw in until I'd finished the side.
I then completed the 2nd side panel as I did the 1st.
I gave the whole piece a quick sand just to help with the paint application.
After 2 quick coats of paint, I moved it into position.  Ahhhh… now I'm just waiting for my flowers to grow!