I came across this awesome bathroom from  That's My Letter on Pinterest one day and drooled a bit over the plaid wallpaper.  And then my jaw dropped when I'm realized it wasn't wallpaper at all but paint! I was eager to try it, but I didn't have any rooms that could serve as guinea pigs. So I made this board to bring the trend into my Christmas. I'm still not sure whether I'm going to use it to hang a wreath or to display my Christmas cards… decisions decisions…
I started off with red because…… Christmas! Painting it was a lot of fun, so I just thought I'd flip it over and try some green 🙂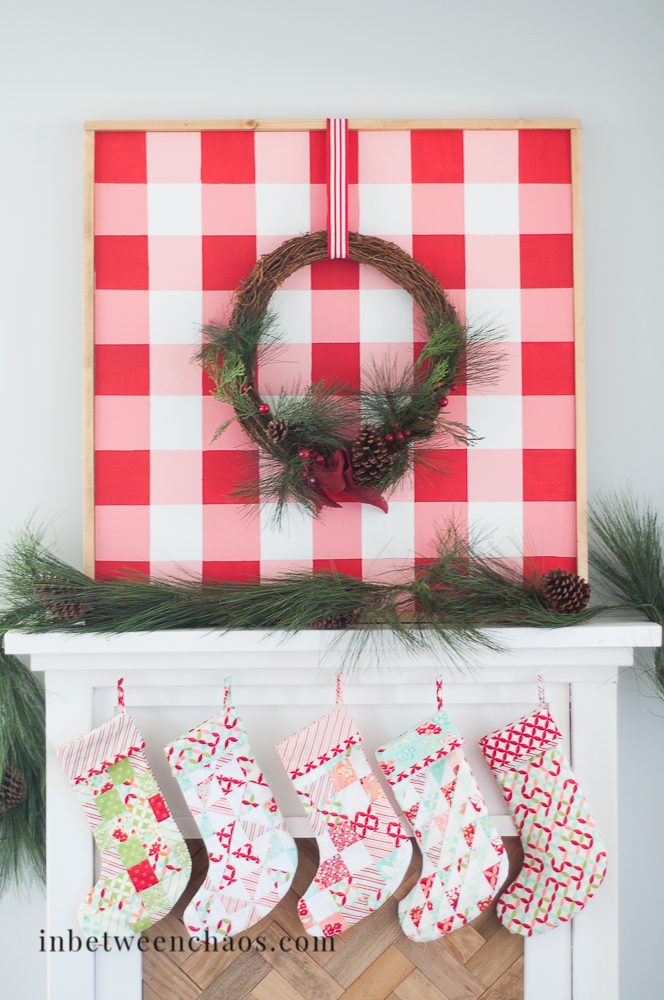 Supplies
Sheet of plywood in desired size – mine is 3′ x 3′
Painters tape
2 1×2 @ 36″
2 1×2 @ 37 1/2″
Paint in three shades using following formula:

Light color – 7 parts white, 1 part main color
Medium color – 3 parts white, 1 part main color
Darkest color – main color of choice – I used the Apple Barrel acrylic paint in Bright Red  and HGTV's Kilkenny from Lowe's for the green.
Tip – after using latex and acrylic , I would definitely recommend the acrylic to allow for faster painting and better staying power under the tape
Tip #2 – I used medicine cups to measure my paint. I made 8 tsp of paint total for each color, and it was plenty.
Steps
Decide on the size of your squares. I penciled in a grid of 4 inch squares. If you are using tape, you can skip this step, but I found it helpful the first time around to make it easier to see what I was doing.
Following the squares, tape off your horizontal rows.
Once your paint had dried, remove the tape and then tape off the vertical stripes. Paint the vertical stripes in the medium color. To save some work, you can just paint the white parts on the vertical stripes like I did below.
Leave the tape on from step 3. Then tape off the horizontal rows again.
Using your main/ darkest color, paint the squares where the light color and medium color intersect. 
I framed mine out with a simple 1×2 frame stained with minwax special walnut.
To create the card display, I strung bakers twine from mini command hooks (these things are a wonderful help in holiday decorating).
I loved hanging my stockings on my faux fireplace (plans for that here!), and I made the yarn trees (check out my source list for similar ones). My wonderfully talented quilting mom made the stockings. Check them out here!
Hope this inspires you to find something to buffalo check up! I'm still toying with painting walls with this trick….
-Marianne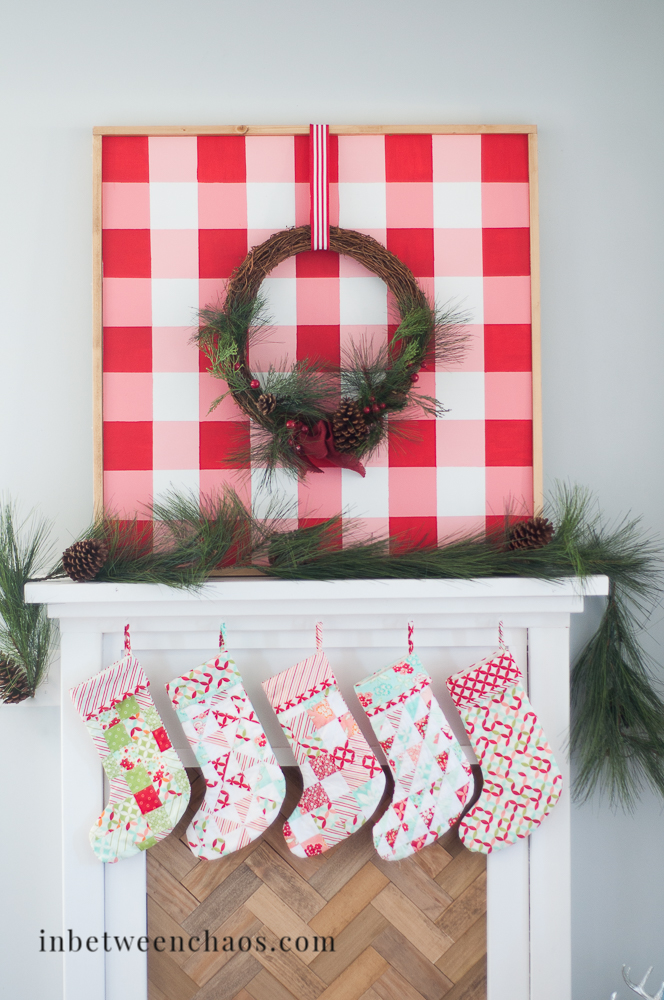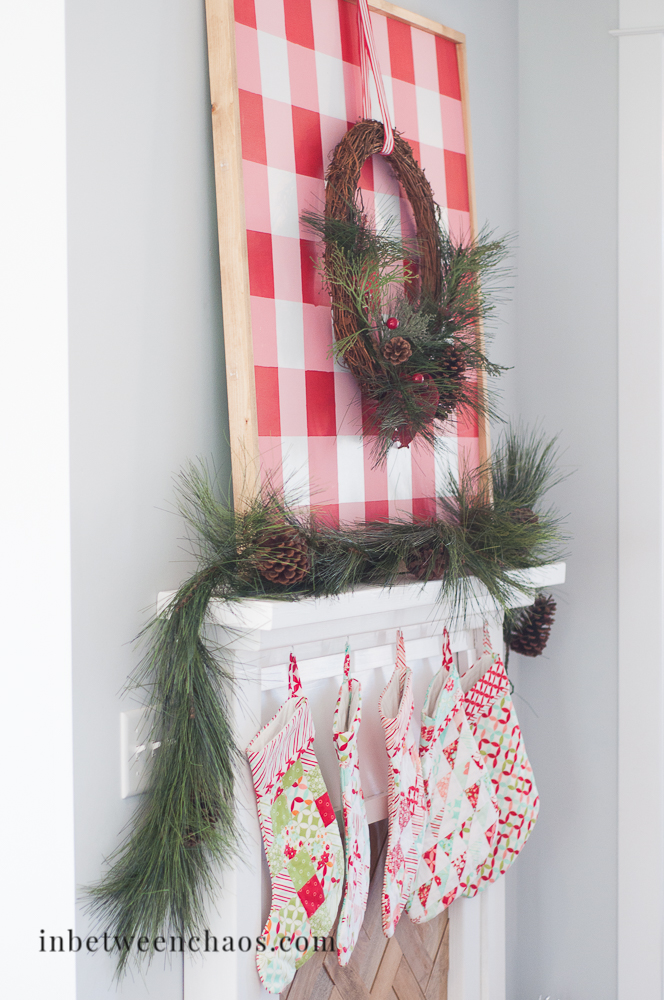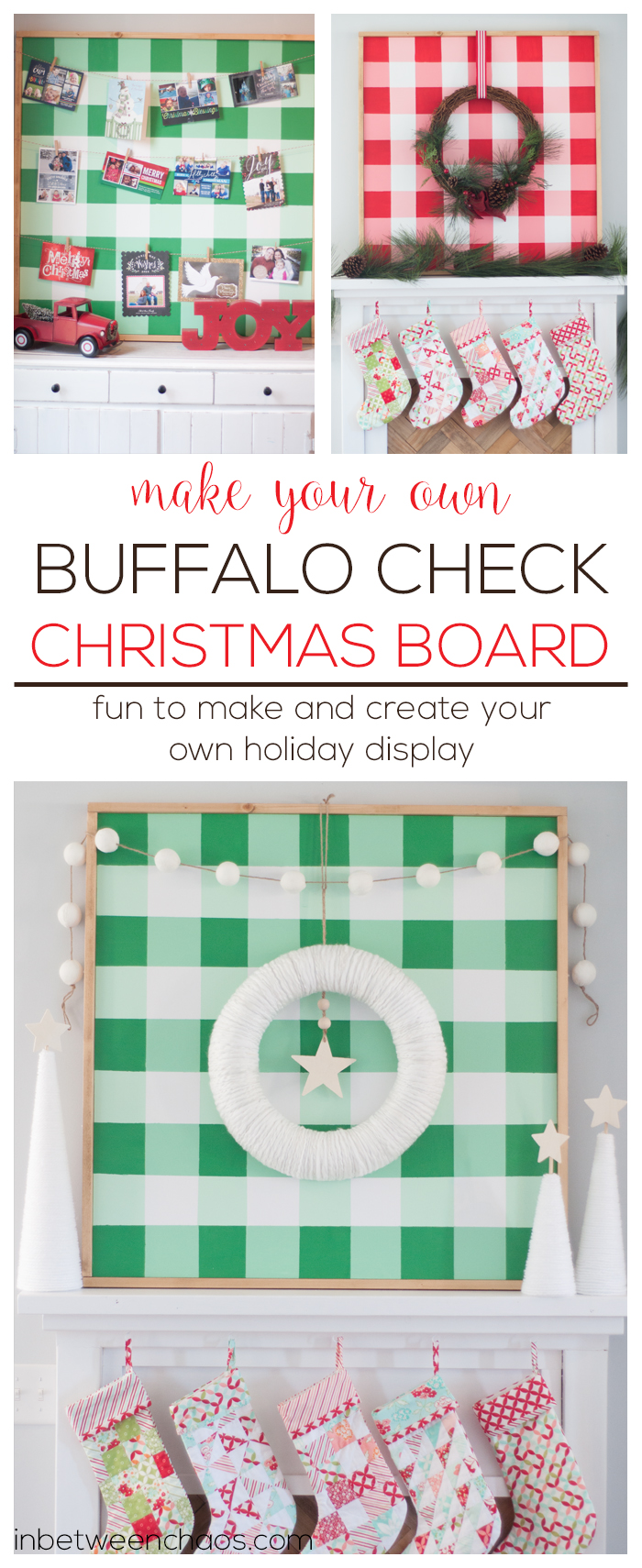 ---
Source List for similar or actual items shown in this post
This post contains affiliate links, which cost you nothing but may give me a small commission to help support this fledgling blog… win win!  Thanks for stopping by!
Linking up at iheartnaptime for the Link Party Palooza!