I'm in the middle of my bathroom refresh planning, and I've found a ton of penny tile inspiration.  Oh wait… I'm not planning on any penny tile, or any tile at all for that matter.  But I can't help but ooh and ahh over some pretty little circles of ceramic.
Penny tile can get expensive in large areas, and I'm not just talking materials.  They aren't a project for a beginning tiler. If the sheets aren't spaced perfectly, its easy to see the mistakes.  Definitely hire someone with experience if you're tiling a large area with them.
Secondly, they can be a pain in the you-know-what to clean depending on where they are installed (kinda like my hexagons, but that's another story), the color, and the degree of variation in the color.
So with that in mind, here are some great ways to use pennies to get some big bang for your buck!
(On a side note, am I the only one who drools over penny tile covered bathrooms with beautiful clear glass doors who can only think about how stinkin' hard they will be to clean?)
Shower Frame
I love the BIG impact from just a small number of small tiles…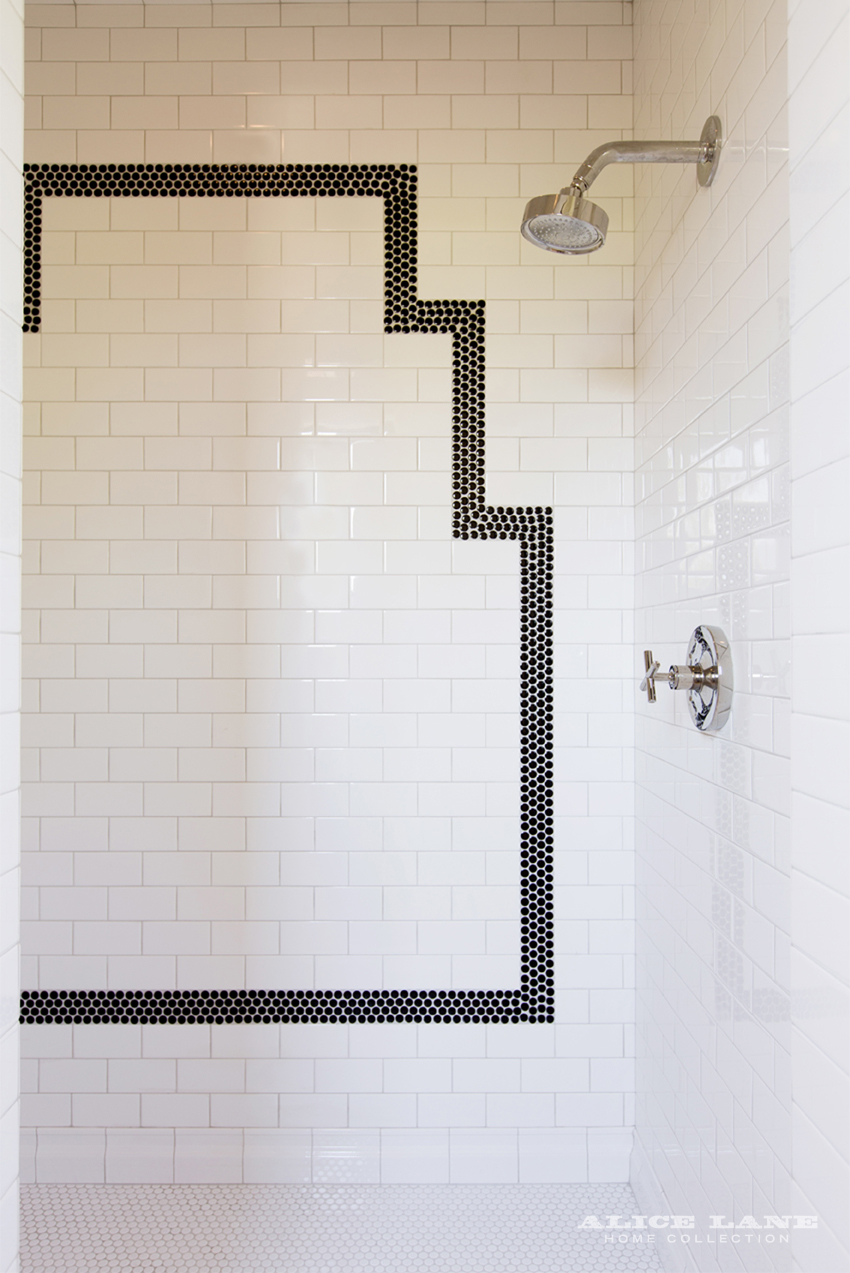 via Alice Lane Home Collection
Single Row
The single row of penny tiles here make my heart go pitter patter.  I seriously love that little row of dots.
via Design Manifest
The single row continues in the shower, and the beautiful navy creates a rug on the shower floor.  Oh, the beauty…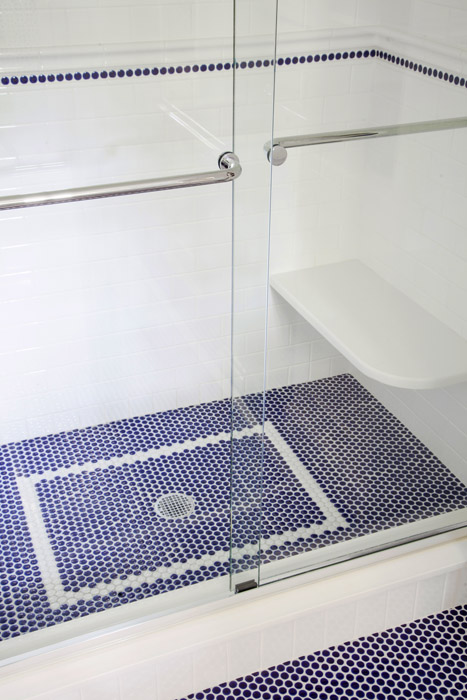 via Design Manifest
Pennies and Subways
So this may not be a bath, but it is certainly one of my favorite uses of penny tiles… to add a little splash to a simple subway backsplash.  This picture was the inspriation for the backsplash pictured below it in my House of Plaid flip.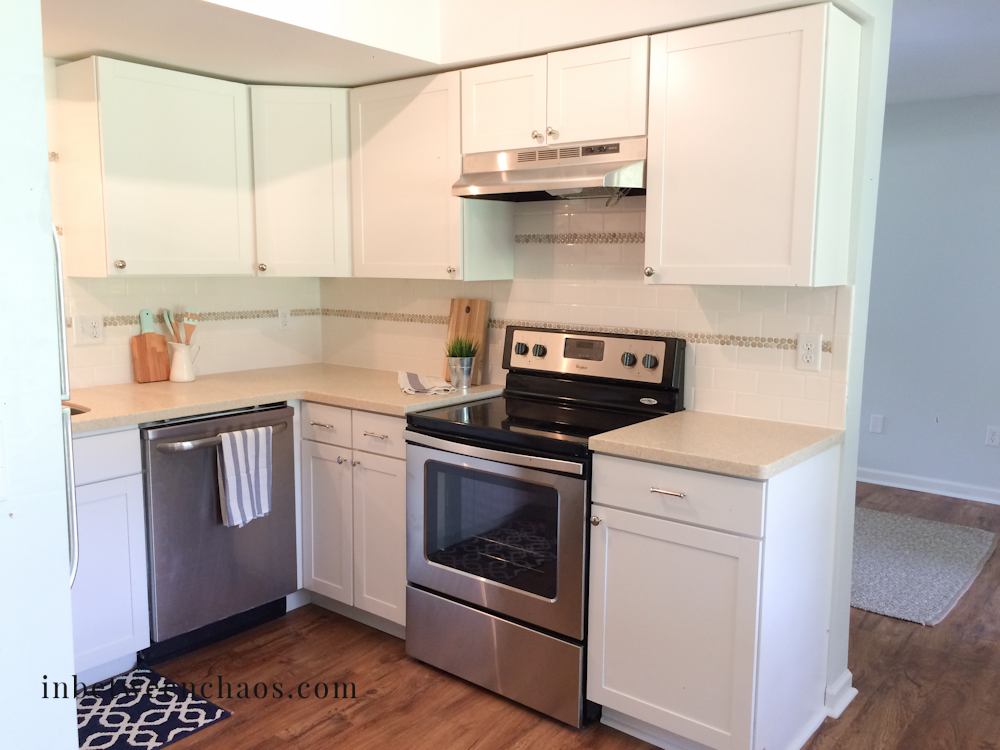 Mint + Penny Rounds = Love…
Again, there is something about the single row of pennies that I just love.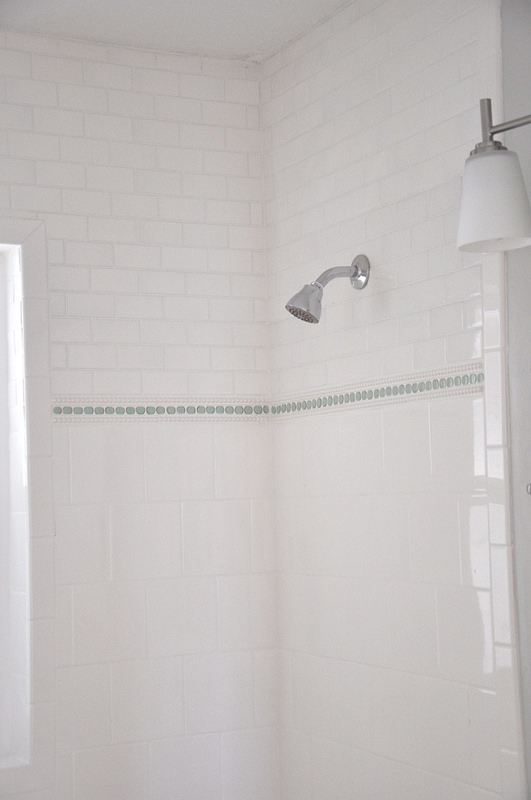 via lindsayandandrew
Penny Niche
Love the use of the pennies in the niche with the contrasting grout.
via 4Men1Lady
Shower Band and Herringbone
The row of pennies here isn't groundbreaking, but combined with the herringbone pattern of simple subways, and the bright white against the dark tile band and floor, it makes for  a stunning combination.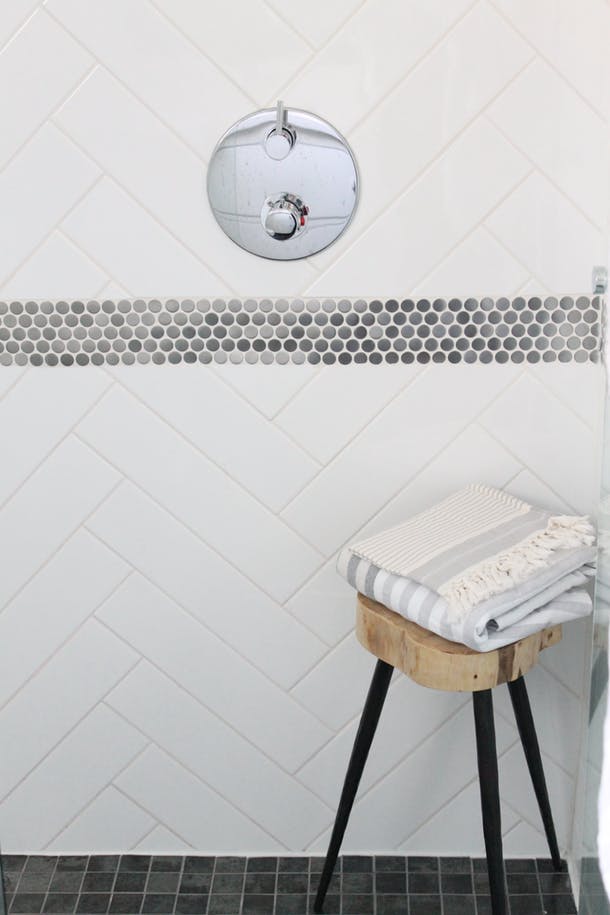 What about you?  I would love to see your favorite penny designs – I can never get enough!
-Marianne