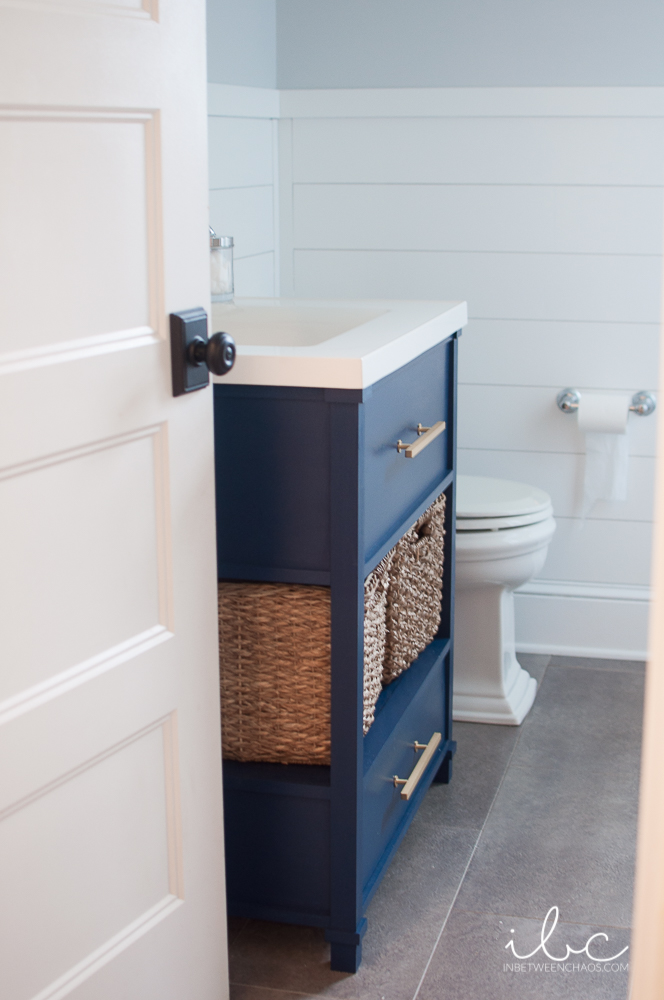 The biggest part of this little bathroom reno was the new vanity. It was also the part that stressed me the most! I've never made a vanity before, much less designed one, so I really took the time to think through all the little nuances…. like how the top attached, how to work around the plumbing, and how the drawer would work. I'd never even built a drawer before. This was mostly due to my fear of it. But I knew a drawer was a must-have on this vanity, so I pushed my fears aside and decided to go for it. You should to… my secret is below 😉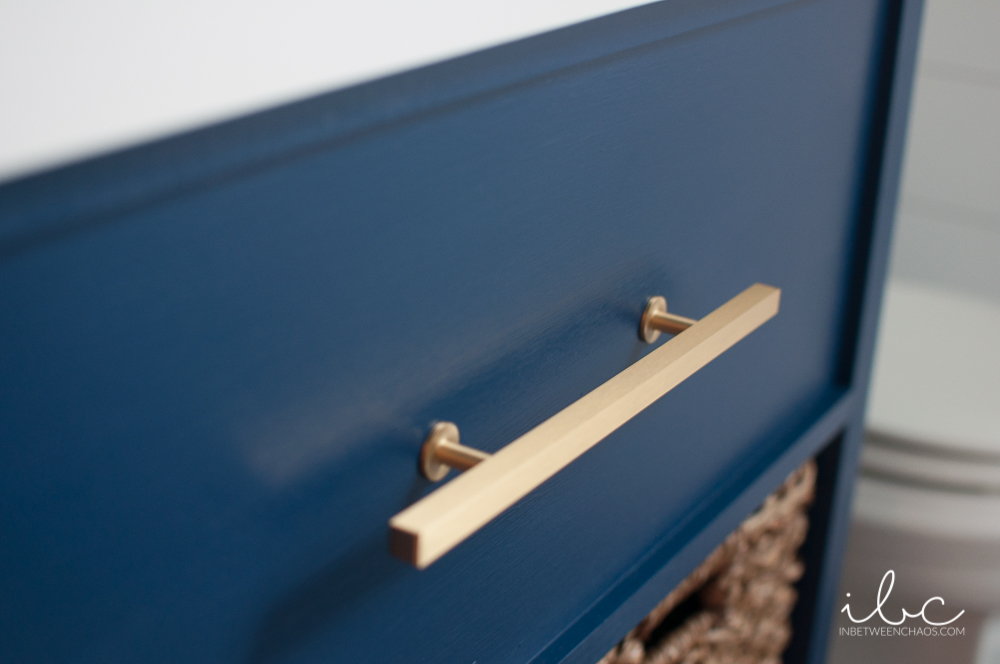 So planning this vanity took some time.  I started with 1 1/2″ legs, then increased it to 2 1/2″ legs, then I changed it back to 1 1/2″.  And I wanted to add simple trim to keep it from looking too simple… know what I mean?
The vanity below fits my sink top which measures 31″ wide and 22″ deep.  The top is 2″ tall, so the vanity in total is 36″ high.  Adjust the measurements below to fit your sink top.
Cut List
1×2
2 @ 17.5″, side counter support
6 @ 18″, side panel trim
1@ 26″, front panel counter support
3 @ 26.5″, front panel bottom trim and drawer trim
1×3
6 @ 2″ (ripped down to 2″ wide to create 2″ x 2″ squares), leg trim
2 @ 2″ (ripped down to create 2″ x 1 3/4″ squares), leg trim, top back
1×4
2@ 26.5″, rear counter support and rear drawer support
1×10
2 @ 18″, upper side panels
1@ 26.5", front panel
1×8
2 @ 18″, drawer side panels
1 @ 26.25″, ripped down by 1/4″ to be 7″ wide, drawer face
2×2
4 @ 30.5, legs
4@ 2″, feet
Steps
Begin by assembling the sides.  Drill pocket holes around all 4 edges of each of the 4 side panels. Attach an upper side panel flush to the top of 2 legs, inset 3/8″. To make this easy, lay the side panel on top of 3/8″ thick stock. Attach the drawer side panel (bottom) 3/4″ up from the bottom of each leg. Inset the panel 3/8″.

Attach the 18″ 1×2 side panel trim to the top and bottom of the drawer side panel, and to just the bottom of the upper side panel.
Center the 17.5″ 1×2 counter support trim on top of the upper side panel, securing with the pocket holes from step 1.

Attach 1 2×2 square centered on top of front leg, overhanging by 1/4″ on each side.
Attach (1) 2 x 1.75″ piece to the top of the back leg, overhanging by 1/4″ in the front, back, and outside.  Trim should be flush to inside of leg.
Center and glue a 2×2 square onto each foot.  Flip piece upside down and attach feet using glue and a 4″ screw through foot, into trim, and then into leg.

Repeat steps 1 through 6 to construct other side.
Drill holes around all 4 sides of the front panel. Attach the front panel flush to the top of the legs, inset 3/8″. Drill holes towards bottom of 1×4 rear counter support (see pic below). Attach to back legs, flush to top of leg trim.
Trim the bottom of the front panel with a 26.5″ 1×2 trim piece.

Trim the top of the upper front panel with the 26″ 1×2 counter support, centered on the top of the panel.

Attach the drawer panel trim to two front legs using pocket holes and screws facing down.  Front trim should line up with the side drawer panel trim.

Cut to fit a 3/4″ piece of plywood to create the shelf.  Attach with pocket holes and screws into 1×2 top trim and the back legs.

I built my drawer with 1/4″ plywood bottom and 1×6 sides.  Build your drawer to your measurements according to the specs of your hardware.  I had zero experience building drawers, and quite frankly, this part made me nervous.  But if you are in the same boat, do not miss this video.  Ana White breaks it all down for you!  I used the same hardware, and that really helped make it easy to adjust and fit.  You can find the slides here, and the rear brackets here.
To attach the drawer face, I pre-drilled my pull holes. With the drawer shut, I centered the face inside the frame using shims. I then screwed temporary screws through the hardware holes and into the drawer.  I pulled the drawer out, screwed the drawer to the drawer face from the inside, removed the temporary screws, then attached the handles. This video is great at showing this technique!


Wow!  That was a lot!  But I'm v

ery happy with it.  Be sure to adjust your measurements for your plumbing.  If your plumbing sits lower, you can use 1×6 lumber to create the drawer frame.  Or you could simply create a shelf on the bottom if you don't wish to have a drawer.I was very much ready to paint this puppy!  I used Sherwin Williams Salty Dog.  I then finished it off with these pulls.Enjoy!

Other posts you may love!

---

This post may contain affiliate links, which cost you nothing but may pay me a small commission to help support my blog.  Thank you for stopping by!