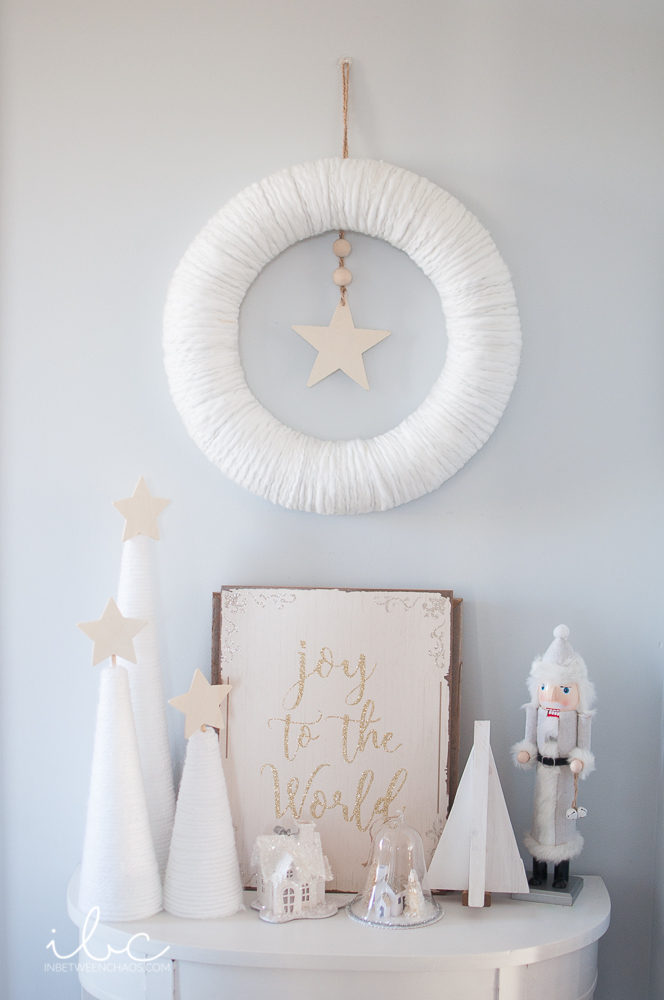 I started this post last year, because that is when I made these trees. And yet I never got it posted. Call me a procrastinator, but hey, at least I'm getting it to you now! Last year, I used them with my buffalo check display board, but this year, I created a little white and cream display in my foyer that I'm loving, and so I thought maybe you, dear readers, would enjoy some of this prettiness in your house. 🙂
Side Note: I bought the wreath, but they don't sell it anymore. I've linked to some supplies to use if you wish to make a matching wreath. It should be pretty easy once you have out all of the supplies to make the trees 🙂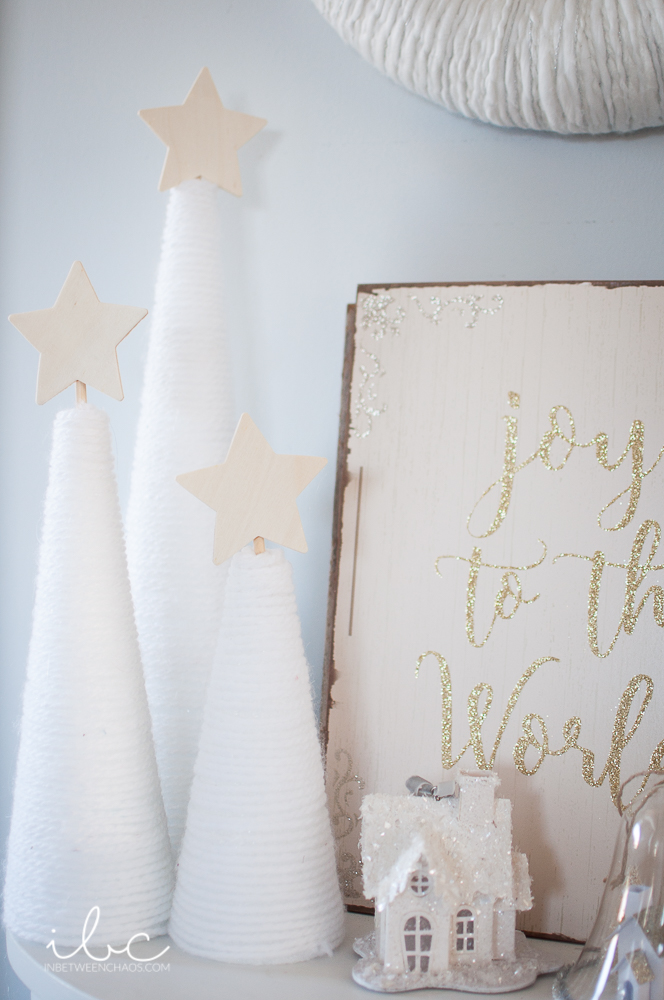 Trees
Supplies
Styrofoam cones – I used a 9 inch, 12 inch, and 18 inch
Yarn – I used simple white, but yarn with gold or silver weaved through it would also look nice
1/4 in dowel – just a few inches long for each tree
Glue gun and glue
Steps
Starting at the bottom, pin the end of the yarn to the styrofoam to get started.
Begin wrapping the yarn, putting dots of glue every few inches to secure the yarn. The glue sinks into the styrofoam quickly, so don't put the glue on too long before you are ready to secure the yarn.
Continue wrapping the yarn until you get to the top.
Insert the dowel into the top of the tree, securing with glue.
Attach a star to the dowel with glue.
Finish off the top by wrapping the yarn around the dowel and securing with glue.

Wreath
Supplies
And that's it! (I always say that don't I?) I added in one of my scrap wood Christmas trees, our little nutcracker guy, some Pottery Barn ornaments, and a sign which I got at Michaels.
Totally worth the year-long wait, right? Ok, well maybe not, but sometimes a little inspiration can go a long way!
Til next time,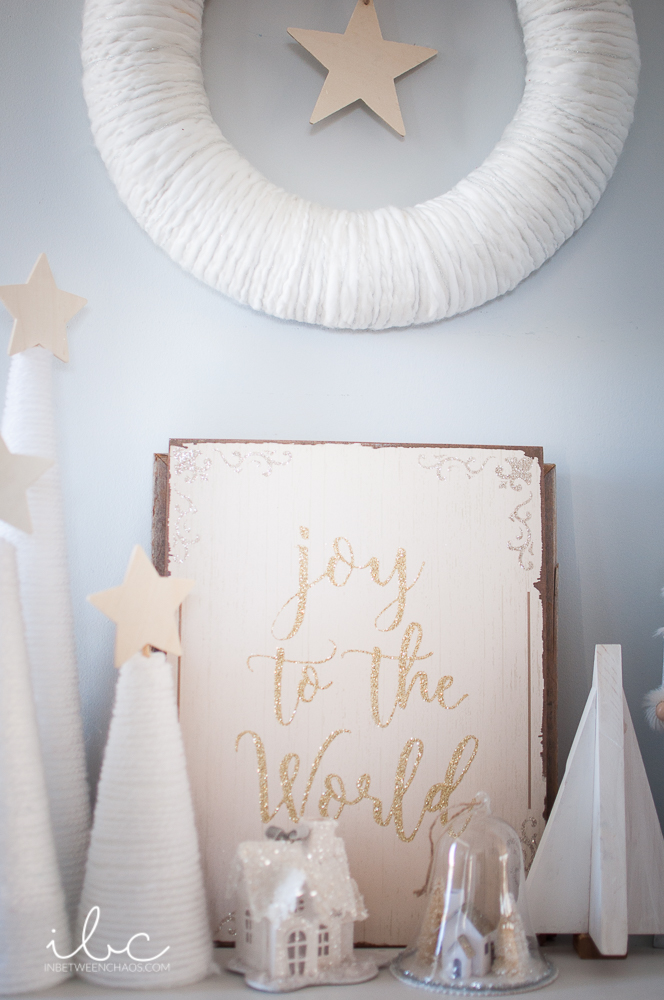 You May Also Like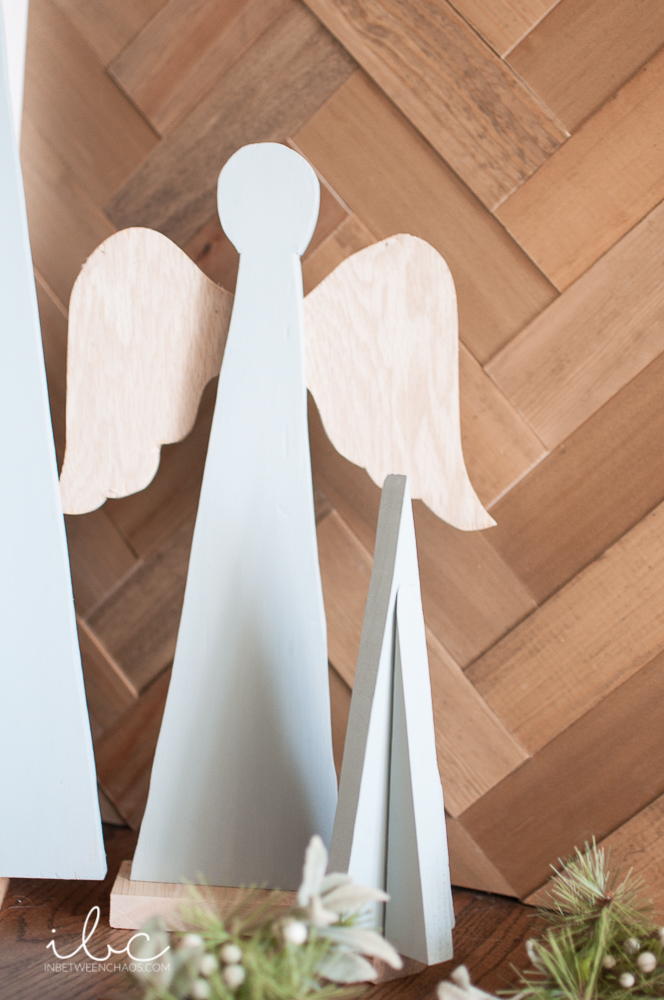 ---
This post contains affiliate links.