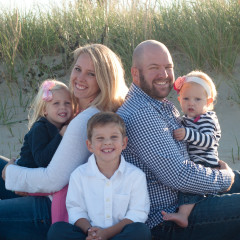 I'm a mom of 3, the wife of a tax man and my best friend, and totally disorganized.  Add a little self-diagnosed ADD, and you get a sense of my chaotic life.  Don't get me wrong.  I'm incredibly blessed.  I grew up on a farm where I learned the value of hard work and developed an appreciation for making the best of what you have.  We also had to learn quickly, even if that meant learning to drive shift on a 69 pickup… NOW!
I started college with aspirations of becoming an architect, but I was lured away by my new found love of economics and finance.  My career choices led me to meeting my husband, and eventually enabled me to work from home part time while raising my kids.  But although I love working with numbers and from home of all places, I hated working at a desk. Then along came the opportunity to do what I knew I wanted to do 12 years earlier when I didn't have the means to do it: real estate investment and renovation.  I've renovated three houses now, am waiting to take possession of my 4th, and I can't wait to do it again!
Along the way I was able to design our house, and now I love trying new projects because I want our home to be more handmade and special to us.  This blog is a glimpse into what I do in between the chaos of my life.