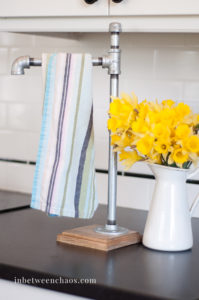 If you're looking for a simple AND functional DIY project to add farmhouse industrial charm to your kitchen, this is it!  My husband recently asked for a place to keep a hand towel by the sink in our kitchen.  He had been laying it on top of the paper towel roll, which made them damp.  I was inspired by a piece by HGTV's Kitchen Cousins.  It reminded me of spigots I used to drink from on our farm.
I picked up some 3/8″ galvanized pipe pieces at the local big box store and attached them to a square wooden plaque from my arts and crafts store.  I then did a quick stain and a few thin coats of Polycrylic.  I screwed in my pieces and in no time had my towel holder.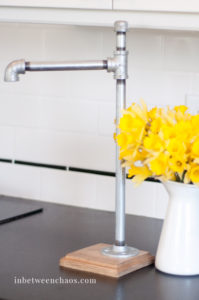 This project is so easy to customize with different types of pipe and different stains, paints and wood pieces.
I then realized I should make a paper towel holder to match!