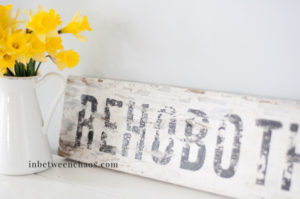 One of the reasons I love to DIY is I can bring personal, sentimental elements into my home.  I'm sure that motivates many DIYers.  This particular project really hit home for me, because not only are the words reminiscent of my childhood, but the wood itself came from the house where I grew up.  It is an 1860s farmhouse, and when I was young my mother had fence sections installed at the end of the lane.  It seemed that every spring break, my cousin and I were tasked with painting that fence, along with anything else she could think of to paint.  That fence was recently taken down, and thankfully I have some of the boards.  They are perfectly chipping, with many paint layers showing through.  And since it's been 30 years plus since I first painted them, this could be the longest DIY project in history!
I grew up drinking milk straight from our farm, Thomstead Dairy.  So I created a kitchen sign using one of the fence boards and iron on transfers.  Below I'm going to walk you through the process  as I create a sign for another place close to my heart, Rehoboth Beach, Delaware.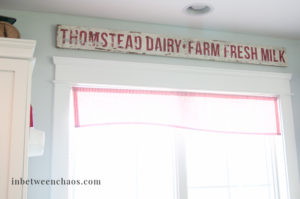 I first used Excel to size out my font.  See my tutorial here on how to use Excel to lay out large (bigger than letter-sized paper) workpieces.  I used the Bebas Neue font at size 350.  For this project I didn't print out the template from Excel as I used Excel only to determine the appropriate font size.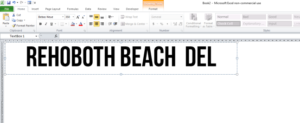 I printed the sheets in Word, where I created individual text boxes for each of my letters so that I could easily move them around and maximize my sheet usage.
Once I had all of the letters entered, I reversed the letters.  To do so, hold down the shift key and select each text box.  Then go to the Format menu on the top, and select the gray triangle next to Text Effects.  Then hover over 3-D Rotation, then select 3-D Rotation options.  In the dialog box that opens, type in 180 in the x axis box.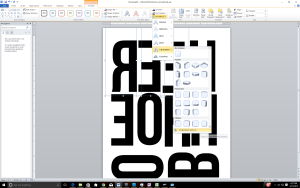 Close the dialog box and the letters should be reversed. After printing onto iron-on transfer pages, I cut out each letter.
I gave my board a very light sand to take off any loose paint, but otherwise I left it chippy.  This uneven surface helped to give the letters a worn look, as the transfers didn't adhere perfectly.  If you are starting with new wood, there are tons of tutorials out there to make your own chippy wood.  Then, after you've ironed on your letters, you can use sandpaper to distress them.
The trick to ironing onto the wood is to pull the paper back as soon as you take the iron off.  Gently peel back, and if too much paint is sticking to the paper, lay it down and iron it more.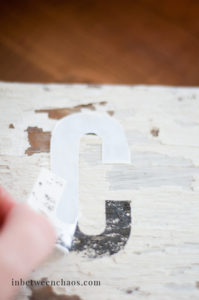 Once you're done, you can use a matte clear sealer to protect the finish.  Enjoy!