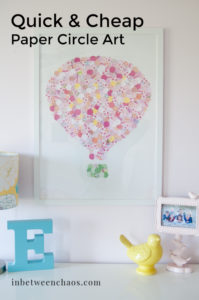 I seem to have issues bypassing the scrapbook paper section in the craft store.  There are so many I like, but I have nothing to do with them.  So, I came up with a way to use them in my kids rooms.  This is an easy project that kiddos can help you with.  It can match any color or decor scheme, and it makes a big impact for less than 5 bucks in supplies!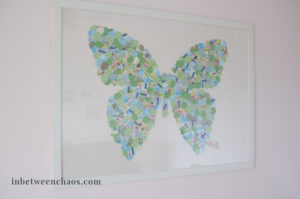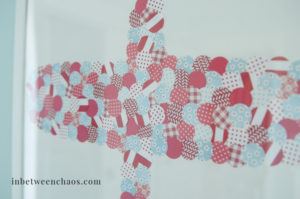 Supplies:  Scrapbook paper – 3+ different patterns
Circle Punch (1″)
Poster Board
Large Frame – I used a cheap frame from IKEA
Tape Rollers – I like these Tombow rollers
Cut your poster board to fit your frame.
You can sketch out your design, but I used this technique since I'm not exactly good at drawing.  I traced over the design onto the poster board using a ball point pen to create an indentation.
Punch out circles from the scrapbook paper, then begin filling in your design, overlapping the circles.  I added them randomly and worked on a section at a time.  I stepped back periodically to make sure they looked random.
I taped each circle down with the tape roller, then moved onto the next section.
Frame and hang!