We finally let our red, white and blue fly!  I have been wanting to hang our flag, but I wasn't quite sure where to put it.  And of course, I didn't want to put holes in our siding, so I made a movable flag pole.  I started with this cedar planter by Ana White, and then modified it to hold the flag pole.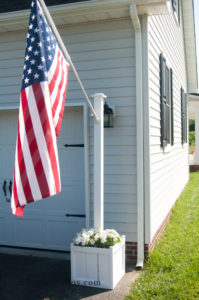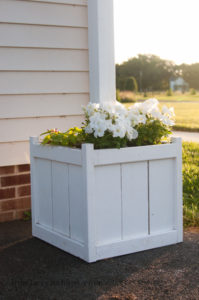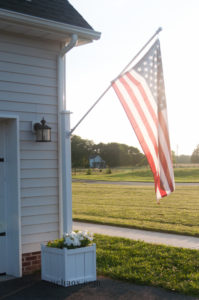 Supplies:
Supplies for Cedar Planter plus:
4×4 post anchor and screws – Here is the one I used
3 2×6 @ 17 1/8″ – bottom of planter
1 4×4 @ 8′ (I cut mine down to 7′, but it is personal preference depending on your pole and flag)
2 2×4 @ 16 1/2″ – vertical post supports
2 1×4 @ 17 1/8″ – horizontal post braces
1 1×6 @ 5 1/2″ – post top
1 1×4 @ 3 1/2″ – post top
Deck Screws
2 1/2″ pocket screws
Flag pole and mounting bracket
 I built out the cedar planter per Ana's plans through step 3, stopping before adding the cleats. I shortened the 2×2 legs to 18″, making them flush with the bottoms of the side panels.
To create the bottom of the planter, I flipped it over and attached 3 2×6 boards with 1 1/2″ pocket holes on the bottom, drilling through the cedar planks and into backs of the 1x3s.
For the next several steps, the picture is worth a thousand words! So you may want to just check out the picture rather than read through my ramblings 🙂  It's up to you!

Next, I attached the 2x4s to the sides of the planter.  Attach to your preference: I screwed from the outside in at the top, and from the bottom through the 2×6 and into the 2×4.
 Attaching the post:  I screwed the post anchor into the bottom of my post, then screwed the 1x4s into the post above the post anchor.  I then dropped the assembly into the planter and attached the 1×4 cross braces to the 2x4s on the sides, and attached the post anchor to the middle 1×6 on the bottom.
I used glue and screws to attach the 1×4 square onto the 1×6 square onto the top of the post.
After painting, I laid scrap cedar planks on top of the 1×4 post braces, stapled in landscape fabric, then added my flowers.
Attach your mounting bracket and pole, and let the Stars and Stripes fly!

---

This post contains affiliate links.