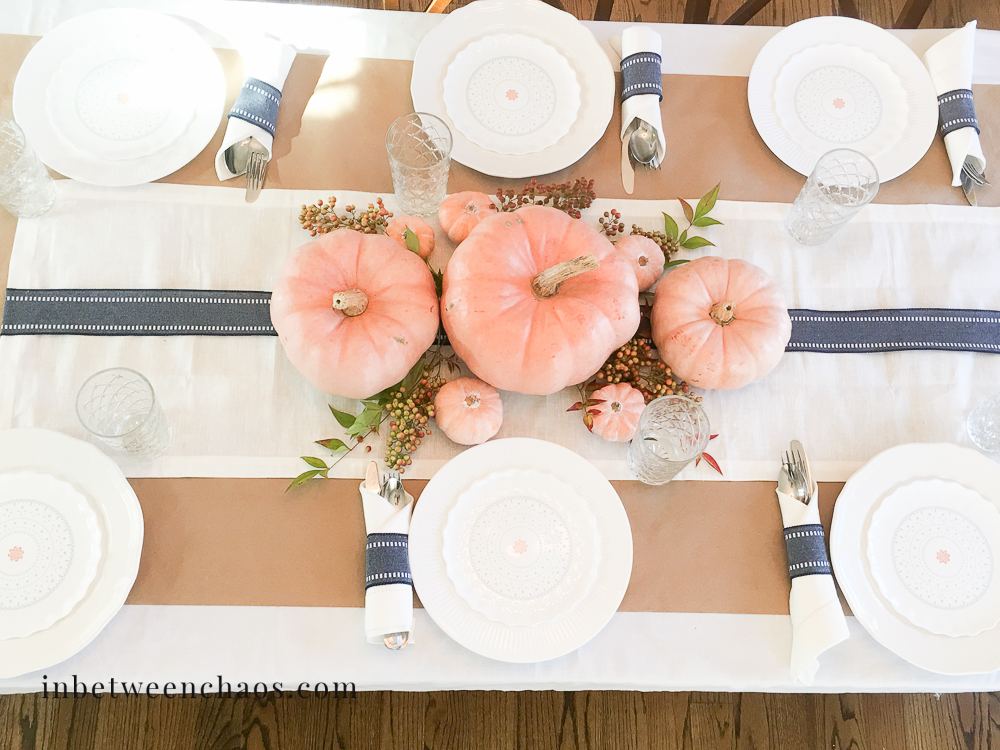 This week I'm teaming up with my sister Hallie at birdieandevie.com to bring you a Thanksgiving Series on budget-friendly decor and tips to kick stress to the curb.
If you missed yesterday, check out our dressed up table here.  Today in part 2, I'm sharing a simple, casual tablescape that's a little more modern and fresh, but gives a nod to fall with muted oranges.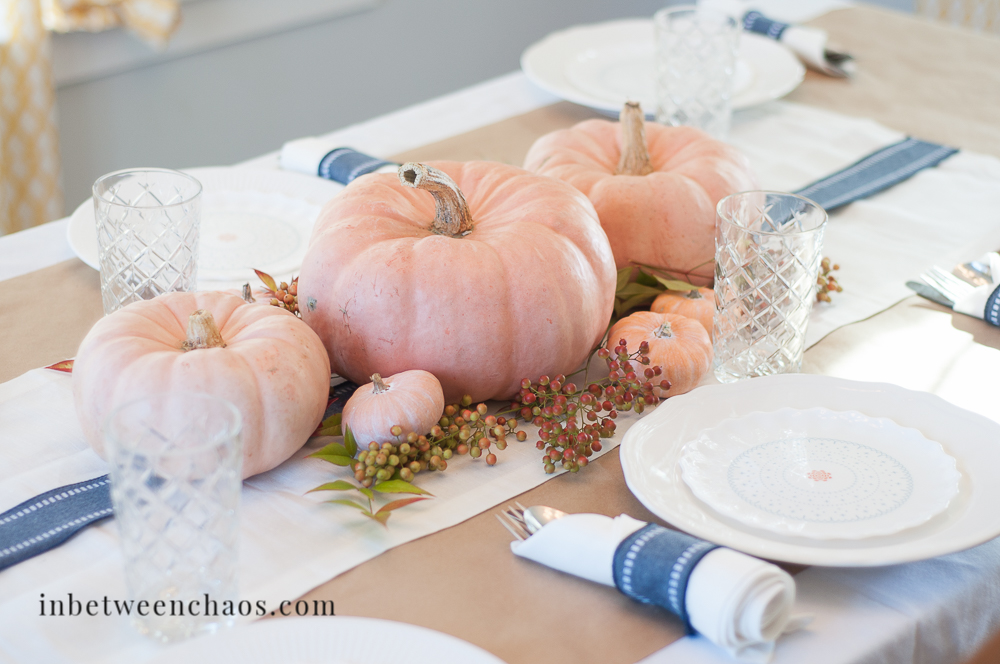 We started with a basic white tablecloth – nothing fancy here.  These tablecloths are budget-friendly and can be used again and again and again with any decor!  I have maybe 10 of these that Hallie bought for her wedding because they were cheaper than renting.  We've used them so many times, and they wash up beautifully. Over the tablecloth, we layered kraft paper.  The paper can become a great place for people to doodle what they are thanksful for.  Get a few metallic pens and go for it.  The paper can then be rolled up and tucked away until next year, or even ten or twenty years from now, when you can unroll and reflect.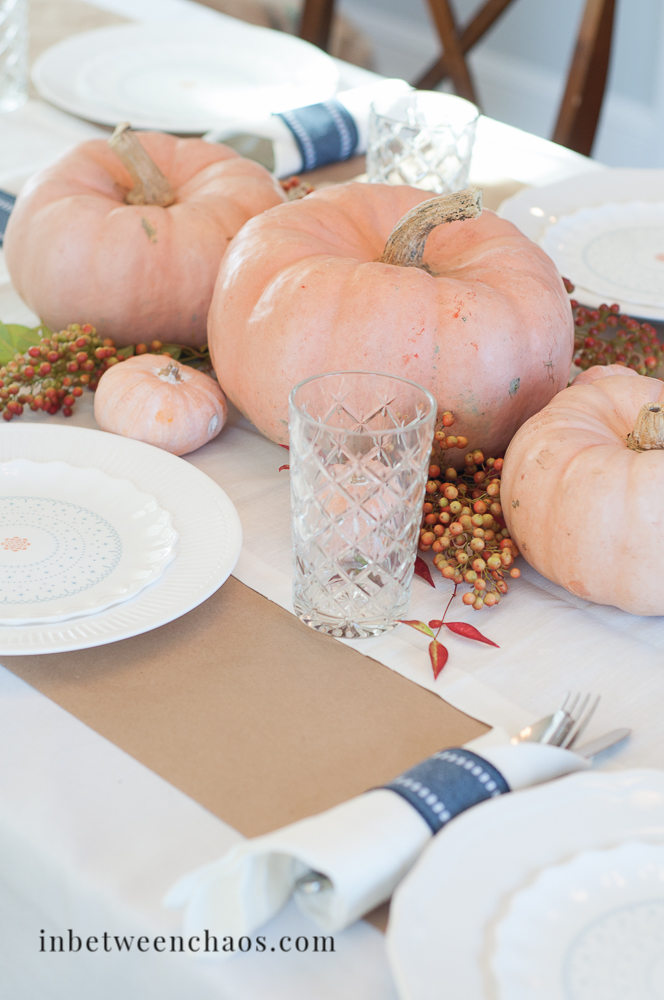 We then layered over the kraft paper a basic, creamy-colored linen table runner, the weave of which softens the kraft paper.  And then we brought in some fall beauties, including creamy orange pumpkins, some small orange pumpkins, and some nandina berries and branches I cut from a bush outside.  The small orange pumpkins were whitewashed to tone down the harsh orange and blend in with the larger pumpkins.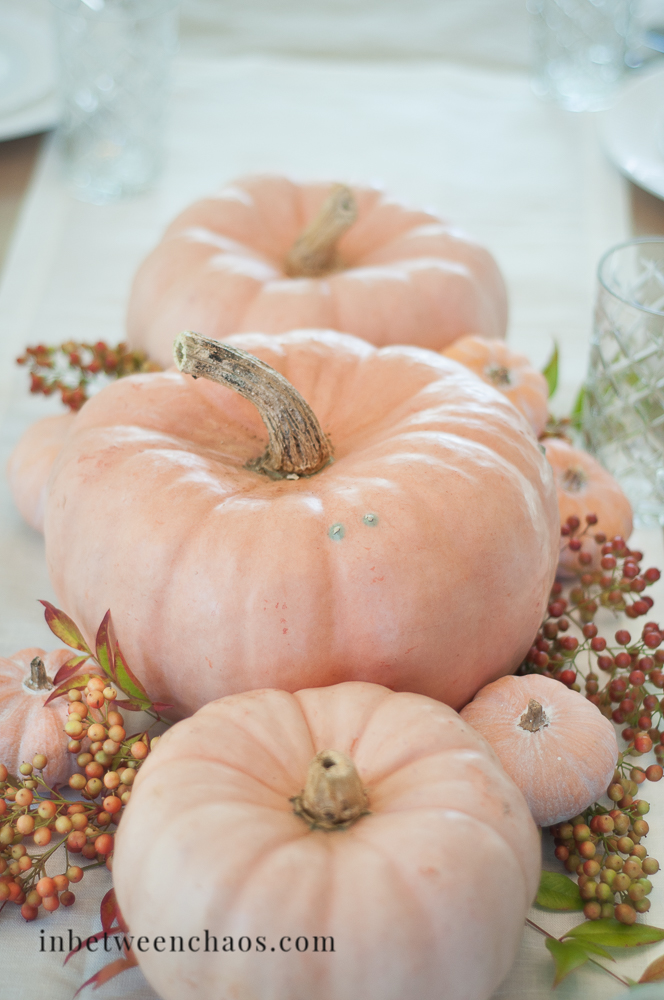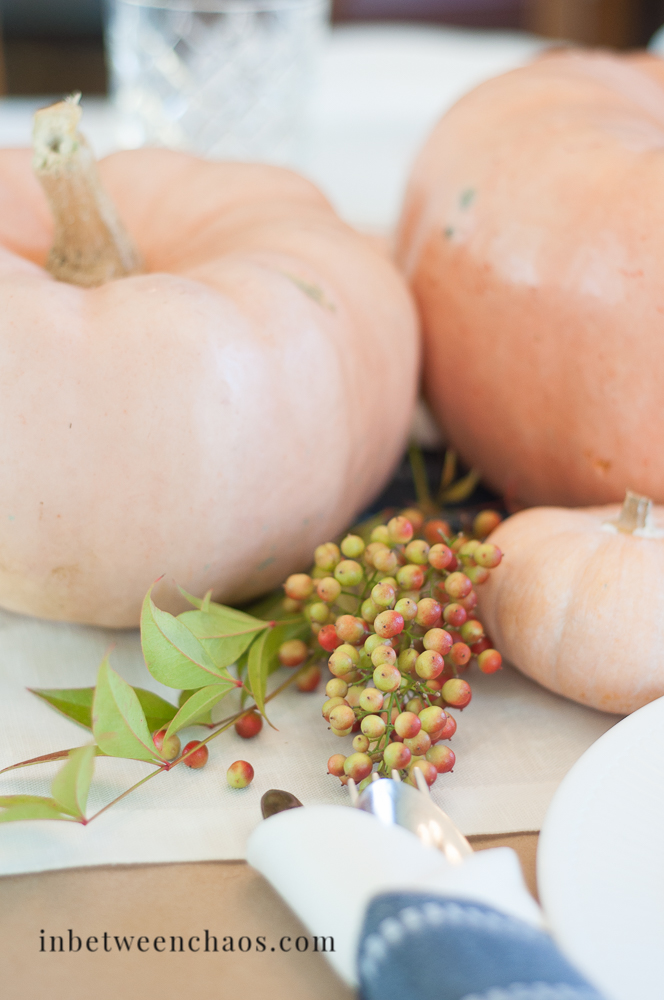 Again, we used our basic white dinnerware, mixing as needed.  A pretty decorative salad plate pulls in the oranges and blues.  And lastly, a blue ribbon gives the whole table a little unexpected pop.  Seriously – we used only 3 yards of ribbon here!  But that 3 yards goes a long way when simply wrapped around the utensils bundled in napkins and laid as a small runner over the creamy linen.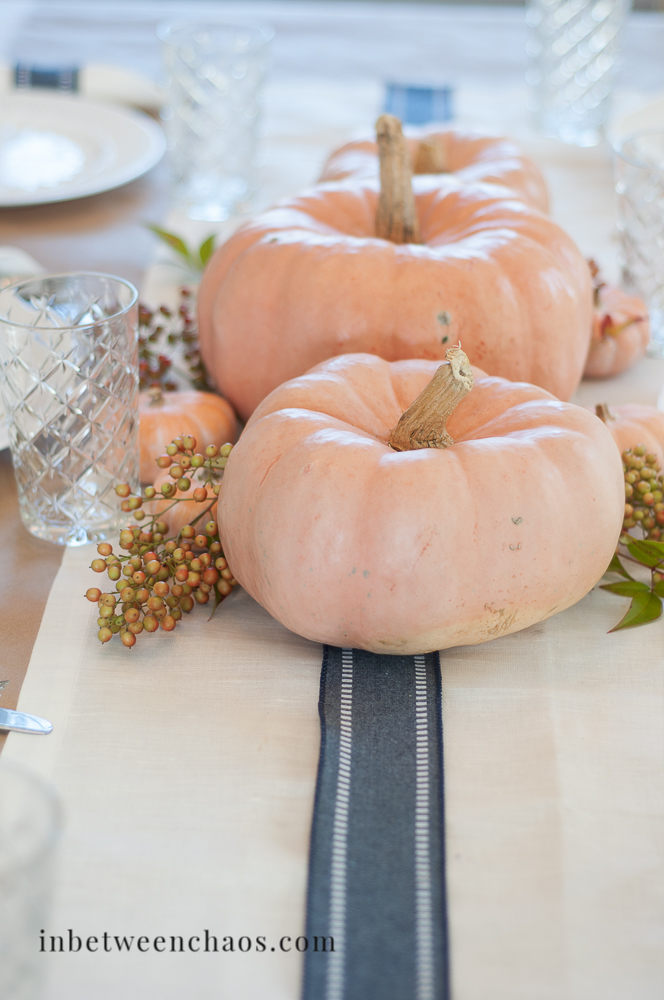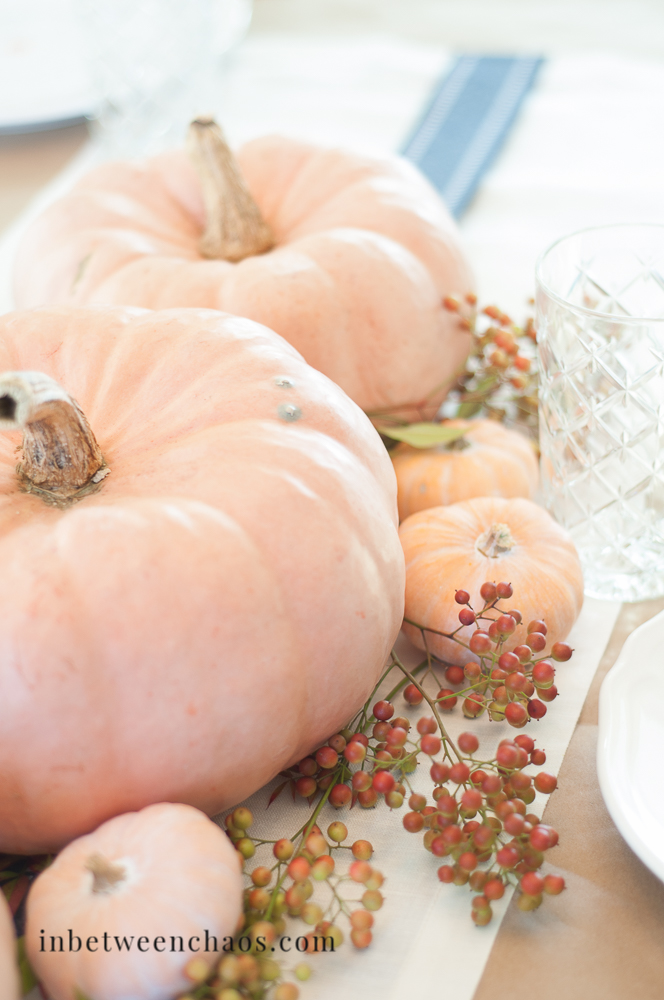 And that's it!  This table can be set up quickly – no floral arranging skills here – and can easily be done well ahead of time.   And all the dishes and linens will blend in perfectly for your next get together, whatever the occasion!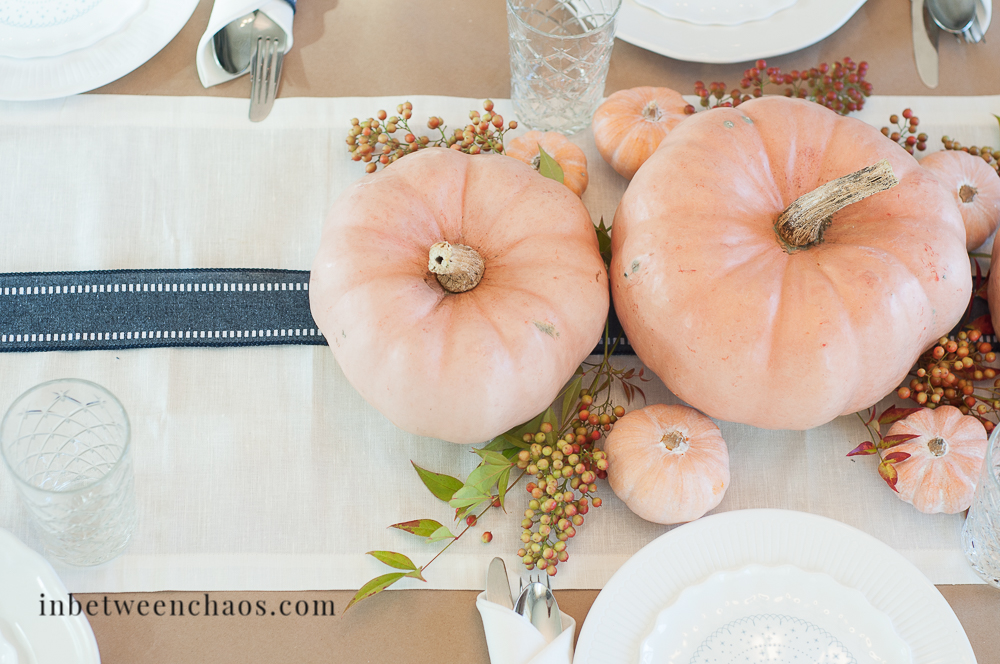 Join us tomorrow for part 3 of our Thanksgiving series, where I share some tips on prepping your house for your guests while taking the stress off you!
-Marianne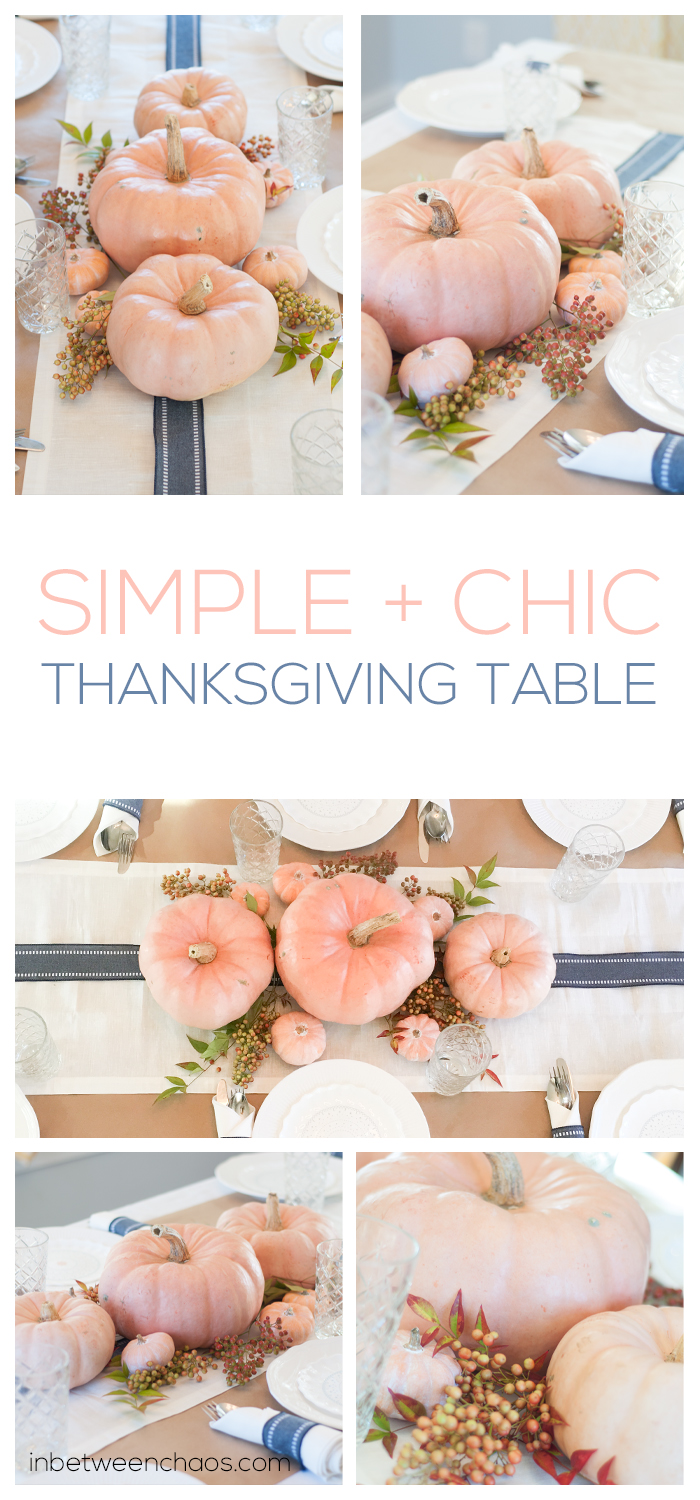 ---
Source List of items we used or similar ones
This post contains affiliate links, which cost you nothing, but give me a small commission to help support this fledgling blog… win – win!
Thanks for stopping by!