"I hated that one!"
-my GC, referring to the house I was about to buy…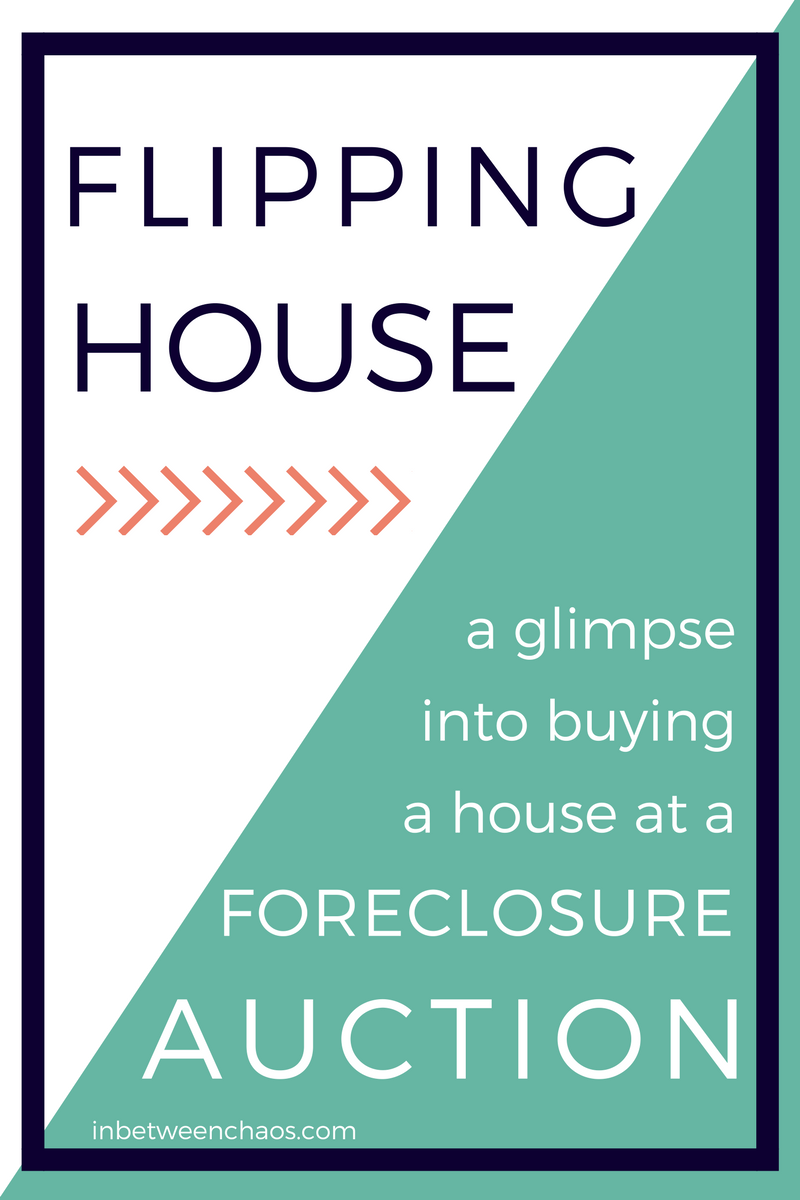 It's been an exciting week around here!  After touring a lot of flip possibilities, attending 3 foreclosure sales, bidding on a house at online auction, putting in an offer on another, and driving past countless more properties, I purchased a home at a foreclosure auction this week. Bidding is downright nerve wracking, and as soon as it was over, I of course had to wonder whether I made the right choice.  But I have to keep going… that's just the nature of the game.  This is the second foreclosure house I've bought, but my dad did the bidding before.  This time it was all up to me – yikes!
Here's a glimpse of my process.
A few weeks before the auction, I begin breaking down the list of properties.  I search on Zillow, Google Maps, and the county parcel website to eliminate houses I'm not interested in.  One of my guages is whether I'd feel comfortable working there alone.  If not, it's scratched off!  I know I'm passing up some deals based on that, but it's not worth it to me.  I also scratch off the ones I know will never go in my price range, as well as those that aren't geographically friendly, either because of distance from me or being so far out in the country that our potential buyer pool would be reduced.
Once I've done my initial review, I begin drive-bys.  I check out not only the house, but I try to get a feel for the neighborhood.  Honestly, this is based mostly on my gut and the feeling I get in the neighborhood.  For the house itself, I check the roof, siding, windows, if possible, and whether it's occupied.  I also try to note how well it appears the current owners have cared for the house.
Once I've done drive-bys and have narrowed my list the second time, we begin to estimate costs of renovations as well as a target sales price to determine the max we should pay.
Now, I'm saying estimate because that's what it is.  You really never know what you're getting until 6 weeks after the sale and you get to walk in the first time.  We have to make a lot of assumptions based on both drive-bys, to assess windows, roof, and siding, etc., and public data, such as recent sales, square footage, and year built.  I sat down at the auction next to my contractor and as we perused the list, he pointed to one of them and said, "I HATED that one!"
And moments later, that's the one I bought!  It was one of the first ones auctioned, and I had a list of about 10 potential houses that day.  The bank sets the opening bid, and bidding proceeds from there.  At the mortgage foreclosure sales I've been to, most properties are bought back by the bank.  So when the opening bid on one of my target homes starts less than my max purchase price, I have to bid.  Immediately after I won the auction, and my heart slowed down a bit, I started thinking about the other ones I was passing up, including houses I wanted more or thought would be a better fit for me.  But I've come to realize you can't second guess.  You have to make the call with all of the available information at the time.
The good news is, the opening bid on most of my other targets was well above what I was willing to pay.  One sold for about my max price, but I was worried that the renovations could run higher, and I could run out of money.  And one was stayed (delayed).  So in the end, I'm happy.
Now the hard part… the waiting!  If this were a public sale, I could go in to get measurements and determine materials needed.  Then I could begin my shopping and have supplies ready to go so we could hit the ground running as soon as possible after settlement.  But in a foreclosure, we don't get that luxury.  We just have to wait!
I'll be sure to share pics with you as soon as I can.  I'll also be sharing some details of a few other houses I checked out that I didn't buy.
Until then, I'll be busy working on my own bathroom (I started that this week!)
-Marianne