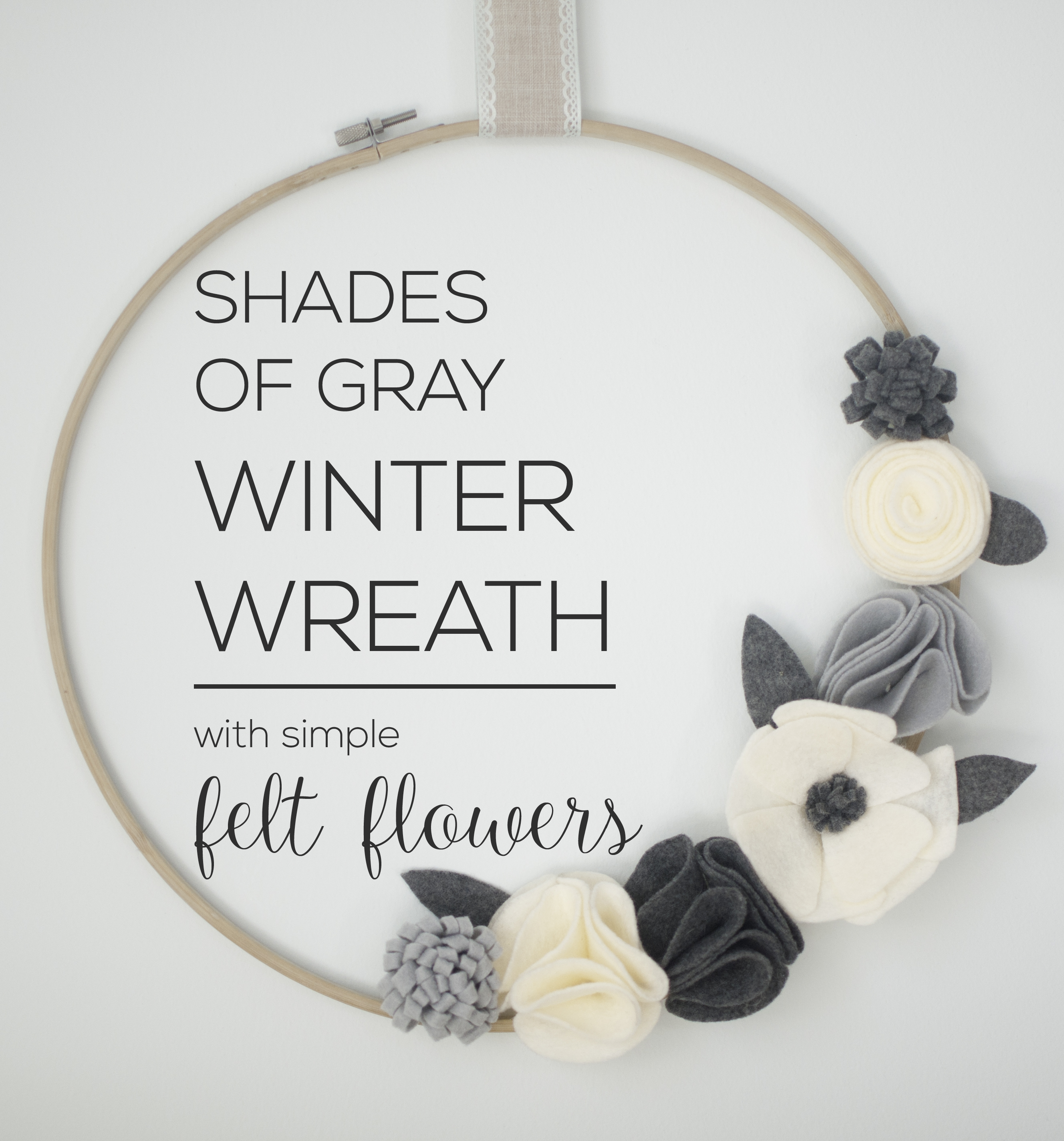 Poor winter… it gets a bit of the shaft around here with respect to decorations.  Once the Christmas decor is packed away, it almost feels sparce around here.  And Christmas is really the only time I decorate with wreaths.  I find they tend to get a little too overdone… you know, too much ribbon and flair… as much as can possibly fit on the circle?  It's just not my bag.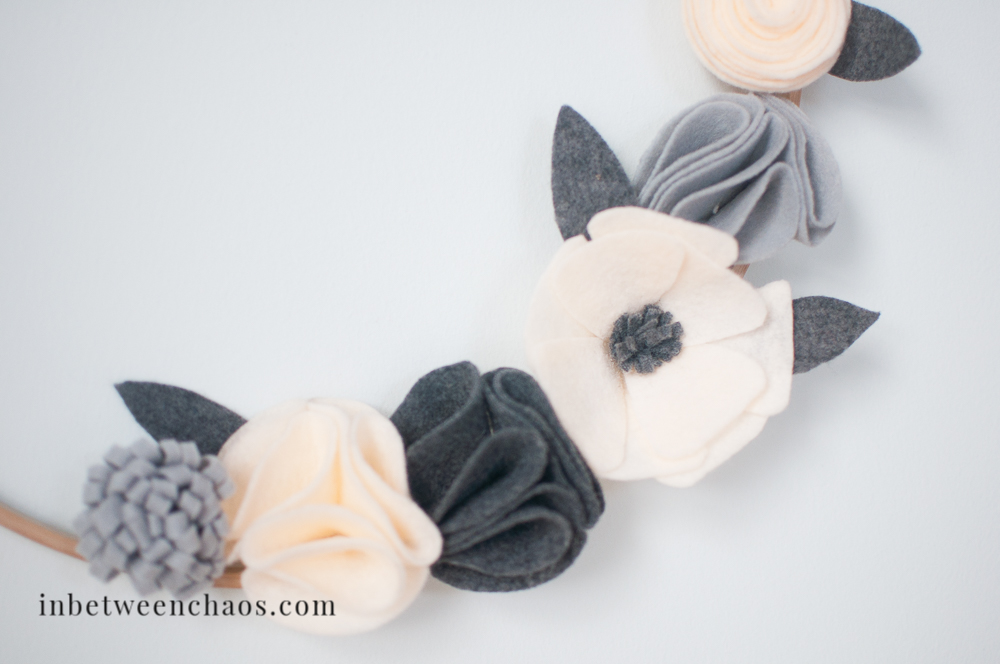 So I made this simple wreath with some felt flowers in shades of gray.  It was both fun and easy, and now I'm looking forward to making some other ones with different colors (hint, valentine's day is coming up!) 🙂
Supplies
Felt
Hot glue gun and glue sticks
Embroidery hoop
Scissors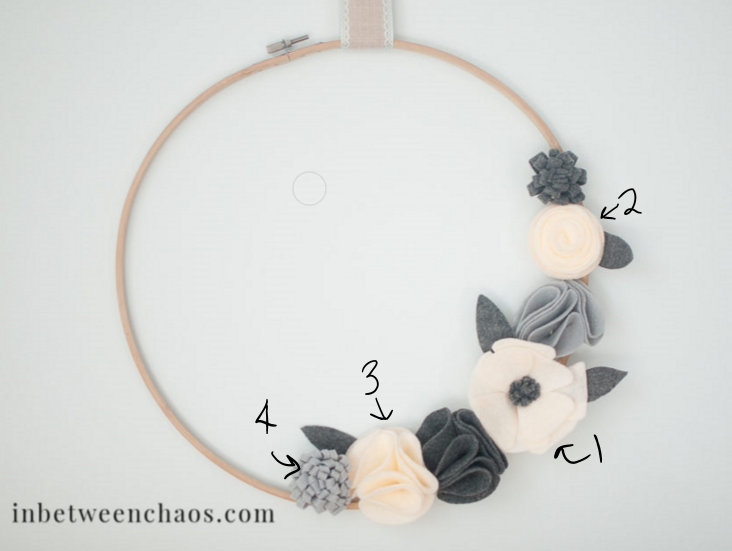 Flower 1
To make the center, cut out a rectangle about 4″ x 1/2″.  Fringe along one side, cutting little slits without cutting all the way through.
Start at one end, roll up the rectangle, securing the end with hot glue.

Cut out 8 or 9 petals in a triangle shape with rounded corners and a flat bottom.

Secure the petals to the center piece with hot glue at the bottom of each petal.
Secure 4 for the top layer, then 4 or 5 underneath the top layer to make the second layer.
Flower 2
Cut out a circle about 6 inches in diameter (I varied mine a bit to get different sizes).
Cut the circle into a spiral.

Starting from the inside, begin rolling the felt around itself.
Secure the end with hot glue.
Flower 3
Cut out 3 circles in the same diameter (I used about 3″ circles).

Fold each circle in half, then in half again to make quarters.  Secure with glue.
Glue two of the circles together.
Add the third circle on one end to make a bit of a triangle.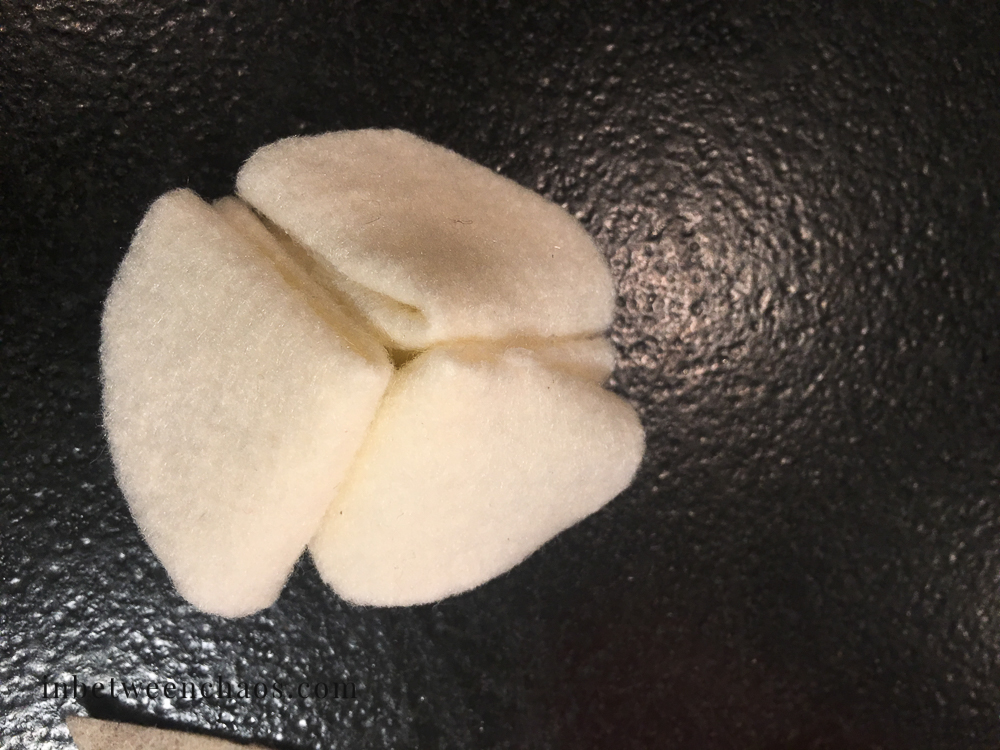 Flower 4
Cut a long rectangle a few inches wide by about 10″ or 12″ long.
Fold in half length wise.
Make cuts all along the fold.
Keeping the rectangle folded, start at one end and roll up.
Secure with glue.
Assembling the Wreath
I used an embroidery hoop as my wreath form.  I laid out the flowers until I was happy with them, then secured them to the hoop with glue.  I then filled in with a few simple leaves.
Check back tomorrow for my Valentine's version!
Until then…
-Marianne
---