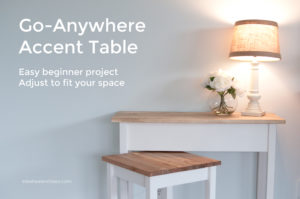 While selling our first investment property, we realized we needed to stage it, and so we had to get everything planned, purchased and set up in 5 days before an open house.  I needed furniture for the master bedroom, so one day I  made 2 side tables and a console table, mostly from my scrap pile!  I love the simple but rustic feel they have.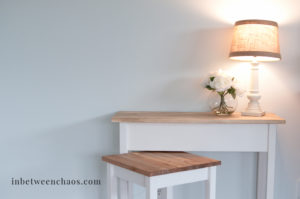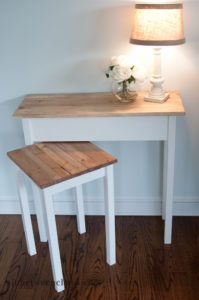 These basic plans for an accent table that can easily be adjusted to fit your space and come together quickly.  It's a great starter project because there is some room for error!  The most important part is making sure your legs are the same length and your front and back aprons match each other.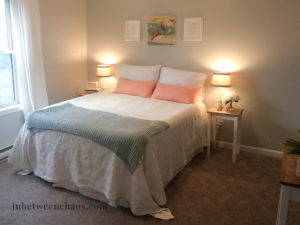 The plans I'm sharing here are for a table 30.75″H x 30″W X 11 1/2″ D.  You can easily change the height, depth, length, etc.  You can also change the look by using different sized boards for your aprons or by using 2x's for your top.
Here's what you need:
4 2x2s @ 30″ – legs  You can buy high quality 2x2s at the big box stores, but they cost quite a bit more.  I used 2×2 furring strips and just looked through the pile until I found nice straight ones.
2 1x4s @ 7 1/2″ – side aprons
2 1x4s @ 26″ – front and back aprons
Board for top – this could be several pieces of 1x put together, such as I did, or a 1×12 cut to length
I used:
1 1×4, 2 1x2s, and 2 1x3s, all cut to 30″
For all of your boards, cut off just the end so you are starting with a straight edge.  If there are staples in the end of the board, make sure you pull them out before running it through a saw.
Cut your first leg, then use that leg as a pattern board for the other 3.  I hold my pattern board on top of the board I'm cutting, pull the saw blade down so it almost touches the board I'm cutting (without turning it on), then push the 2 boards together across the table of the saw until the pattern board touches the blade, using touch to make sure the boards are equal on the opposite end I'm not cutting.  I clamp down the bottom board, remove the pattern board, and cut.  Repeat for the remaining 2 legs.

Next, cut your aprons, using the technique in 2 to make sure your front and back aprons match and your side aprons match.

Lastly, cut your top boards to length.
Using 3/4″ pocket holes and 1 1/4″ pocket screws, attach 2 of the legs to each of the 2 end aprons.


Lastly, attach the side aprons to finish the table base.
 
For the top, I preferred a planked look.  You could use 1 piece of 1×12 to make a continuous top.  I laid out my boards for a dry fit, then sanded them.  I used my sander to round the corners on all of the outer edges.


I laid out the boards on top of the base, ensuring the overhang was even front to back and on the ends.

I then used my nail gun and glue to attach the boards to the base.  Alternatively, you can attach the planks together using pocket holes, and then attach the single planked piece to the base.
That's it! I left my nail holes open to give it more character on top.  I then used my go-to white, Sherwin Williams Pure White, on the base and my new favorite stain technique on the top.