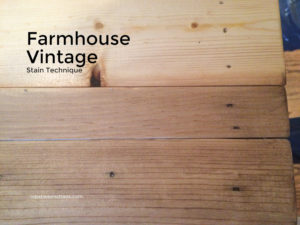 I recently started using a new stain technique that I am loving!  When combined with white paint, it gives a fresh vintage feel to my pieces, and it is easier to control blotches and darkness.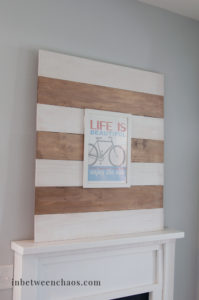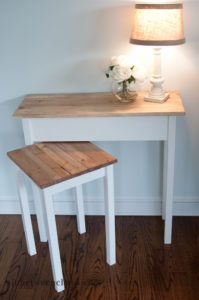 First, I sand my piece with 120 then 220 sandpaper.  I then vacuum the boards with a brush attachment and wipe with a tack cloth.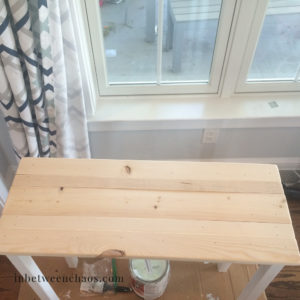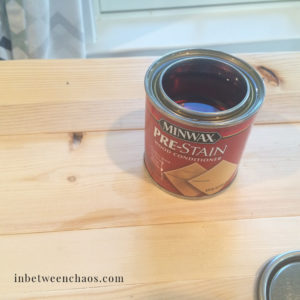 I apply a wood conditioner, which I let sit for 5 to 15 minutes (check the label).  Once that is set, I use a clean cloth dipped in water to wet a section of the wood.  The more wet the wood, the less the stain will sink in.  So you can control the color of your final piece through the darkness of the stain you use and how much you wet the wood.  Here I'm using Minwax Special Walnut, which is on the darker side, but the end result is not too deep.
I like to have exposed nail holes in many of my pieces, and I like the stain to get into those holes to darken them.  But because I will be rubbing in the stain rather than applying it generously, letting it sit, and wiping it off, there isn't excess stain to drip into those holes.  To get the same look, I use a syringe and shoot a little stain into those holes and anywhere else I want to highlight the wood, like in the little grooves around knots.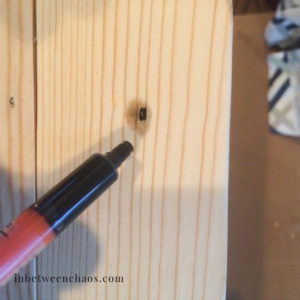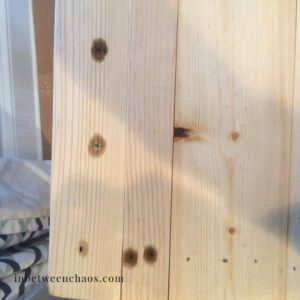 After shooting the stain in the holes, I dip a clean cloth in my stain just a bit (squeeze it if necessary – it shouldn't be dripping),  and then begin rubbing in the stain until I achieve the look I want.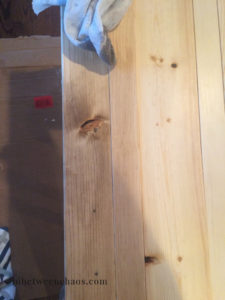 To make it a little lighter, I immediately rub a dry clean cloth over the wood to take some of the stain back off.  Or to make it darker, I  dip my cloth in the stain again and rub in more stain until I get my desired look.  Once I like the result, I begin the next section: wetting the wood, using the syringe to shoot stain into the holes, then rubbing the stain in.
Below is an example of the different depths you can get with one stain color.  Both of the tables below were stained using this technique with Minwax Special Walnut, but I rubbed more stain into the table on the right.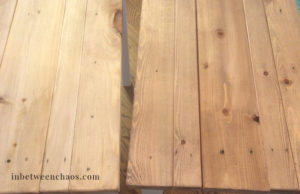 The ends of boards suck up stain so much more easily and will generally end up darker.  If you are staining the ends of boards, use the smallest amount of stain you can and use less pressure so that the ends do not get as dark and they better match the sides and top.  It's better to start with less stain and add more than to use too much to begin with and end up with darker boards than you desire.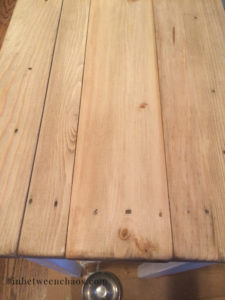 Hopefully this helps you develop a stain technique you like.  Happy staining!