Getting laid off stinks.  It's like a punch to the gut when you're not looking.  Until last fall, I was working half time from home for a pension fund, and if there was one thing I knew, it's that I was very lucky.  I was beyond grateful for my job.  I had flexibility, could spend time with my kids, and didn't have to worry about commuting time.  I really liked what I was doing.  I had sacrificed career advancement and more challenging positions to be able to work from home and have a flexible schedule.  But it was worth it to me.  I worked with a group of intelligent, hard-working people, and my job kept me working, kept my mind going, and helped me contribute to our finances.  Plus, maybe one day I'd be able to go back full time.  But all of that was pulled out from under me in the blink of an eye… with a punch to the gut.
You feel embarrassed, scared, worthless.  What I didn't know at the time was that that I wasn't the only one.  My company was merging and in the beginning of major labor cuts.  Realizing that after the fact somehow made me feel better and worse at the same time.  I was not being singled out, but some of my co-workers were going through the same thing, and many of them were the main breadwinner.  I was incredibly lucky to be married to a man who lifted me up, took away my guilt and feelings of worthlessness, and eased my financial fears.
And even luckier, I'd already started my next chapter.  At the time we were finishing up our first investment property.  I spent the rest of that day using my saw and nail gun in between a few good cries. Though I knew the light was already at the end of my tunnel, it still just plain hurt for a while.  Now, in the midst of my 2nd investment property, what keeps going through my mind is that old cliche, "When one door closes, another one opens."
It might be the door to my minivan that I use more like a pickup truck with kids ducking under lumber running the length of the van, or the front door of a house plastered in foreclosure notices, or the front door of my own house where I can now put more time into our home and life, or the sliding door to Lowe's where my brother teased me that they told him he needed to stir his paint with his finger because they had run out of paint sticks (that story here).
This spring, I've been able to really jump in with both feet, spending time working on houses, installing a dog fence, fixing my lawnmower (even if it ended with gasoline in my hair), and starting this blog.  I've finally planted flowers I've loved… astilbe, foxglove, veronica, hibiscus, hollyhock, and of course plenty of hydrangeas.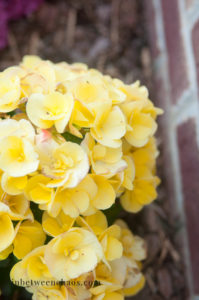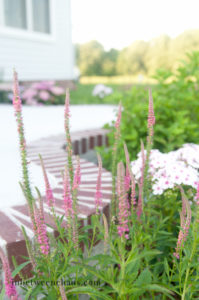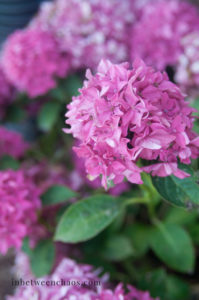 But the best thing for me is that my office is no longer a computer screen flashing Bloomberg and Excel, while I feel imprisoned by a desk job.  I need to be out and about.  I need freedom.  After all, I'm still a farm girl at heart.  And now I've found that freedom at my workbench, or in my flowerbeds, or in my car scoping out potential properties.  I'm beyond grateful and feel so very lucky to be pursuing things I'm passionate about.  And I gained a little perspective into the hardships of those who aren't as lucky as me… who don't have the ability to pursue their passions.  One door may have been slammed in my face, but so many new, more beautiful doors have opened before me.