Since moving into our new house, our little grill has been relegated to a tiny concrete pad outside our laundry room door… it was so inconvenient.  And so we hardly ever grilled.  We long planned to put in a patio off our screened porch, and we've finally gotten it done!  Now, I'm not a crazy griller, and our grill isn't fancy, but one of the things I never liked was not having any room to put my food and tools.  So I made a little grill cart that can withstand some weather.  A galvanized counter made from a rabbit pan (shhh, don't tell anyone!) helps it stand up to the elements and makes it easy to clean.
This piece comes together quickly, AND it is so functional!  Win Win!
UPDATE: Check out how we set this up as a beverage cart for a dinner party!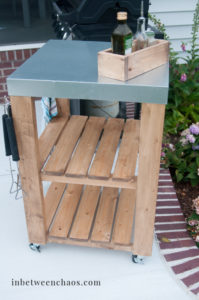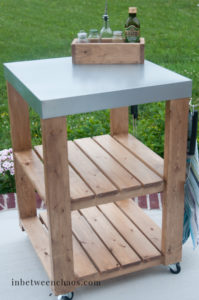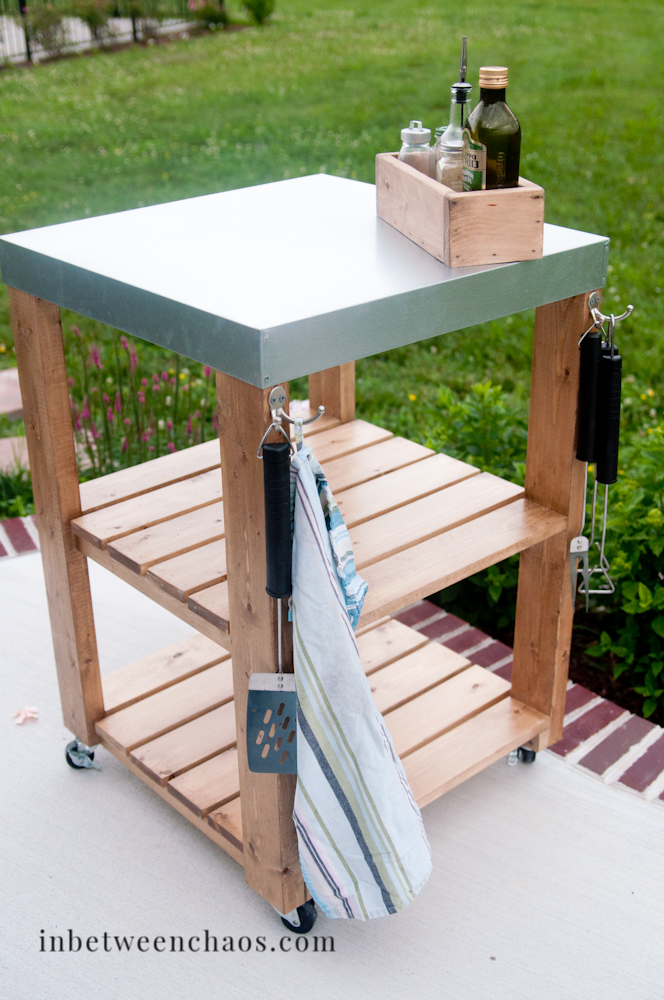 These plans are designed to fit a 24″x 24″ tray, which you can find here.  But you can go bigger!  There are 30″ x 30″ trays and 30″ x 36″ trays.  I used my Kreg jig for my pocket holes – boy do I love this thing!
Supplies
3 1×4 @ 8′
2 2×4 @ 8′
1 1×2 @ 6′
1 galvanized tray @ 24″ x 24″
4 casters
1 1/4″ pocket screws
construction adhesive (optional)
2″ screws
Cut List
4 2×4 @ 33″ (legs)
2 1×3 @ 20 5/8″ (See note) – counter side frames
2 1×3 @ 16 1/2″  (See note) counter front and back frames
4 1×4 @ 20 5/8  (or same length as counter side frames) – outer shelf planks
4 1×2 @ 16 1/2 – (or same length as counter front and back frames) – shelf supports
8 1×4 @ 23 – inner shelf planks
1 1×4 @ 22 – counter support
4 2×4 @ 1 1/2″
Note: Because you want the counter to fit snugly onto the frame, mark and measure your cuts for the 1x3s.  Then use these same lengths for the outer shelf planks and the shelf supports.
 Start by making 2 side frames.  For the 1×3 counter side frames, face the pocket holes out so that the screws have more room to grip into the 2×4 legs.  The 1x3s should be flush to the outside of the cart.  Next, attach the 1×4 outer shelf planks with pocket screws on the bottom of each shelf.  The bottom of the lower 1×4 should be 1 1/2 inches up from the bottom of the leg.  The bottom of the middle 1×4 should be 16 inches up from the bottom.
To one of the side frames, attach the front and back counter frames and the shelf supports with pocket screws.  The bottom shelf support should be flush to the bottom of the leg.  The top of the middle shelf supports  should be 16″ up from the bottom.
Lay the other frame on top of the frame used in Step 2.  Attach with pocket screws. At this pointed, I did a dry fit to ensure my counter fit snugly.

Attach the counter support in the middle of the top of the frame with pocket screws.    
Lay out your shelf planks evenly on top of the 1×2 supports; there should be about 1/2″ gap in between the planks.  Attach from the bottom with screws through the 1×2 into the shelf plank, or nail in from the top. (I stained and sealed my shelves before attaching them so that I could ensure the sides were properly sealed)

Use construction adhesive to attach the counter to the base.
Attach cleats underneath bottom shelf planks into bottom side of legs; screw in casters.
I finished mine with my farmhouse stain technique then a few coats of spar urethane.  Bring on grilling season!!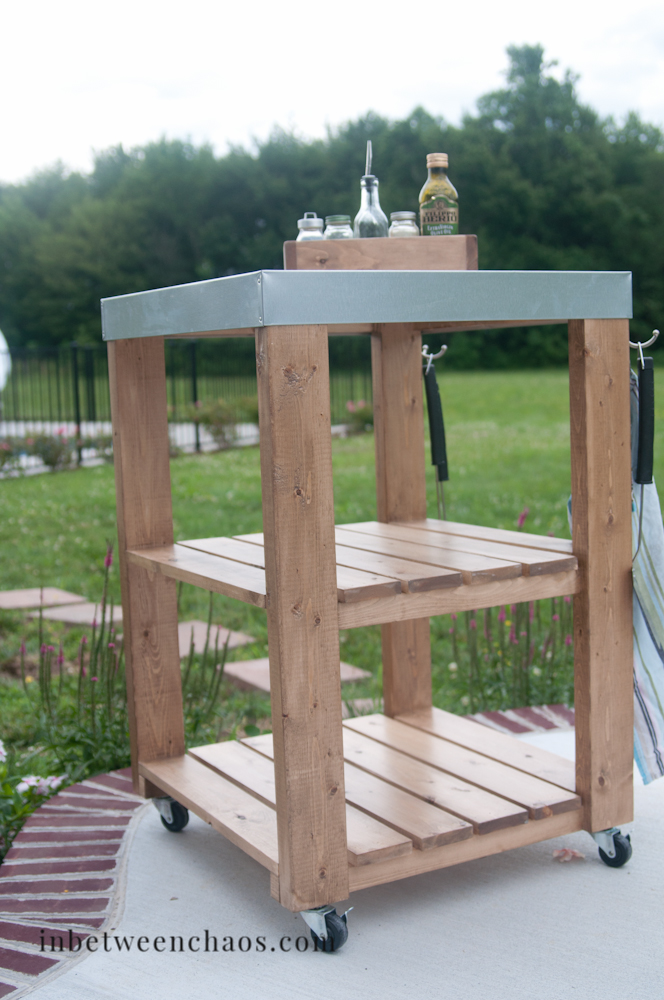 ---
This post contains affiliate links.