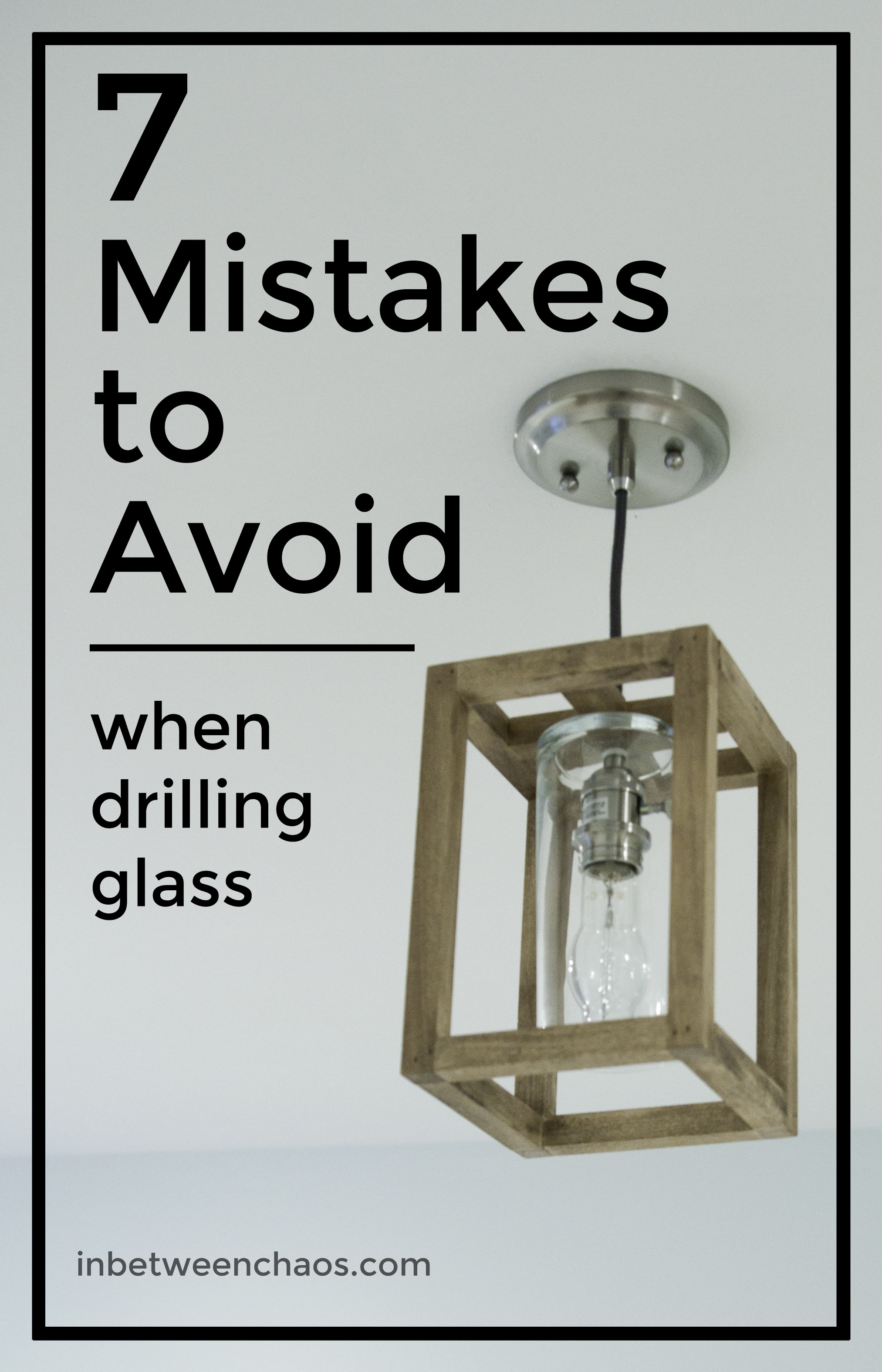 While making my farmhouse light fixture, I tried drilling through glass for the first time, and it was kind of exhilerating!  I loved the grind of the bit through the glass.  It did, however, take me some trial and error to get the piece right. I thought I'd share what I learn in case it helps you on a future project.
Don't forget your research.  There are lots of tutorials online.  Check them out! The key things I took away from them were to not use too much pressure/ let the drill do the work, keep your workpiece/ drill bit wet, and to generally go slow.
Don't use spade bits!  Use hole cutters. I tried the spade shaped drill bits and they are definitely not the way to go!  The spade bits grind up not only the hole, but the circle you are cutting out.  This will take forever, especially if you are trying to do a larger hole.  Here are the bits I purchased.


|
Don't drill without a guide for the bit – Now although hole cutters are way faster, they are harder to get started.  Without the point like a spade bit, a hole cutter will walk a bit.  This means it may slide across your workpiece and makes it difficult to accurately drill your hole.  To solve this problem, I drilled a hole with my circle bit through a piece of corrugated cardboard, then taped the cardboard to my piece.  The cardboard kept the bit from walking until it could get a little divot started in the glass.  I kept my piece dry until I started that divot, then removed the cardboard, wet the bit and glass, and started drilling.
  
Don't use thin cardboard for your guide.  Go with the corrugated. I first tried a piece of cereal box after reading a tutorial online, and it just wasn't thick enough. The bit walked right over it.
Don't forget to keep drill straight! I was drilling through about 1/2″ of glass, and I didn't realize my drill was slightly angled.  This made an angled hole, and then my light fixture didn't hang correctly :(.  So I had to try another piece.

Don't try it on your real piece first.  I was drilling through glass from the Dollar Store, so it didn't bother me too much when I messed one up.  I already had another on hand.  So if you are drilling into something expensive or something you can't replace, definitely practice on another piece first.
Don't lay your piece on a hard surface. It is more likely to slide and break that way.  I laid my vase on a towel to give it some cushion.
Hope these tips help.   Bottom line – just go for it!
---
This post contains affiliate links, which cost you nothing, but gives me a small commission to help support this fledgling blog… win – win!  Thanks for stopping by!