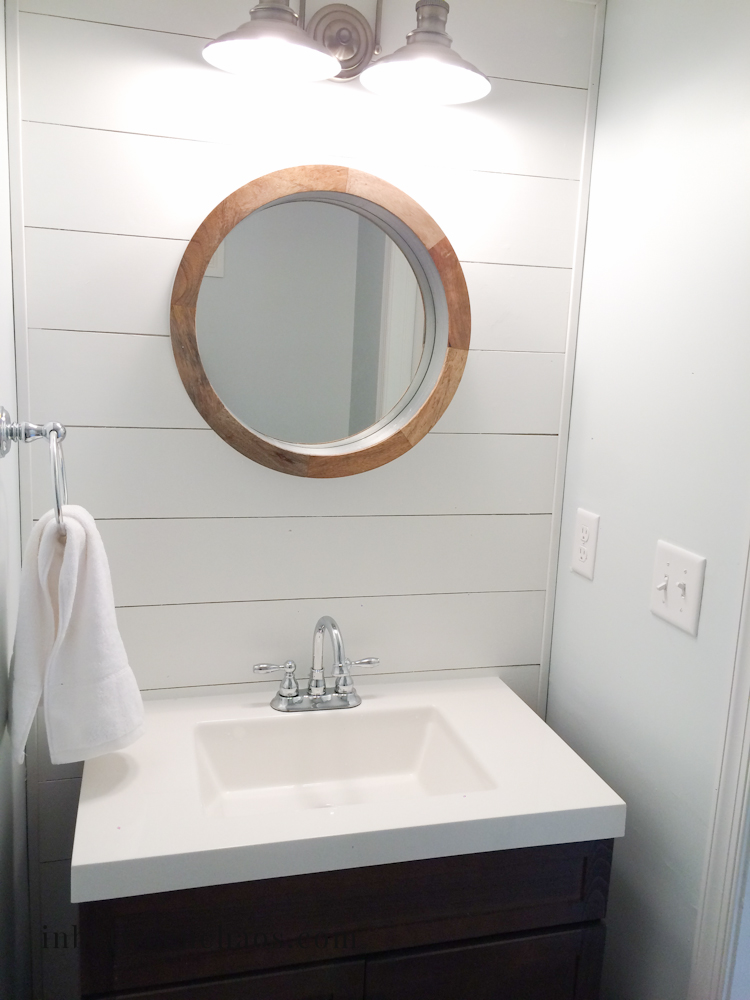 I've long wanted to install some faux shiplap… you know, horizontal strips of plywood tacked to the wall t mimic real shiplap, the signature of home fashion icon Joanna Gaines of Fixer Upper? Now granted, nothing can match real shiplap: beautiful wood, perfect grooves, real texture and dimension.  But I also can't match the cost of real shiplap.  There are a ton of tutorials online about how to mimic the look with plywood.  Boy do they make it look easy.  And don't worry, it is!  But they don't tell you about some of the little details that will take your project over the top.  Keep reading below and I will!
Don't wait to paint – I did not paint my luan until after it was on the wall, and that made it tough to really get paint in the grooves without sacrificing the appearance of the grooves, which is what gives it the shiplap feel.If you do not want to paint first, then paint horizontally, or parallel to the grooves.  This will prevent too much paint from getting stuck in the grooves and interrupting the line.
Don't forget to paint the back wall first.  If you are covering a red wall with white shiplap, it's going to look really fake.  Make sure your back wall is the same or a similar color to your final shiplap color.
Don't assume the employee running the saw at the big box store knows how to use it.  Seriously, if you ask for 6″ strips and they measure them all at once without accounting for blade width, you will end up with increasingly more narrow boards.  I've seen them try to do this one too many times. Don't be afraid to speak up and ask them to not rush through it, to check their measurements, or to re-measure after each cut.
Don't get careless with edges.  If you are using luan (so cheap and light, but peels and splinters easily) watch the veneer on the edges.  Sand the edges beforehand, and if some veneer begins peeling, cut rather than pull.  Otherwise, the next thing you know, you will have a huge black space with the veneer pulled off.  Also, know how to cut to keep the majority of the splintering on the bad side that will face the wall. When using a chop saw, place the bad side down.  When cutting with a jig saw, place the bad side up.The pictures below show cutting with a jig saw.  I kept the bad side up when cutting.
 
Don't assume your wall is straight.  My first wall was this wall in my flip house.  Sadly, the width of the wall was slightly off.  To save time, I cut a bunch of my strips at once.  Unfortunately at the bottom, they just weren't wide enough.  The wall bowed out a bit at the bottom, leaving gaps on the sides.  So measure your strips all the way down.  But if you still have gaps (no worries, lots of walls aren't perfectly straight and no one is perfect at measuring or cutting, right? – or maybe I should just speak for myself!) then refer to Don't #7!
Don't forget your glue!  Glue will help keep the luan nice and flat to the wall in between the nails.  I used Gorilla Glue – it doesn't take much!
Don't forget to plan for trim.  With raw and difficult edges, installing trim will really help clean up the job and make it look more realistic.  I like the look of lattice and think it gives a nice clean, modern finish.
Don't tackle too much the first time!  For your first job, go easy on yourself.  Don't tackle an entire room.  And choose a wall with minimal obstacles (i.e. window trim that would be difficult to cut around, or outside corners).  Before cutting anything, think about how your trim and plywood strips will work around outlets and light boxes.


And make sure you check out part 2 for more great tips to take your project to the next level.


-Marianne

---

This post contains affiliate links, which cost you nothing, but give me a small commission to help support this fledgling blog… win – win! Thanks for stopping by!