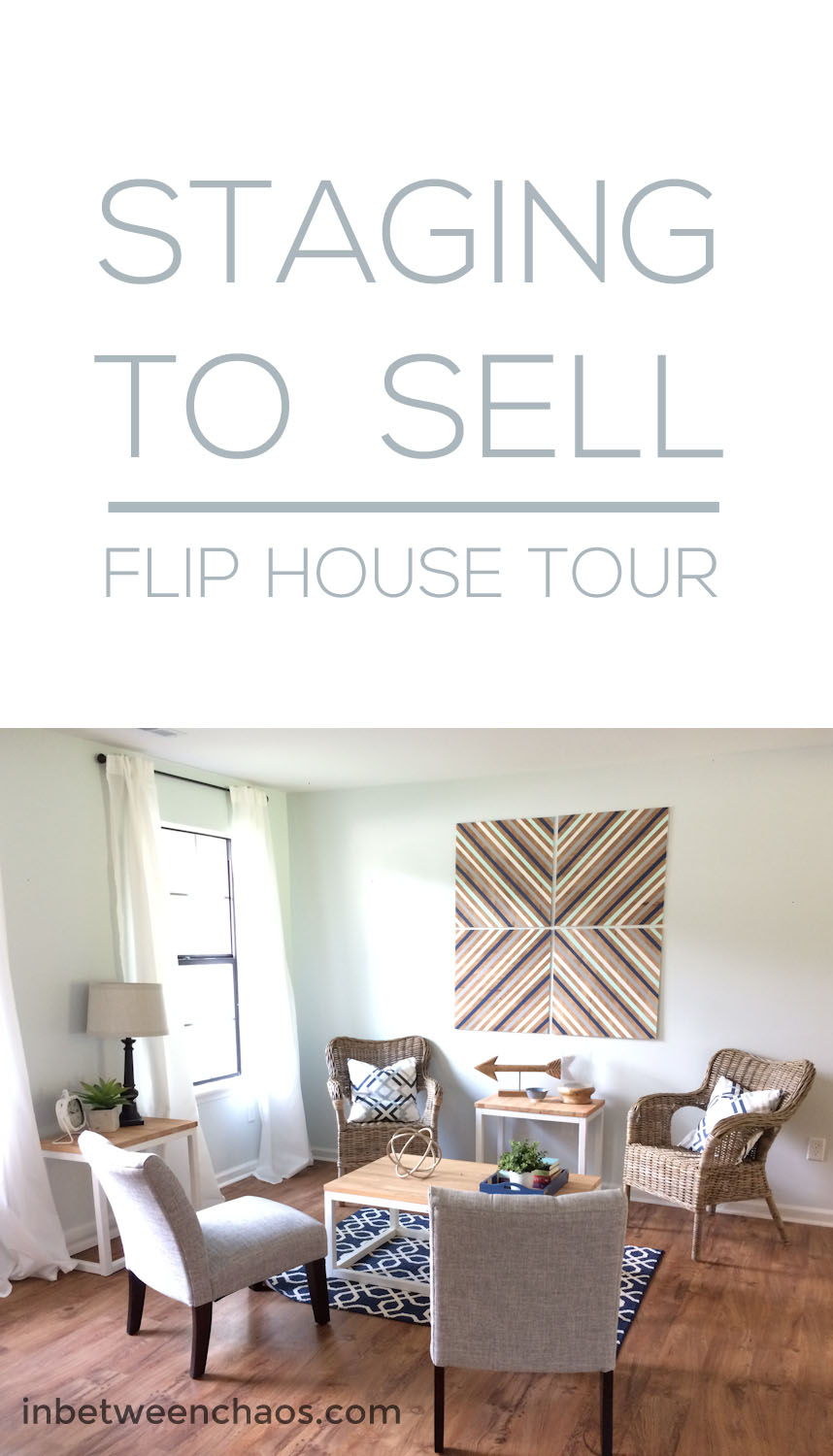 In the midst of the cleaning, finishing and staging flurry of the last couple of weeks, I had a chat with my dad about staging.  Once he learned we were semi-furnishing the place, he deflated a bit.  The idea of purchasing and moving things just for show made him feel tired.  I grinned a bit and replied, "It's what gets me up in the mornings!" And I meant it literally.  It's what I've been doing almost every morning before the kids have been up.
I had lots of ideas and items on my Staging Plan (you can check that out here!), but every good plan must be able to adjust, right?  One thing I didn't have on my plan that I certainly did achieve was a totally destroyed house and garage as well as 3 kids who immediately groaned at the simple mention of putting on their shoes.  The truth is, In Between Chaos has been a bit of a misnomer lately, because there haven't been any breaks… any "in betweens"… it's all been chaos and I had to just push right through.  Part of the problem is that I always have a warped sense of reality… always thinking I can quickly whip up a project when in reality it takes at least 3 or 4 times as long as I thought!
But love of what I'm doing is what's pushing me through.  Thankfully, these things do get me up in the morning. I'm grateful to be able to get out of bed and work on something I love!
So without further ado…
Exterior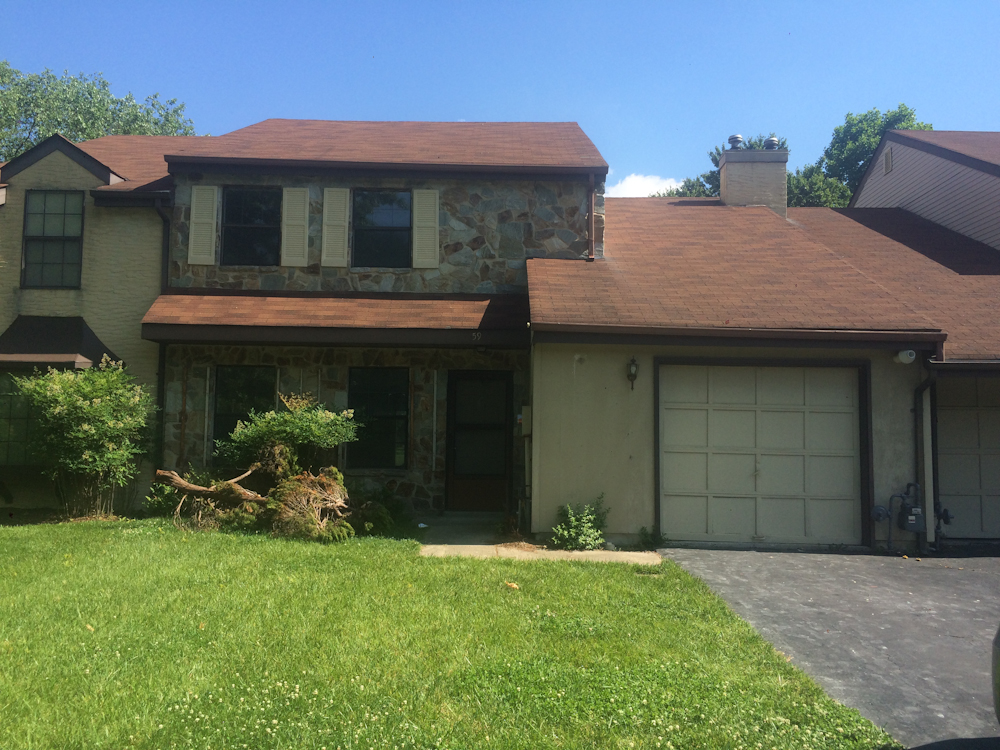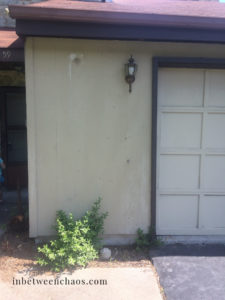 The outside was pretty easy, we cleaned up the landscaping, added mulch, a fresh coat of paint, a few new light fixtures and new shutters downstairs.  I made a cedar planter with an x trellis, which is now hardly visible under the sweet potato vine, and a modern address plaque.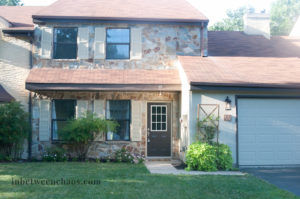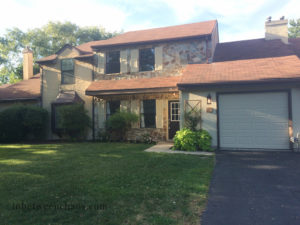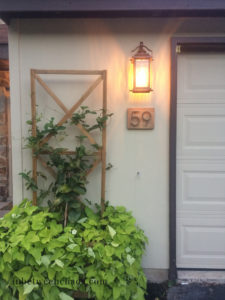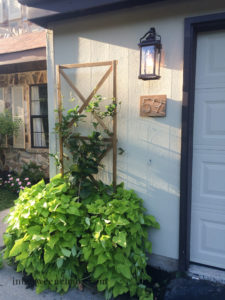 Living Area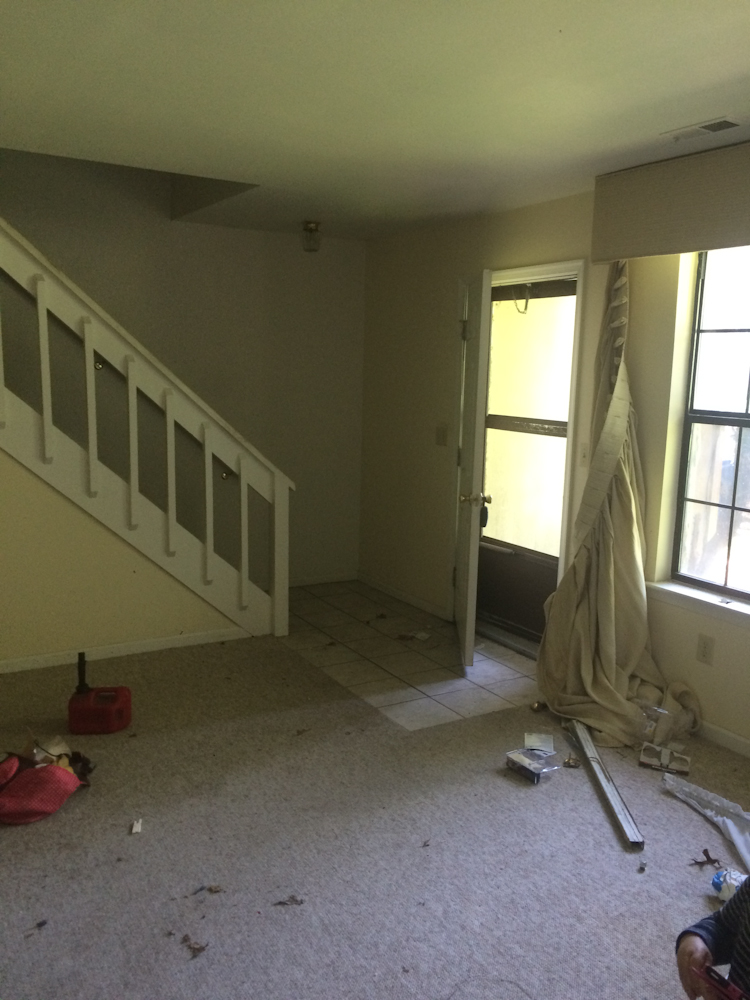 Inside the front door is a foyer and a living area connected to the dining room.  This room was so dark when we first opened the doors.  The paint was dreary and dirty, and the curtains were heavy and dark!  It was amazing how different it felt just by pulling down the curtains, and then by getting fresh crisp paint on the walls.  The entire inside of the house was painted Sherwin Williams Quicksilver, and we laid all new floors.  In these two rooms, there was little else to do.
For staging, I purchased a few accent chairs to provide seating, as I didn't want to have to buy and repeatedly move a couch.  I made the coffee and end tables using an IKEA countertop.  I also added some artwork, which was one of the easiest and most fun projects I did!  I will share that soon also.
I purchased the grey tufted chairs and the navy trellis rugs from Target, and I painted and decked out a little wooden tray.  The small console table is my Go Anywhere Accent Table, and I made the pillow covers from a Premier Prints fabric called Winston Navy.  I hung all of the curtains using these command hooks.  Check out how here.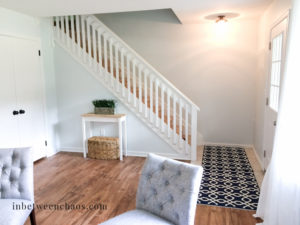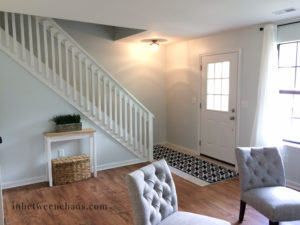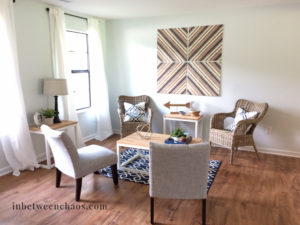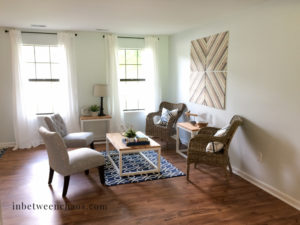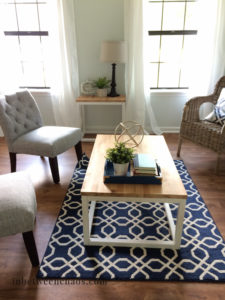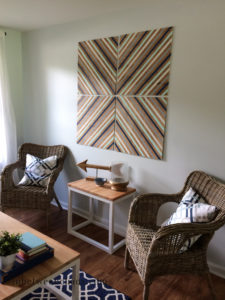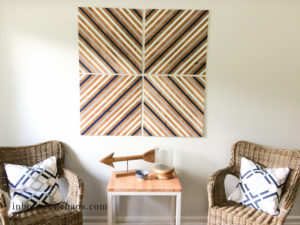 Dining Area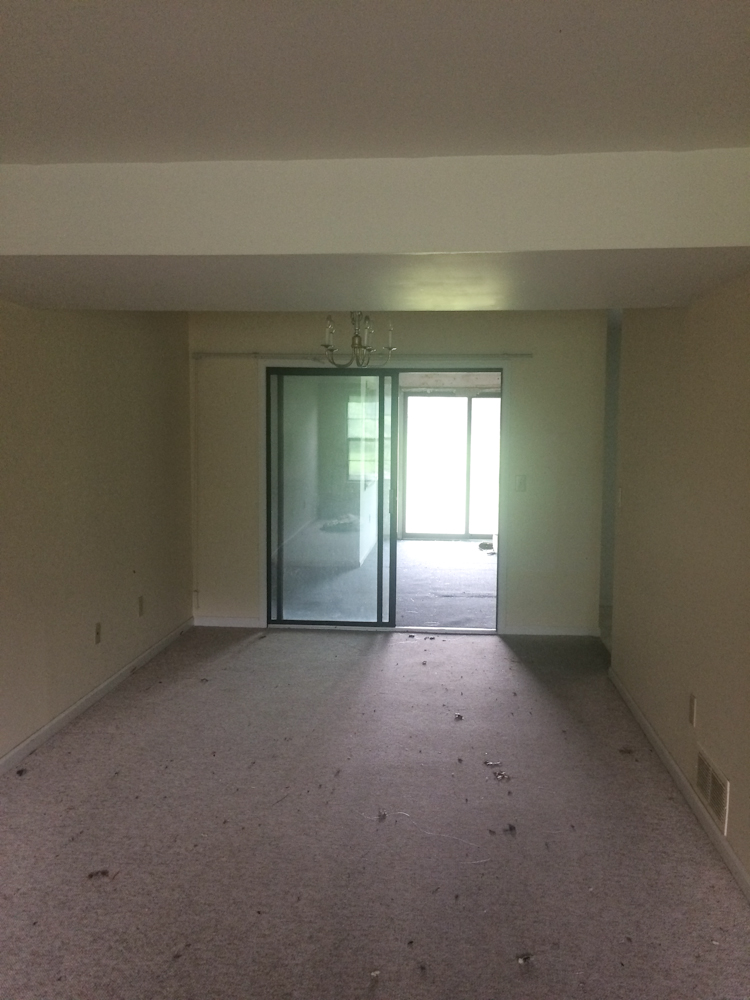 I selected the clear modern dining light to help the space feel more open and airy.  The dining table is the Mayhew table from Target.  Simple sheer curtains, placemats, a neutral rug and custom art work helped finish the space. (The art design was totally copied from Christina's Adventures. Check out how she did it! 🙂 I'll share my quick version soon.)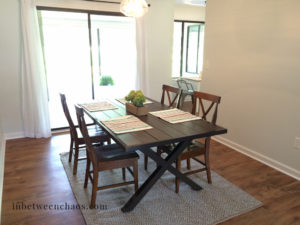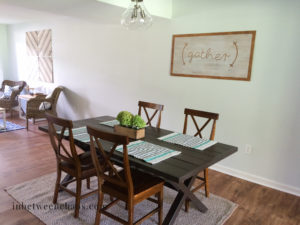 Kitchen and Breakfast Nook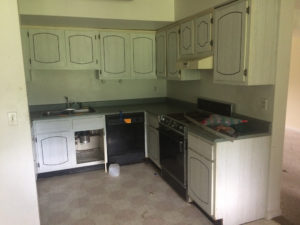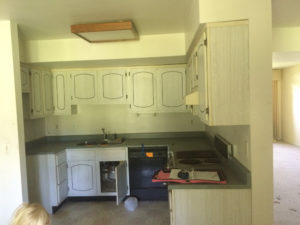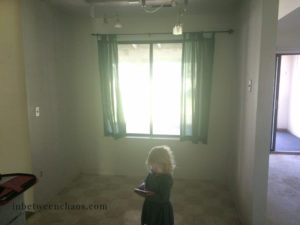 The kitchen was totally redone with new cabinets, appliances, countertops and lighting.  The countertops are Allen & Roth solid surface in Beechnut, and the penny tile backsplash is Merola Hudson Penny Round in Truffle.  The light over the sink and on the ceiling are from Amazon, as is the breakfast nook light.  I also added fun painted utensils.
In the breakfast nook are Carlisle metal dining chairs from Target, and the table is a super easy $30 IKEA hack.  Check out details on that here!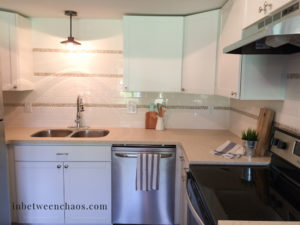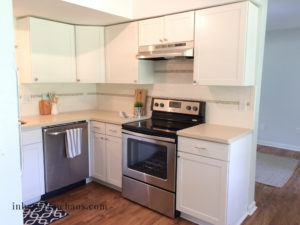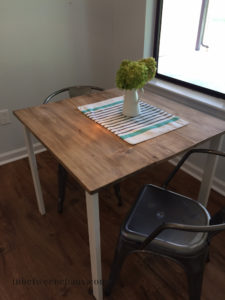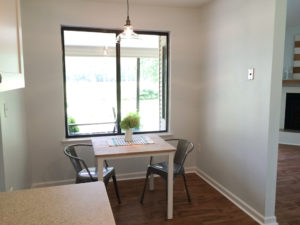 Fireplace Room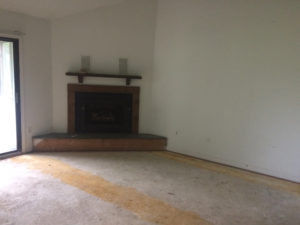 The fireplace room lives grande with a vaulted ceiling, sliders and windows to the porch, and beautiful golf course views.  Here, we freshened up the fireplace surround with paint, re-tiled the step, and added a floating mantle.   Over the fireplace was the perfect spot for some big artwork.  Check out how I made that here!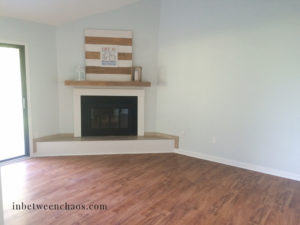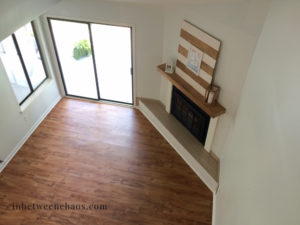 I'll share the rest in Part 2! Make sure to follow me on Pinterest and Facebook so you don't miss the fun (previously plaid) powder room, loft, and bedrooms, or any of the tutorials and projects I've done.  See you soon!
---
This post contains affiliate links, which cost you nothing, but gives me a small commission to help support this fledgling blog… win – win!  Thanks for stopping by!