This post is part of the Ultimate DIY Lighting Guide.  To start from the beginning, click here!
---
All righty… now that you have your fixture, shade and flair, it's time to pull it all together.Which means it's probably time to cut through some glass or delicate materials. Have no fear, it's all here!
When you are drilling into glass you want to make sure:
You don't crack your shade – To do this, place a towel under the glass to cushion it and prevent your piece from moving around. Secondly, use very little pressure – let the bit do the work. And lastly, keep the area wet.
You are drilling in exactly the correct spot (this one is harder than it sounds). Check out my method below for marking the location of the hole. Once it's marked, it is tricky to get the bit started without it walking on the glass. If you aren't careful, the bit can slip and get a grip in the wrong spot, which can be hard to reverse. I use a scrap piece of wood to keep the bit in the right spot.
You are drilling at a 90 degree angle into the glass so that the fixture doesn't hang lopsided. The scrap wood will also help you keep your bit straight up and down so that your hole doesn't go through the glass at an angle.
Now let's back up… first you need something with which to drill through your material. You will need diamond tipped hole cutters, NOT diamond tipped drill bits. I learned this the hard way. When you use a drill bit, it takes forever because you are grinding to bits every last piece of the hole, rather than just the edge around it. So learn from my pain… start with a hole cutter.
This is the set that I bought, and it has worked wonderfully. I've drilled through quite a few pieces with this set. I liked that it came with a variety of sizes. But there are tons of options out there depending on size needed and budget.
Tools needed
pencil, paper and scissors (if marking center of a circular piece)
Marker
Drill
Old towel
painters tape
piece of scrap wood
water
Steps
Mark your spot. If you are using a piece with straight edges, it's easier to find where you want your hole by simply using a ruler. However, if it's circular, this becomes much trickier, especially on the slightly rounded edges of glass. The trick is to trace the edge of the bowl or your workpiece on paper, cut out the circle, then fold it in half and half again. Unfold the paper, lay it on top of your piece, then mark your spot right where the folds cross.


Grab a piece of scrap wood. Using your circle cutter, drill a hole in the wood.
Tape the wood to your workpiece with the hole centered on your mark from step 1. This will keep your bit from walking and helps to keep it at a 90 degree angle to your workpiece. 
Insert the bit into the hole and begin drilling at a slow speed. Once the bit has started scratching its circle, stop and add a couple of drops of water to the piece. You don't need much. Then continue drilling, simply holding the drill in position and not pushing into the glass. The bit will do the work. Every so often, stop to check that the hole isn't becoming dry.
Be patient! The glass is thicker than it appears, and it will take some time to work through it.  
After some time, you will finally notice a bit of the water drip through the hole and onto the towel. At this point, you are just about there, so be very careful to make sure you are supporting the weight of your drill…. you don't want to accidentally let the drill fall into the glass and break it once the glass circle falls out!
And that's it! I've done the trial and error for you, so you are ready to go! Now go hang your fixture and admire 🙂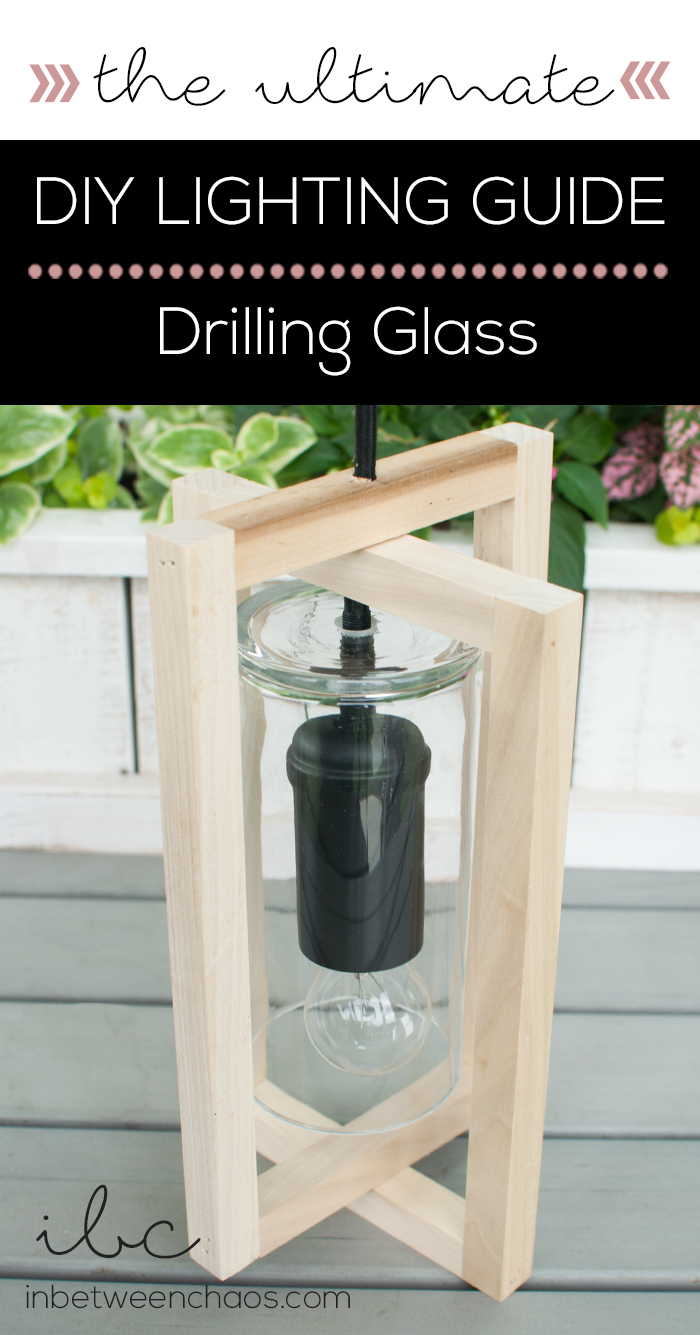 To wrap up the lighting guide, next I'll be sharing some of the best DIY light fixtures from super-talented bloggers.  I just know you are going to be changing up lighting all over the house. Please share your projects – I would LOVE to see them!
---
This post contains affiliate links.