This light is featured in my Ultimate DIY Lighting Guide, along with other ideas for creating your own lamps and how to work with fixtures. 
---
So if you're a fan of Fixer Upper, I'm sure you've seen this house.
These lights immediately catch your eye and make a statement in this kitchen.  So make your own statement with your very own X Lights!
Make them: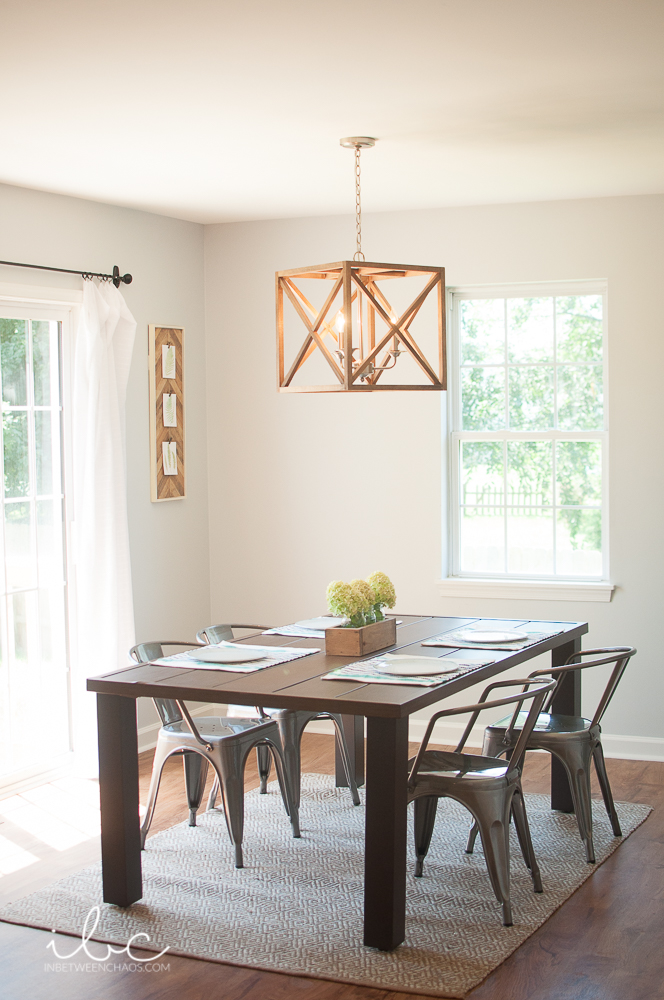 Find a light fixture. Check out my post on selecting fixtures.
Build a basic frame as in the Basic Light, using the measurements of your light fixture as a guide. Be sure to allow sufficient room for your light fixture to hang freely.
Construct one cross of each x, laying the dowel from one corner to the opposite and marking the first angle. (Huge tip: Check out this video from Ana White on cutting angles).
Cut the first angle, then lay the dowel in place again. Mark and cut the second angle.
Attach with glue and brad nails.
To complete each x, cut two more pieces of dowel, marking and cutting each angle. Attach with glue and brad nails into frame.  I also used staples to attach small x pieces to larger x piece from step 2.

Attach a cross brace as in the Basic Frame. 

Feed your pendant through and hang!
Note: If you are good with angle cuts, and your frame is perfectly square, you can create one x as a pattern, and then cut the other 3 all at the same time. If, like me, you are not good with angle cuts, or perhaps your frame isn't perfectly square, you can go the slow and steady route and do one at a time.

---
This post contains affiliate links, which cost you nothing, but pay me a small commission if you decide to make a purchase.  Thank you for stopping by and supporting my blog!