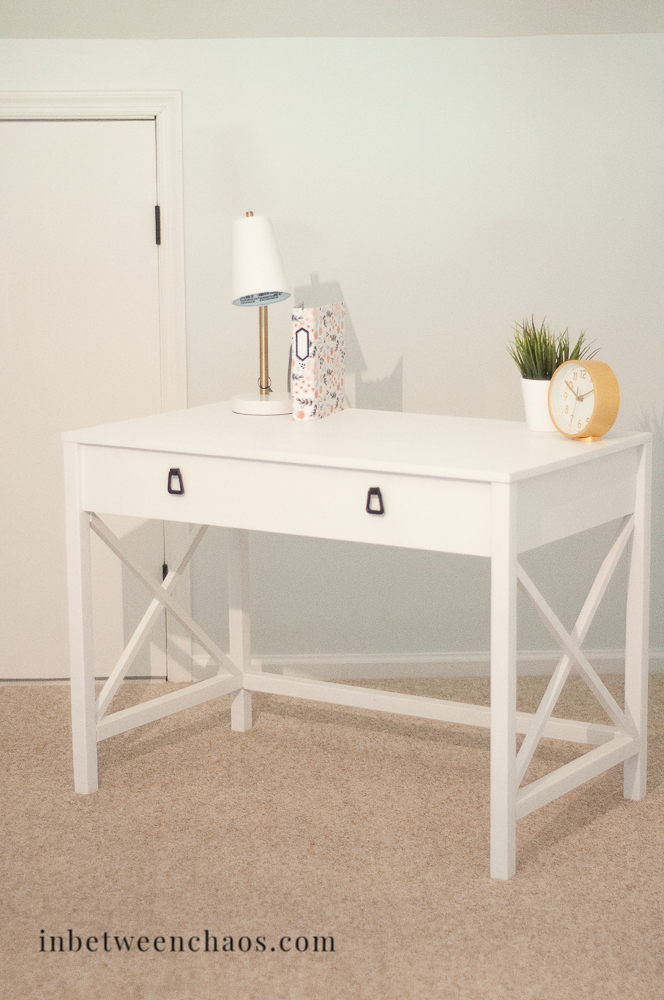 At the House of Plaid, we had the large loft area that we needed to define and give some life.  I decided one side would be good as an office space, but I needed a desk.   I quickly found this one that I liked at Target.  It was a good size, and I thought it would work in a variety of places in future flips.  But I wasn't sure about how easily it would come apart, and it would just be too heavy to move around.  Then, one day w
hen I was in my garage, inspiration struck.  I had picked up a 6 foot long edge-glued panel for $9 one day at Home Depot.  It was on a cart of rejects, thought I still haven't found out what was wrong with it, except of course the black permanent marker where they pretty much wrote Reject on it.  I thought I could cut it down and easily build a desk for much cheaper than even the Target one.  It's also light and easy to move!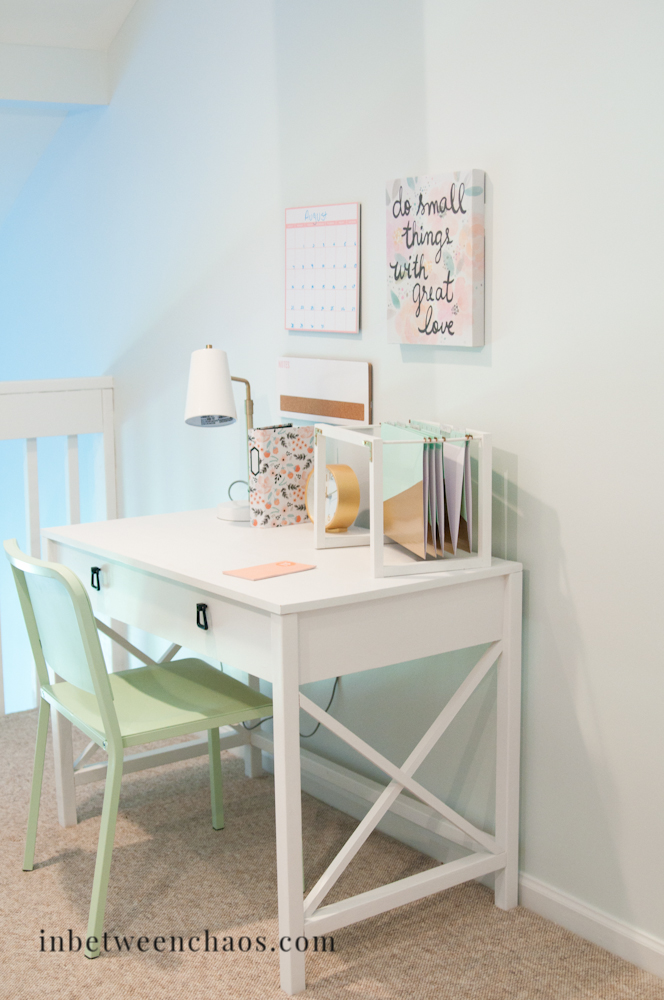 Supplies
:
Desktop -I used an edge glued panel, 23 1/2″ deep, cut down to 40″ long (I used the rest for
this desk
, perfect for a kids room!)
2 1×6 @ 37″ – front and back aprons
2 1×6 @ 20 1/2″ – side aprons
4 2×2 @ 29 1/2″ – legs
1 2×2 @ 37″ – back stretcher
2 2×2 @ 20 1/2″ – side stretchers
4 3/4″ square dowels for Xs – cut to size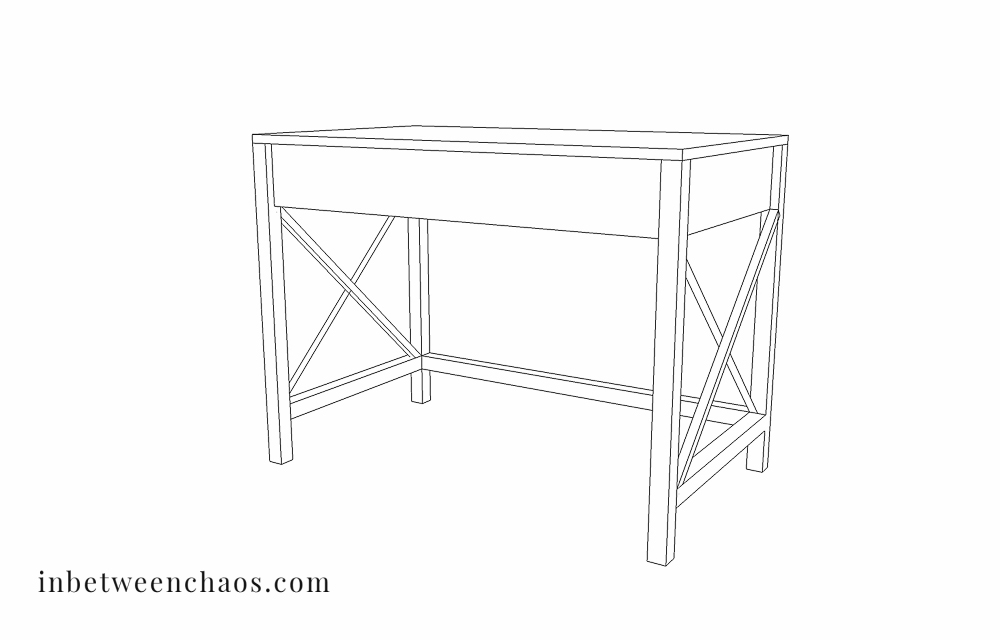 Steps:
Cut aprons and legs, then drill 1 1/2″ pocket holes into ends of each apron. Also, drill 3/4″ pocket holes into sides of each apron – these will be used to attach the frame to the desktop.
Build sides –  Attach 1 side apron to 2 of the legs, aprons flush to top and inside of 2×2 leg.  Attach with 2 1/2″ pocket hole screws through apron into leg.  Next build other end like the first. 
Onto one side built above, attach the front and back aprons as you did the side aprons, with the aprons flush to the top and inside of the legs.
Attach the other side onto the front and back aprons to complete the base.
Drill 1 1/2″ pocket holes in each end of back stretcher.  Attach to back legs where bottom of stretcher is 4″ above bottom of leg.  Pocket holes should face down.
Attach side stretchers in same manner as above.
Flip the desktop over, then lay the base upside down on top of desktop. Attach base to desktop with 1 1/4″ pocket screws through holes drilled in step 1.
Lay out and mark the angles for each x.  Attach with glue and nails.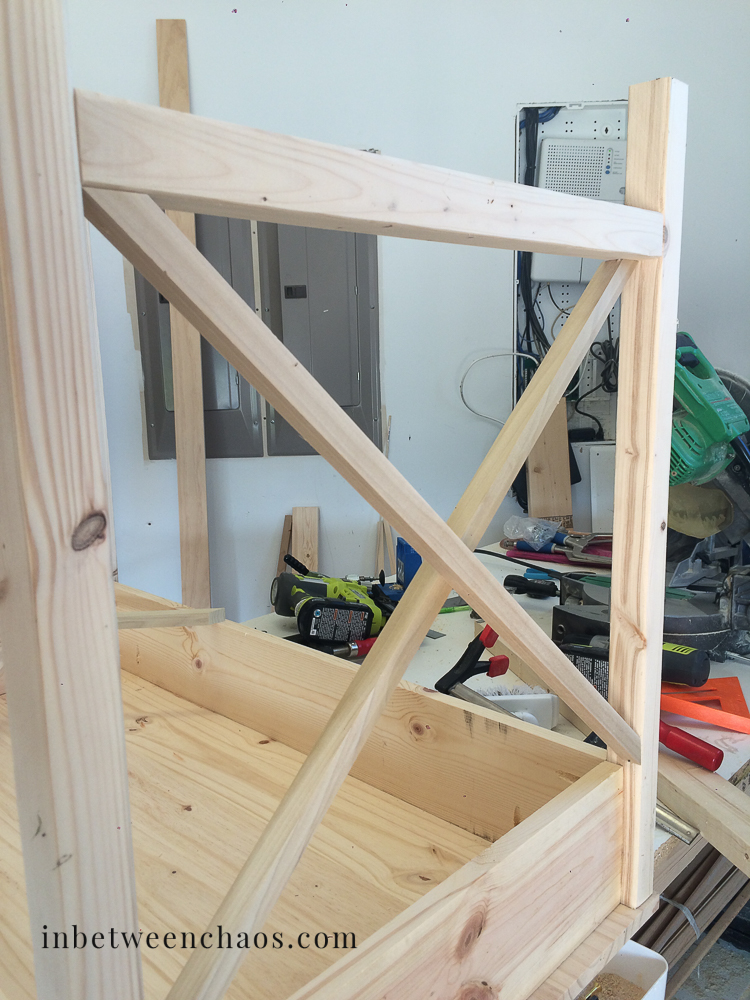 ---
This post contains affiliate links, which cost you nothing, but give me a small commission to help support this fledgling blog… win – win!  Thanks for stopping by!