A couple of weeks ago, I sent my sister a pic of some of my bathroom projects.  She responded that she couldn't wait to see it, and all I could think was, "Me either!"  Well, the wait is finally over!  The construction site my husband lovingly called our bathroom is gone.
I had a few reasons for the makeover:
Function

I needed a place for tooth and hair brushes to help prevent school mornings from turning into a trainwreck.
We needed a place to hang pool towels so they wouldn't all end up on the floor.
The lights projected out from the wall too far and would often get hit by the door.
We needed window treatments for privacy.

Form

The room layout is choppy, and the small space and tall walls just made it feel uncomfortable and unbalanced.
The cutout in the shower wall does exactly what I had hoped – it allows natural light to stream through the room.  But the opening itself felt unfinished.
The plumbing underneath the sink wasn't very pretty.
The mirror was too small and felt lost on that big wall.
Quite simply, I'm much more excited to walk in there now.  It doesn't feel like the leftovers anymore!   I followed no rules – just used what I liked.  I will apologize ahead of time for the heavy pics!
Then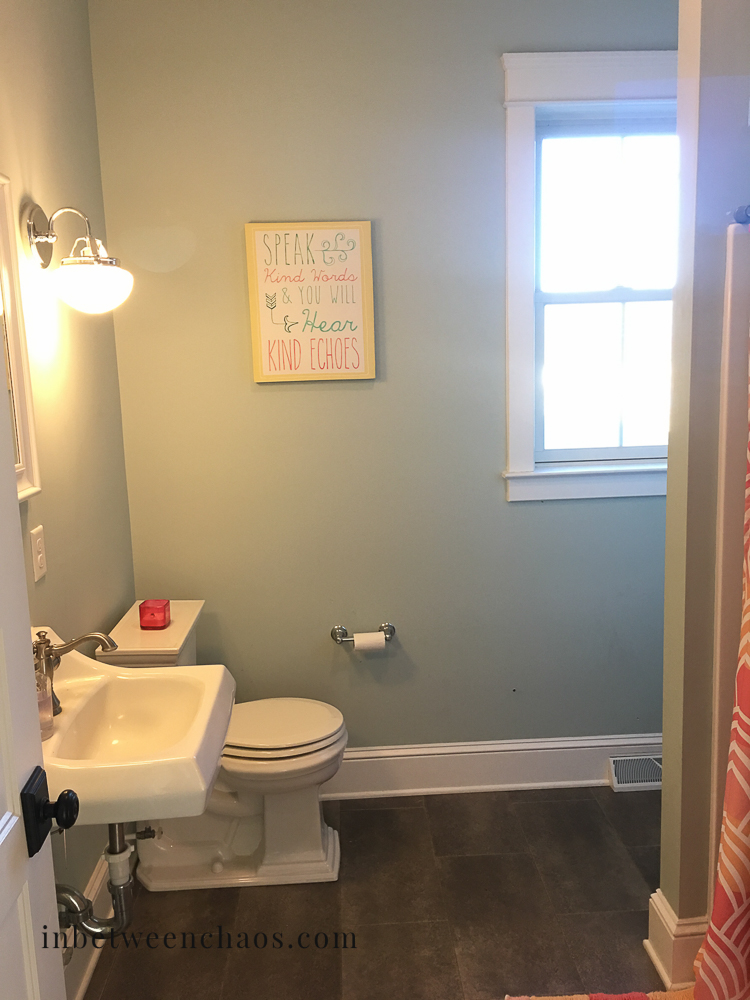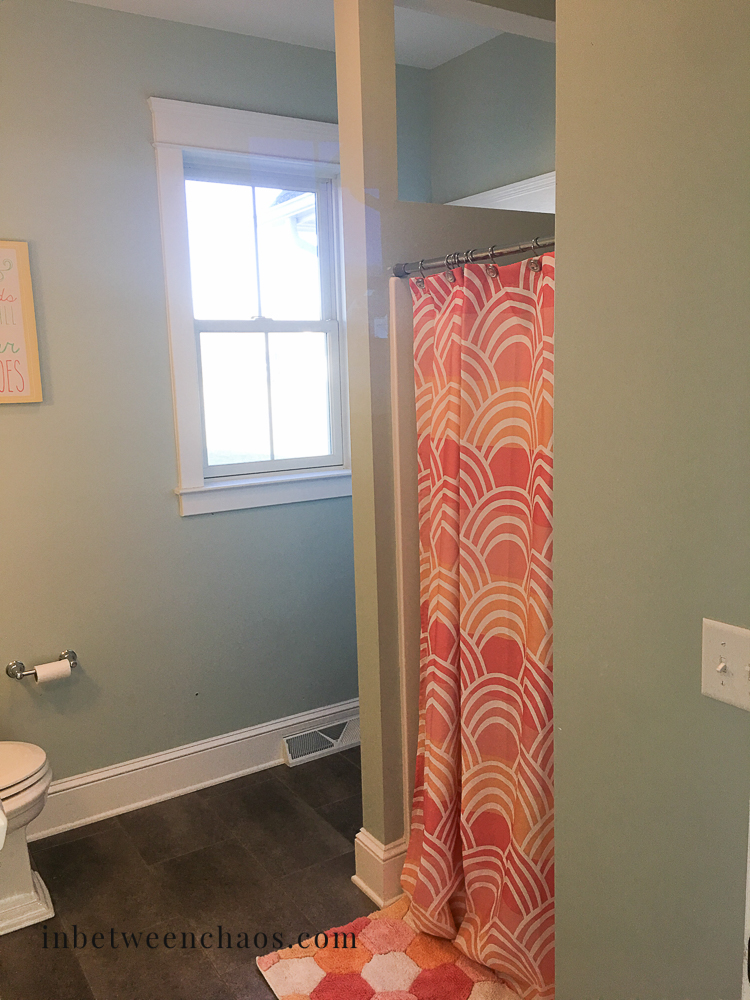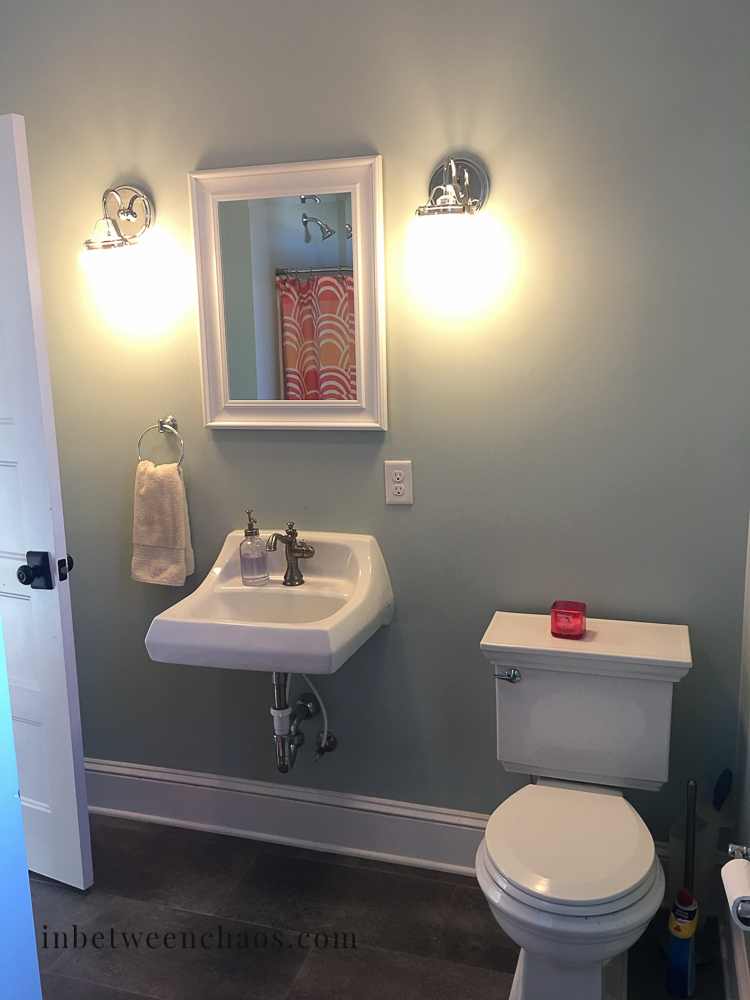 And now…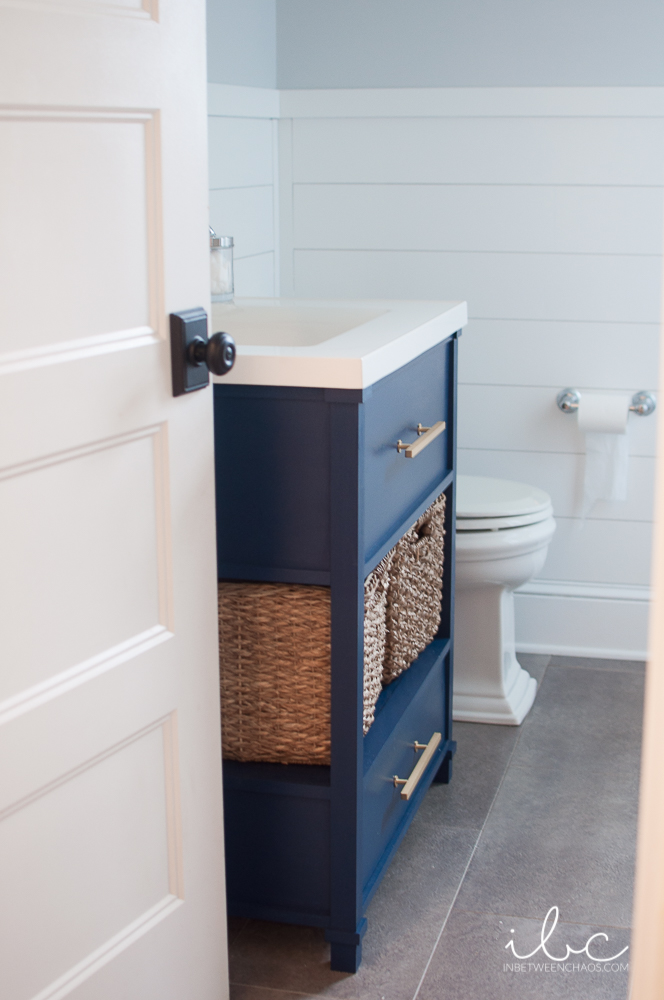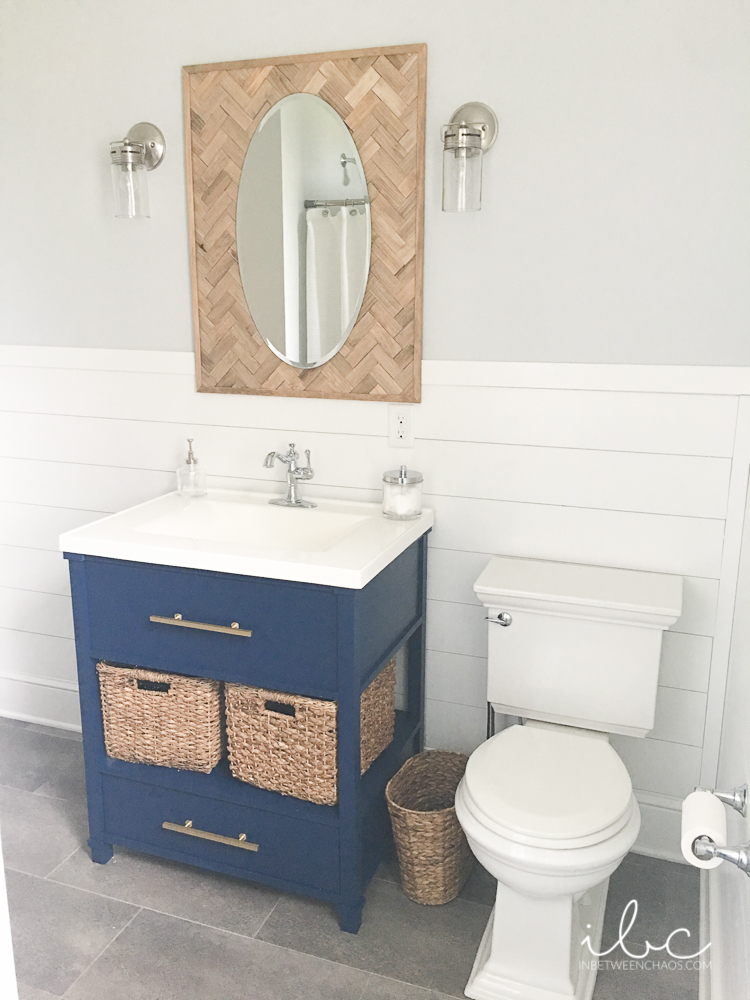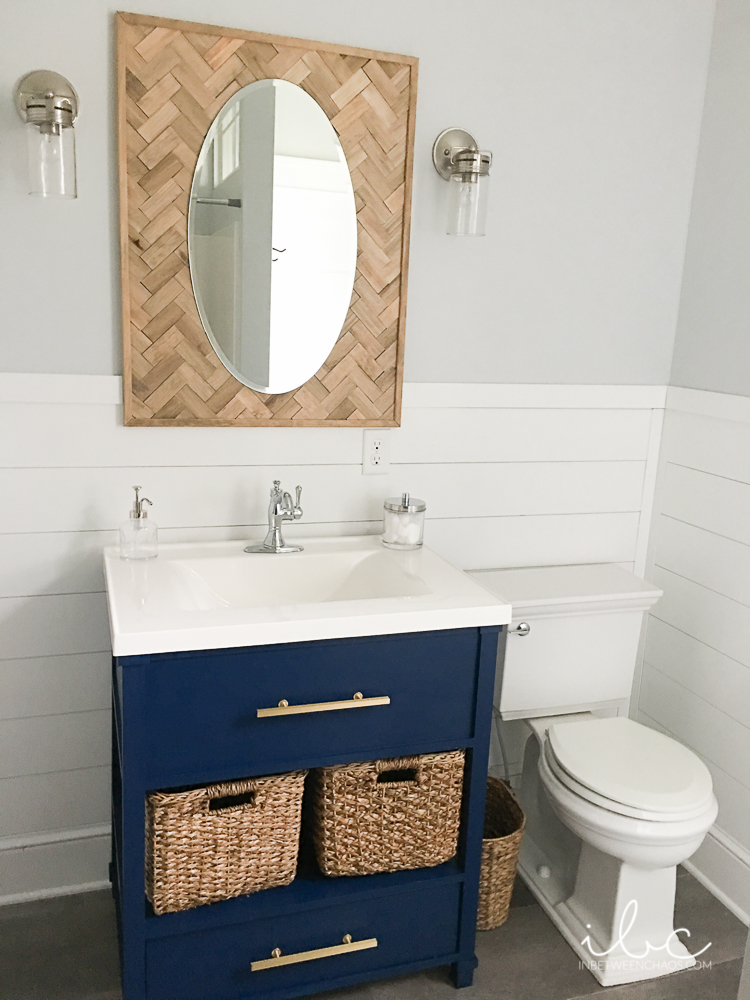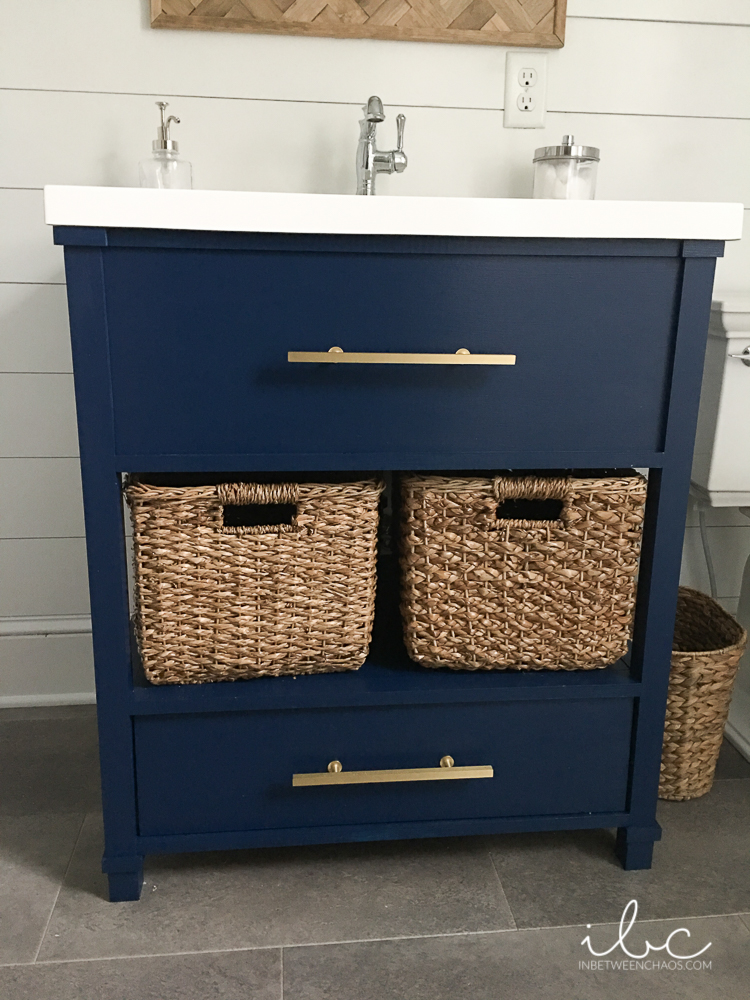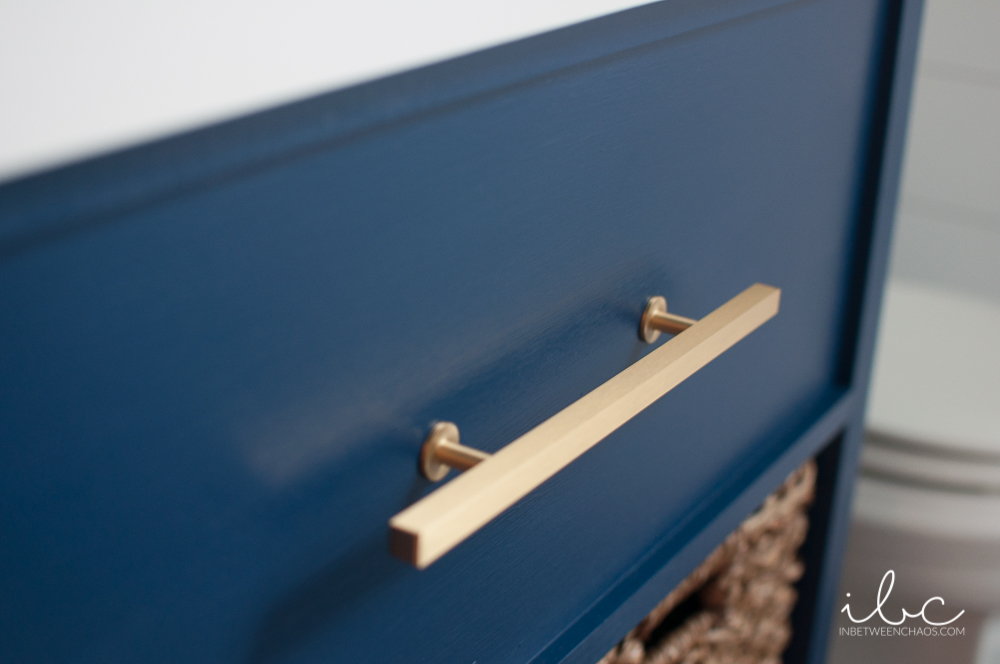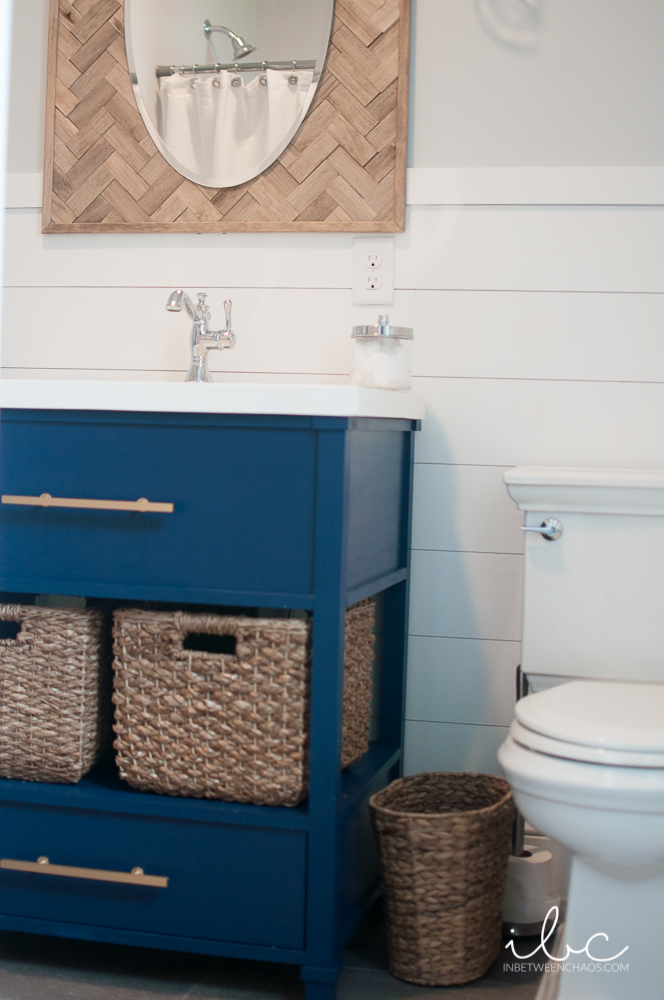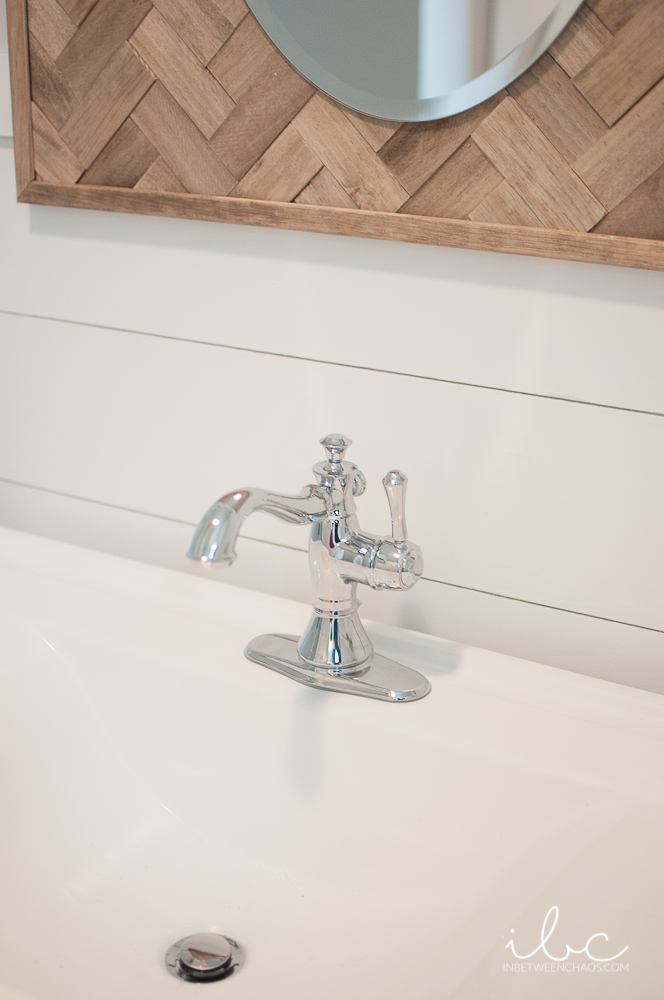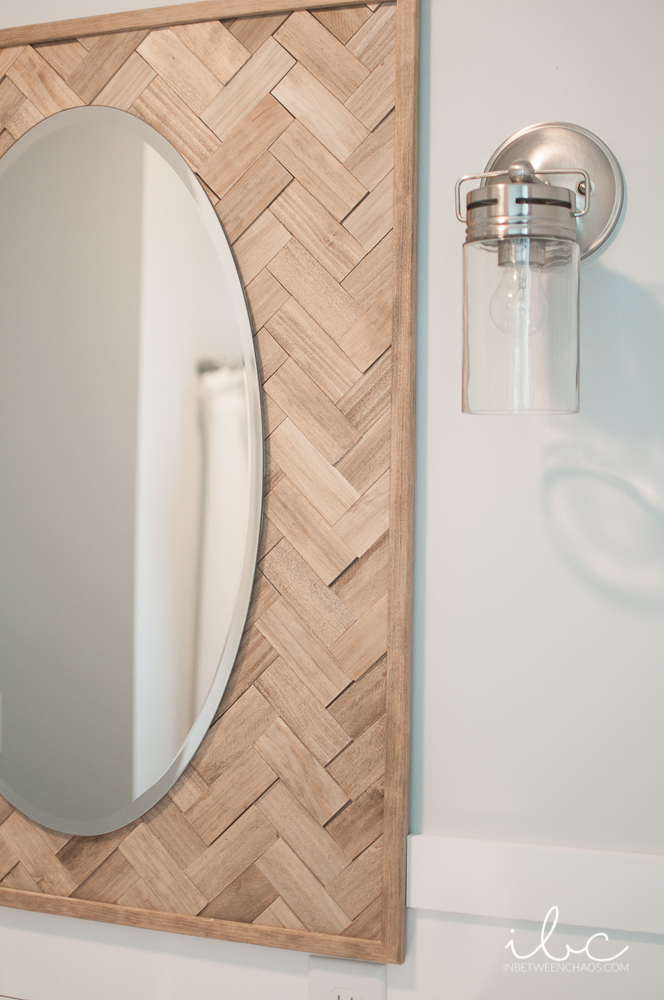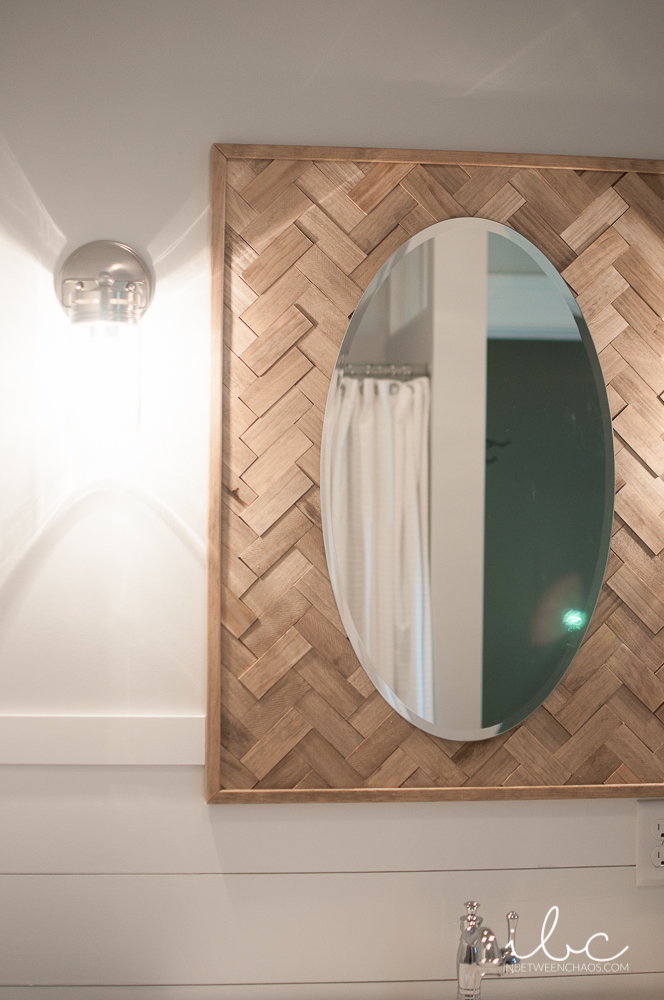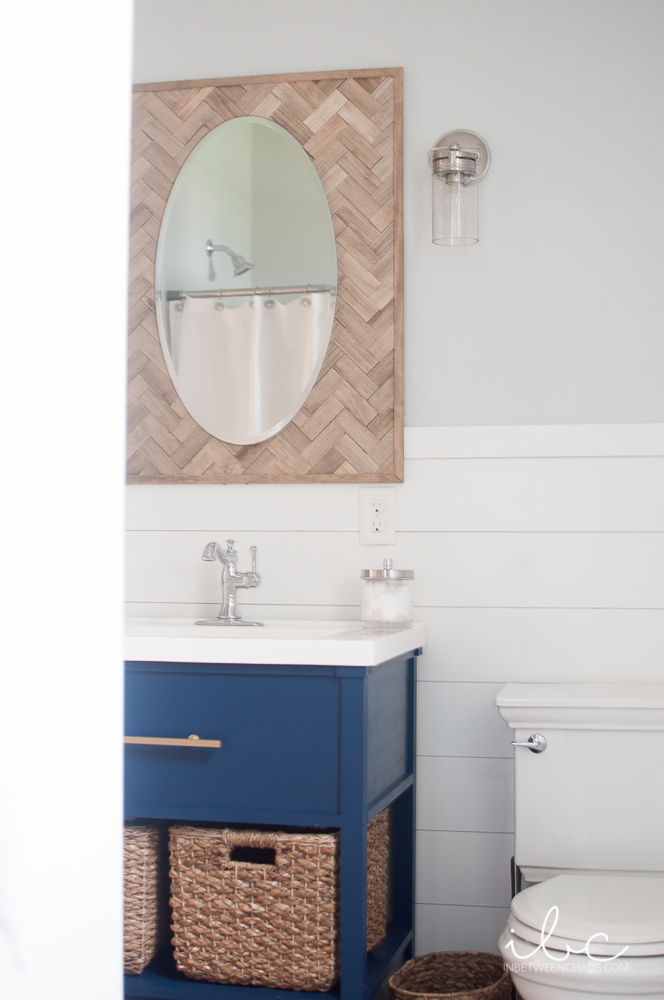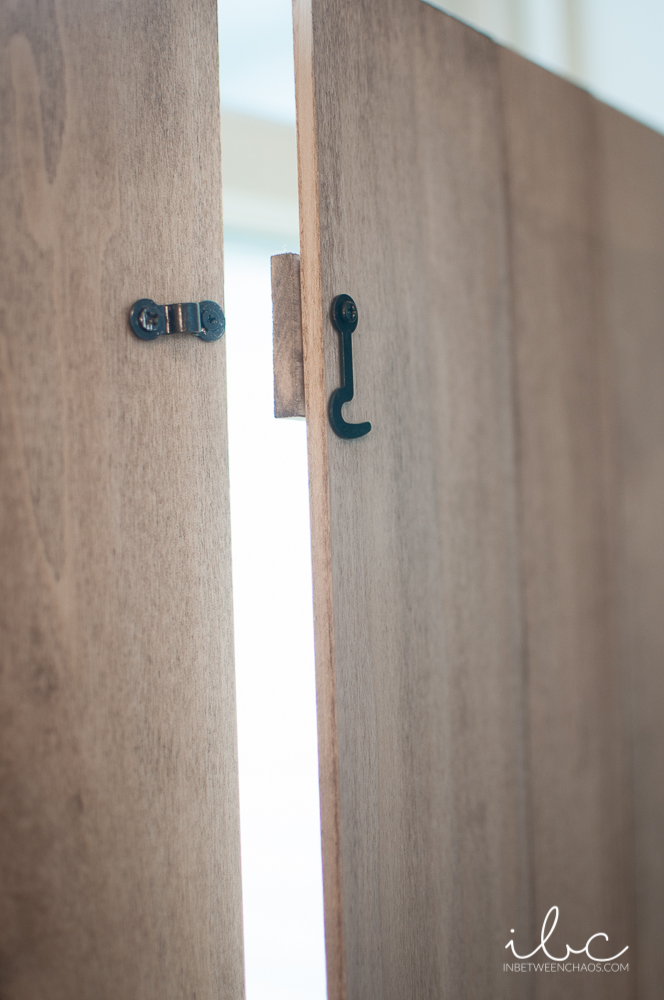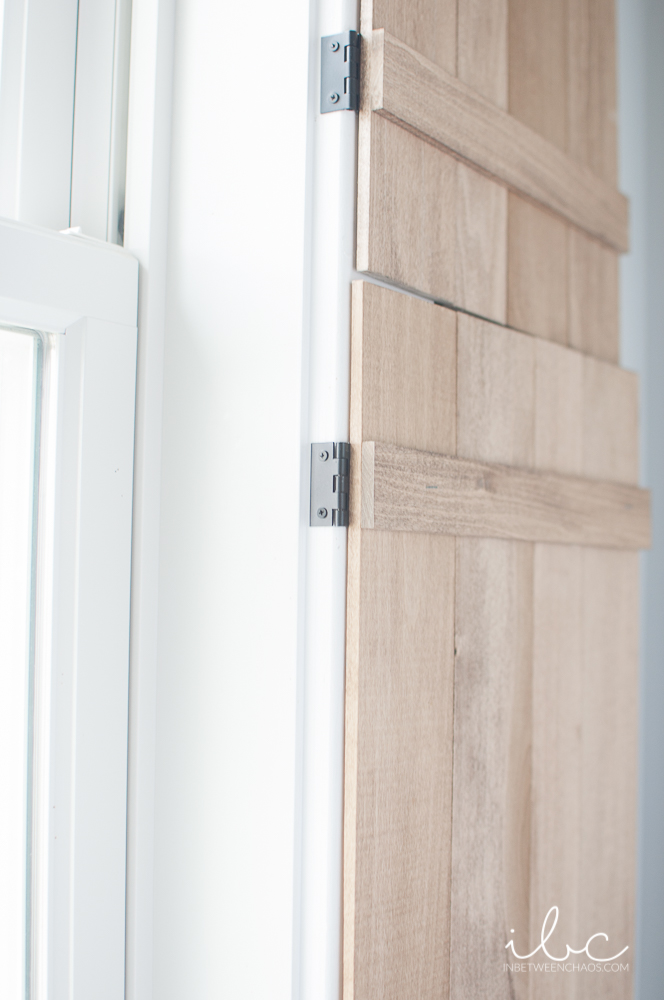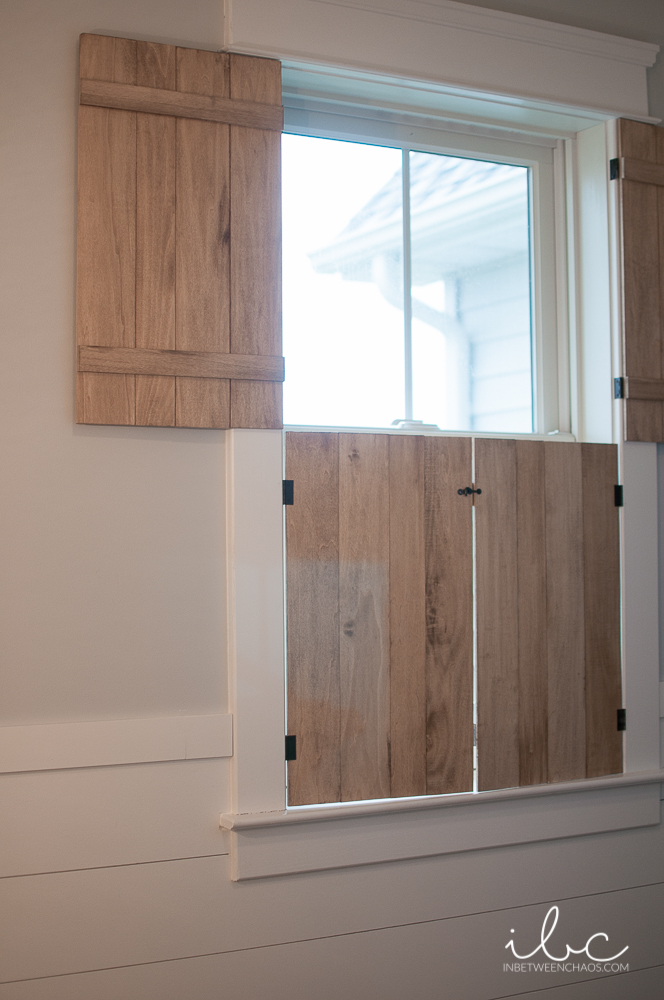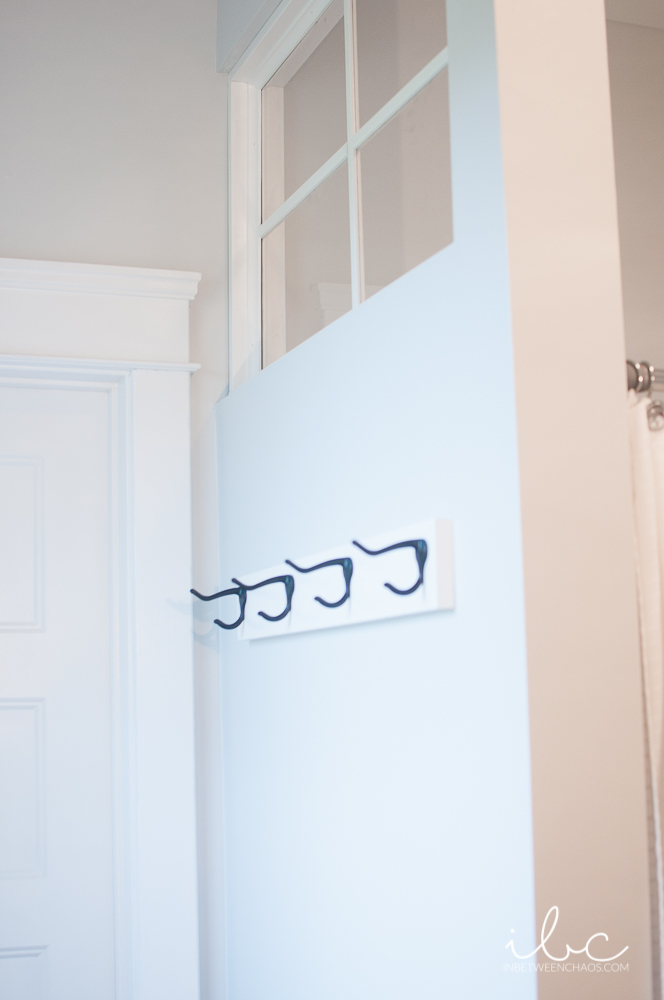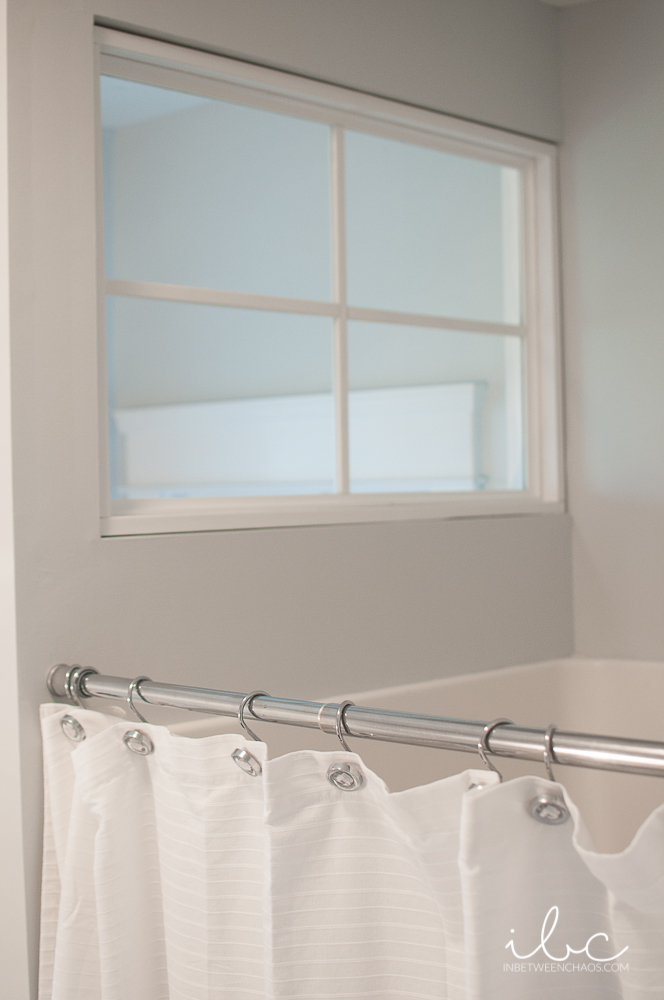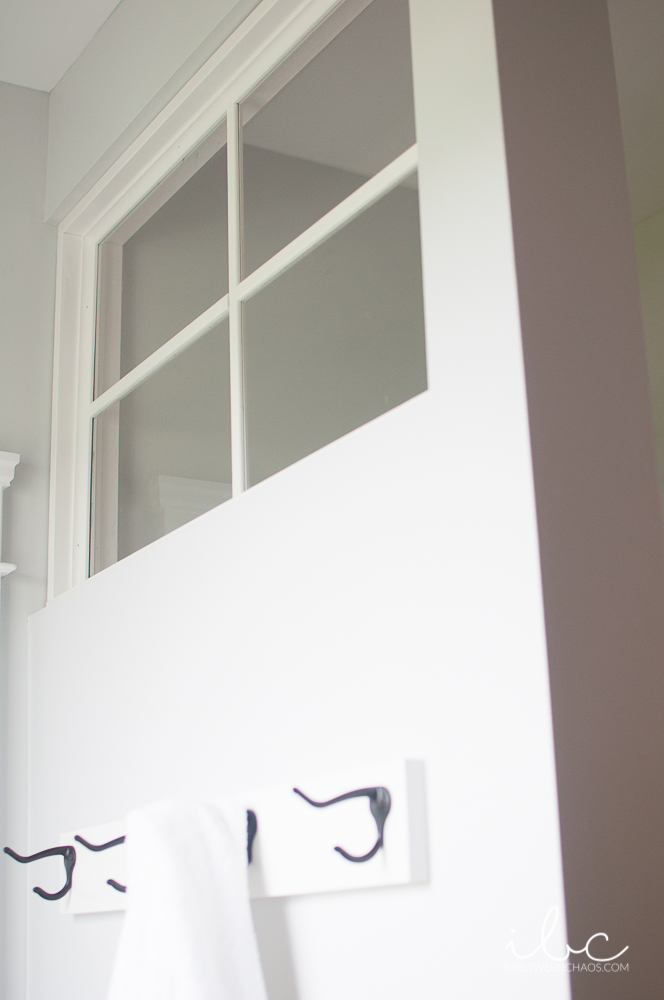 I hope you like it – I know I love it!  Thanks for checking in today, and be sure to come back for vanity plans, more tips on planking walls, and instructions for the wall mirror, transom, and shutters.   See you soon!
Projects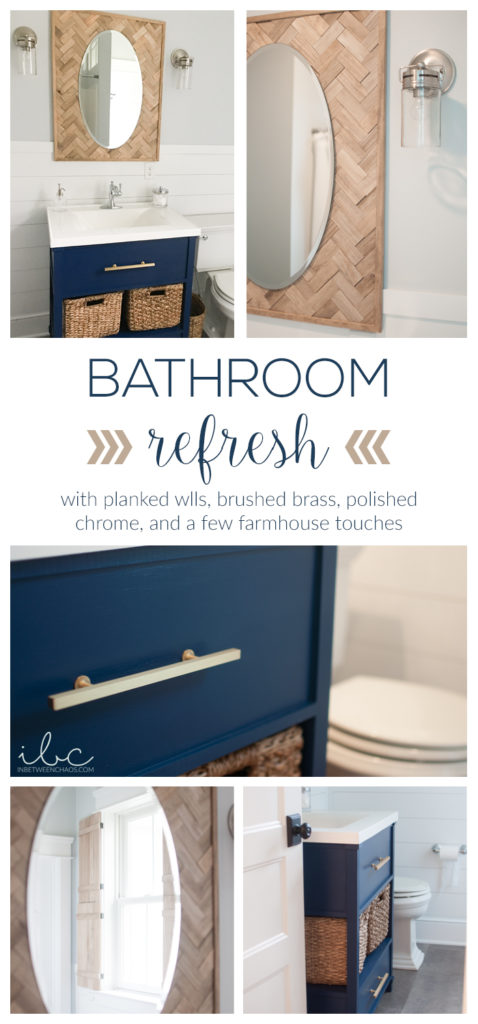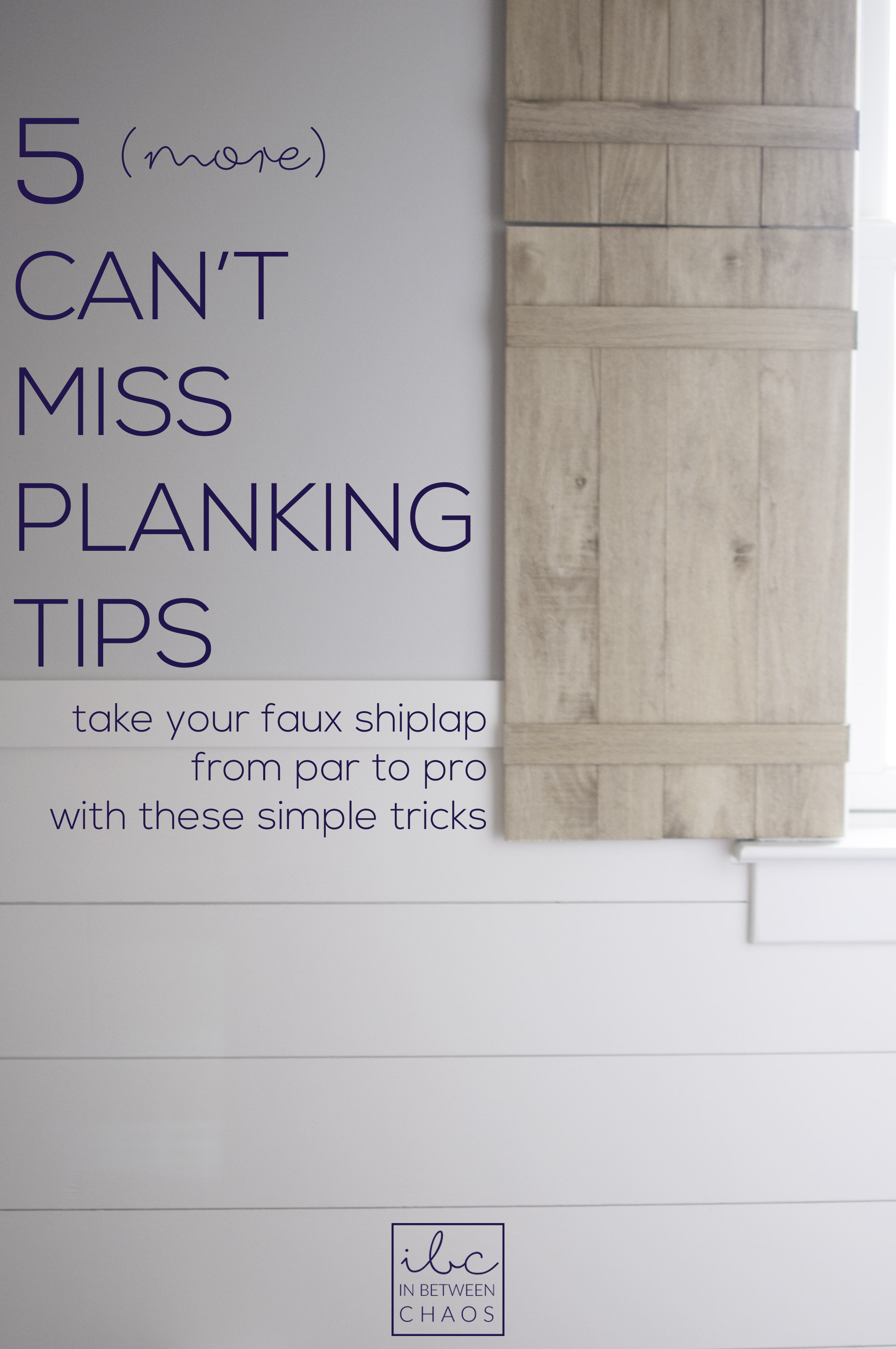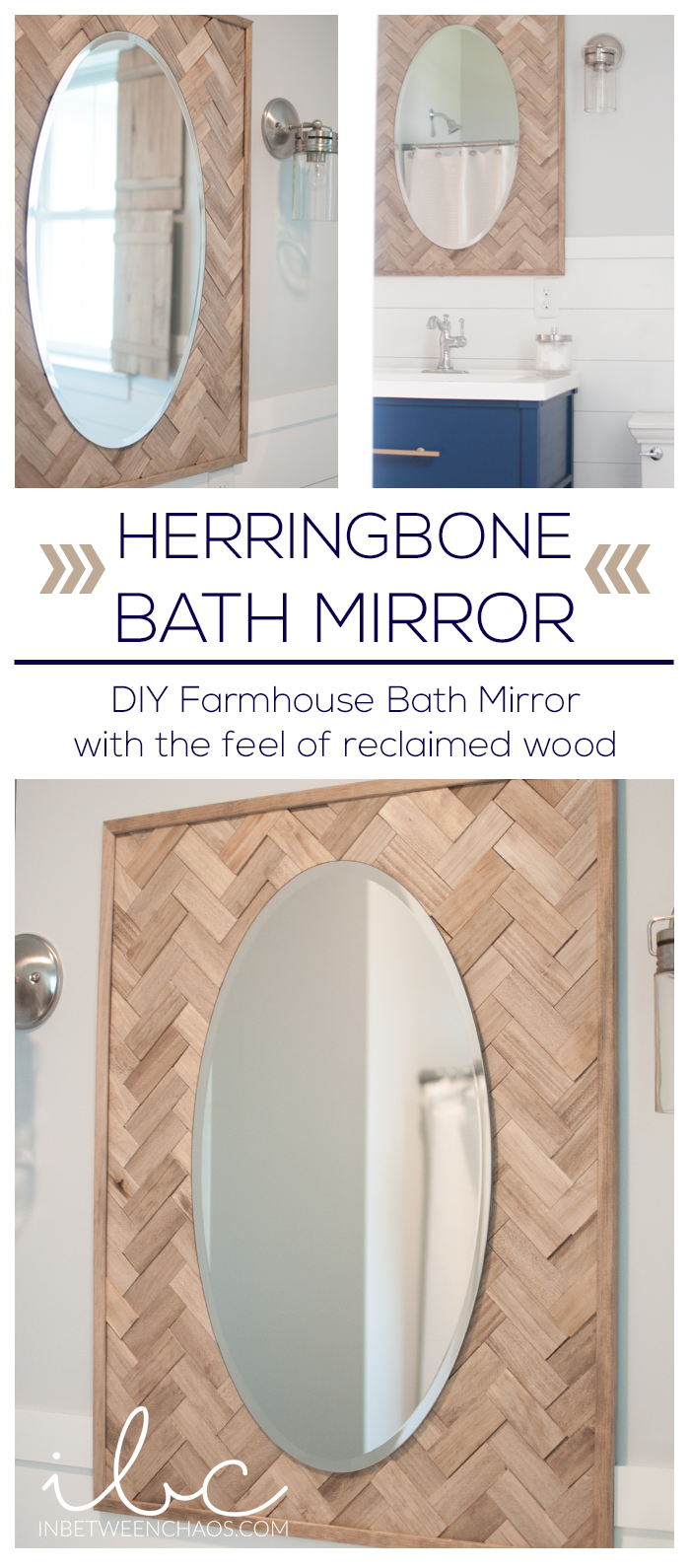 ---
Source List for items, or similar ones, seen in today's post:
Vanity – DIY – for plans click here!
Vanity Color – Sherwin Williams Salty Dog
Vanity Top – with integral sink
Drawer Pulls – Brushed Brass
Faucet – Delta Cassidy in Polished Chrome (By the way, I love the Cassidy faucets.  I have 4 of the bath faucets in my home, and replaced my broken (only a few years old) kitchen and bar sink faucets from another brand with the Cassidy line.)
Mirror – Check out how I made it here!
Shower Curtain – Woven White Stripe
Wastebasket – Sea Grass
Interior Shutters – Plans here!
Hand Soap Dispenser – Oil Can Soap Pump
Vanity Baskets – Seagrass Large Rectangular Wicker
Lights – Valleymeade in brushed nickel
Alternate Light – Wyer in brushed nickel
Wall Color- Sherwin Williams Reflection with 25% white
Plank Color – Sherwin Williams in Pure White
Door Knobs – Schlage Georgian Knobset with Addison Rose
Some of the links provided are affiliate links, which cost you nothing but pay me a small commission to help support my little blog.  Thanks for stopping by!