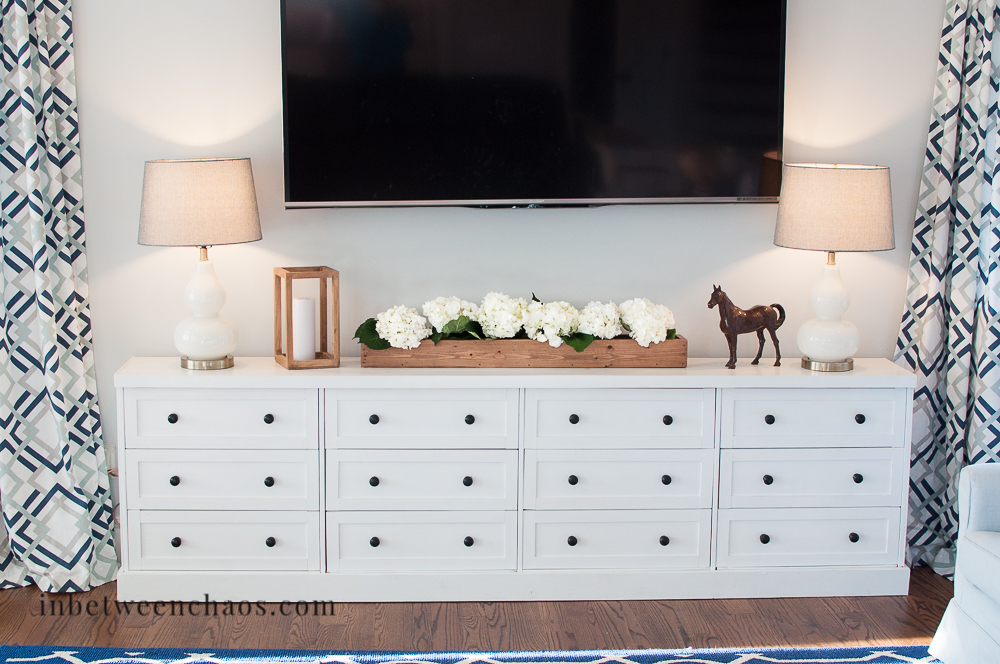 UPDATE: After posting this, I got a lot of questions on how exactly I assembled it.  So I've updated the details below.  Hope it helps!
I thought it might be fun to take a trip down memory lane and show you my first project… as in the first one where I cut my own wood.  I knew that it wasn't perfect, and that was, and still is, totally fine with me.  I felt like I could tackle it because I wasn't constructing it from scratch; I was simply adding trim and turning something basic into what I wanted.  After all, that's what drew me to woodworking to begin with… being able to make what I wanted.  I didn't realize how much I would love the process!
It started with a large wall in our living room where our TV hangs.  It needed something besides a big black TV.  Media consoles in the right size (like 8′ long +) were out of sight price-wise, and therefore out the question.  I scoured antique and thrift stores for a large dresser or banquette that I could redo, but nothing even approached the length I needed.  I wanted something long, low, and narrow.  And then I realized that an IKEA rast, or 4, would do just the trick. After all, it has to be the most hacked piece of IKEA furniture there is!  It's cheap, and mostly solid wood.  And it can take on almost any look you want.
And lo and behold it worked!  I've had lots of house guests ask me where I bought it so that they could get one too. So to me, it's a success.  As a bonus, it offers tons of storage for things like seasonal décor, candles, board games, etc.
To think that I did all of this with a circular saw is almost laughable now.  After all, it was the first time I'd cut wood with anything! If I'd had a miter saw, I definitely could have made it a little more cleanly with more accurate cuts.  But hey, it wasn't that hard.  Anyone can do it, and you can too!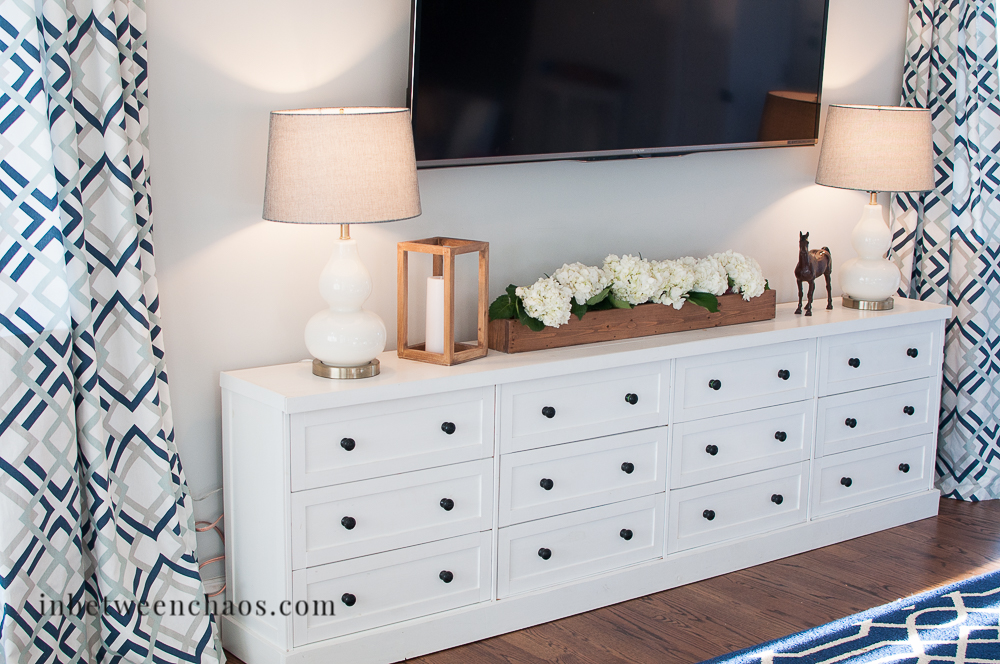 I wish I had detailed instructions, but it's been a few years and my memory is a little rusty.
I decided to take out 3 of the vertical pieces, or sides, so that it would look like one continuous piece rather than 4 individual dressers that had been ganged together.  I started by building one rast, then built the next one without one side and attached it to the side of the first rast.  I did need to drill a few holes into each interior vertical support to accommodate the drawer slides, but it wasn't difficult at all.  I continued adding on until all 4 were ganged together.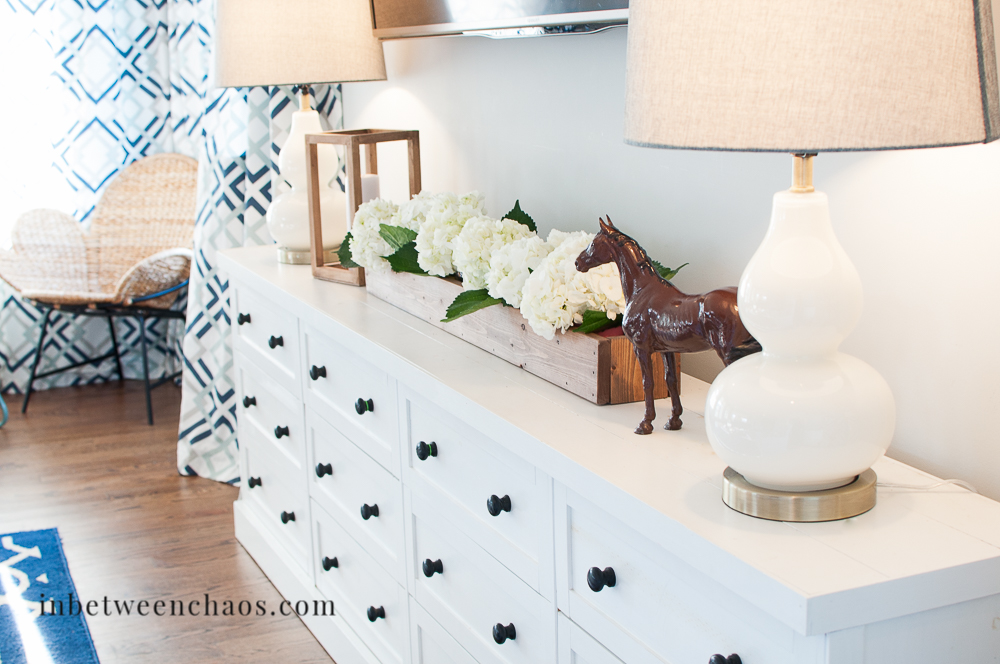 For the bottom, I built out the empty space beneath each bottom drawer, the toe kick-like area, with a 1×4.  I then skirted the bottom with 1x4s around the sides and front.
I made the top with 2 1x4s and a 1×6 running the entire length of the top.  I trimmed out the edges of the top with 1 1/2″ wide lattice.  The lattice helped hide the small gap between the top of the rast and the bottom of the 1x top.  Lastly, I created the look of recessed panels by trimming out the drawers and sides with lattice.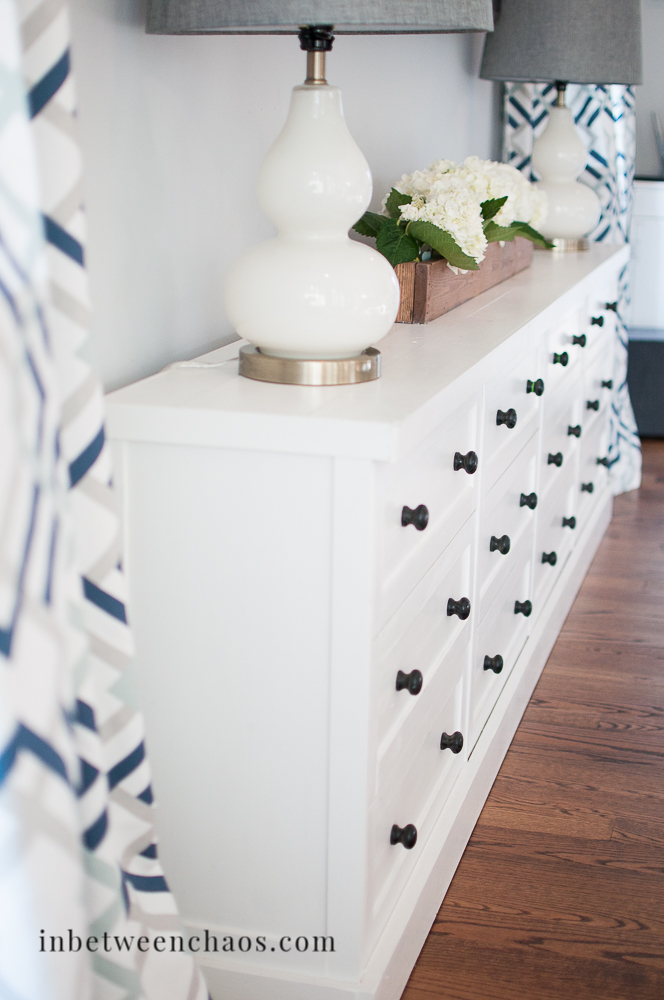 I had wanted to add some fancy-schmancy knobs, but after multiplying even the most basic knobs by 24, I decided to just go ahead and paint the wooden knobs that came with the dressers and call it a day.
I hope this inspired you! If you liked this hack, check out a few of my other IKEA hacks!
UPDATED How-To:
Assemble dresser A (see picture below) according to the instructions. This will be the left end dresser.
Assemble dresser B with just the right side/ leg attached.
Line up dresser B to right side of dresser  A.  Dresser A's right side will also be B's left side. Attach the top of dresser B to the right side of dresser A using a corner bracket as in picture below.

Repeat steps 2 and 3 to attach C to B and D to C.  You will end up with brackets at the red arrows in the picture above, attaching top of C to right side of B, and top of D to right side of C.
To install the drawer slides, find the existing drawer slide holes on all of the interior vertical legs.  Drill all the way through to the other side. The drawer slides from one dresser will butt up against the  other, but they will both fit.

Build out the bottom toe-kick areas with 1x4s, then attach a 1×4 across the entire front of the piece and the sides.
The top is made from 2 1x4s and a 1×6 running the length of the piece.  I trimmed the slides and ends with lattice.
Hope these new instructions are helpful!  Good luck!
-Marianne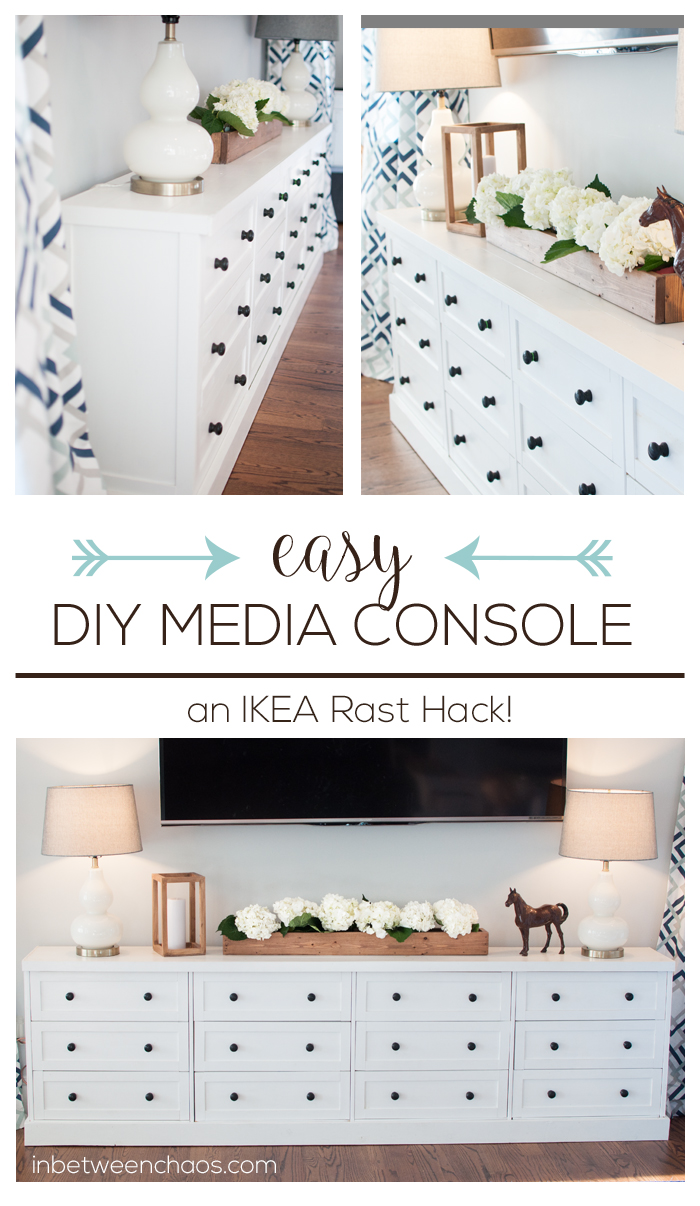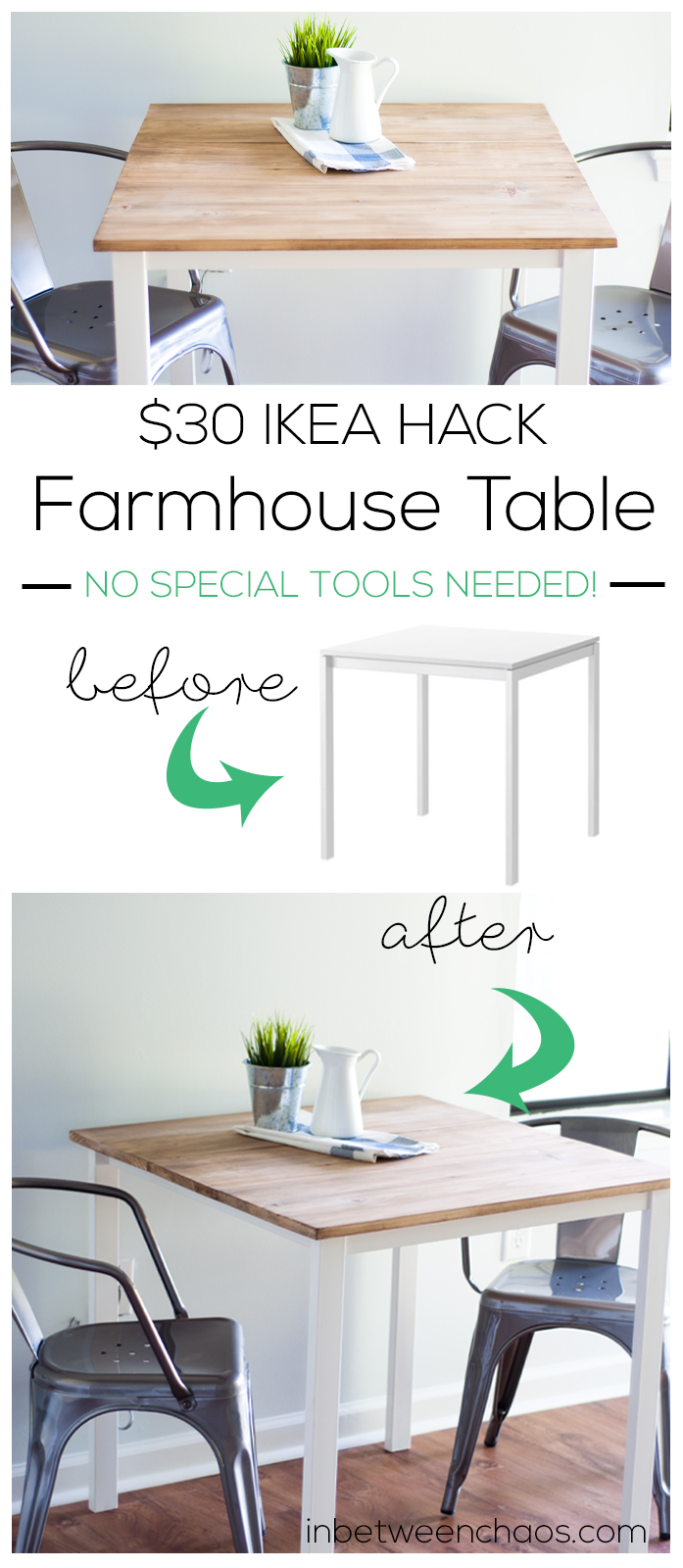 ---
Sources: Items, or similar, seen in the photos in today's post
Rug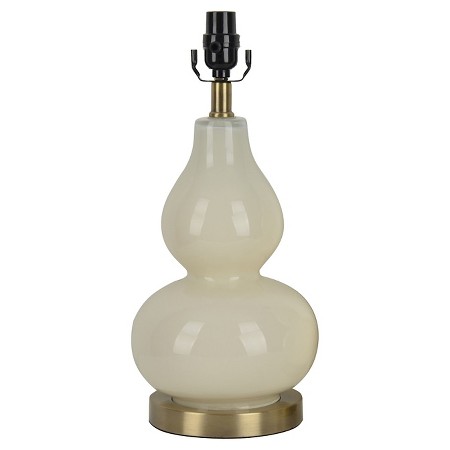 Some of the links shown are affiliate links, which cost you nothing but may pay me a small commission to help support my little blog.  Thanks for stopping by!