I think the first thing many homeowners think needs to happen with a dated kitchen remodel is a change of cabinets.
First, let's start with a bit of a perspective adjustment… oak or wood cabinets need not be removed or painted.  They are trending back in, and that makes it so much easier to update the kitchen without a complete overhaul on your cabinets. Here's the thing, take some oak cabinets with a laminate countertop, complete with a several-inch backsplash, some country-looking knobs, fluorescent light fixtures, and one of those carved wood valences connecting the wall cabinets above the sink… and you have a very dated kitchen.  Take those same cabinets, but update the counters and add some modern knobs, a classic tile backsplash, and some updated lighting, and the entire feel of your kitchen can change. Removing that valence as well as possibly replacing an upper cabinet with some shelving, and your kitchen will look brand new, and totally pinterest-worthy!
Beautiful Inspiration!
via Simple Stylings
Where to Start?
First, take a step back and look at your kitchen. Take note of all the materials, lighting, and details that, when taken in together, read "Dated!" Then keep those in mind while reading down this list.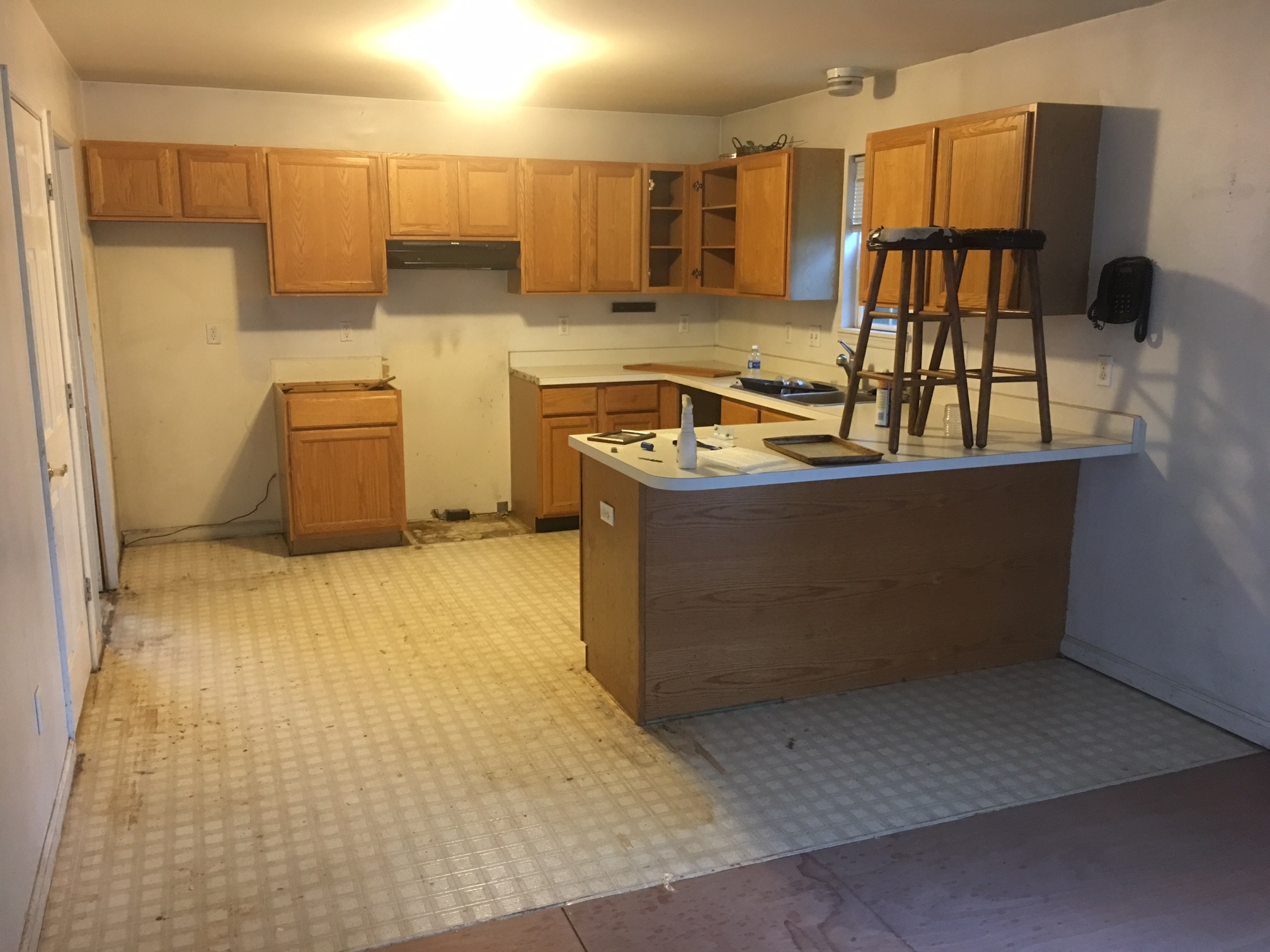 Light
My kitchen was dark, and even though the window was small, its size was diminished further by being flanked so closely with the wood cabinets. If you do have a window, make sure it's getting its due. IF you have upper cabinets suffocating it, as I did, think about possibly moving or removing them – at least those closest to the window.  In my kitchen, I was able to replace one set with shelves, and swap out the cabinet on the other side to allow the window some breathing room.
Reduce the Wood
If you're still not digging the idea of so much wood in the kitchen, look for easy ways to tone it down. In my example, I brought down one of the upper cabinets. I actually wanted to take down both cabinets on the sink wall, but we didn't want to lose too much cabinet space.  But the bigger impact was in planking the back of the peninsula with white planks (check out my tips for this here!). It was inexpensive and easy but very impactful. It's a good trick to use on an island or a peninsula, even if you don't paint the cabinets on the front.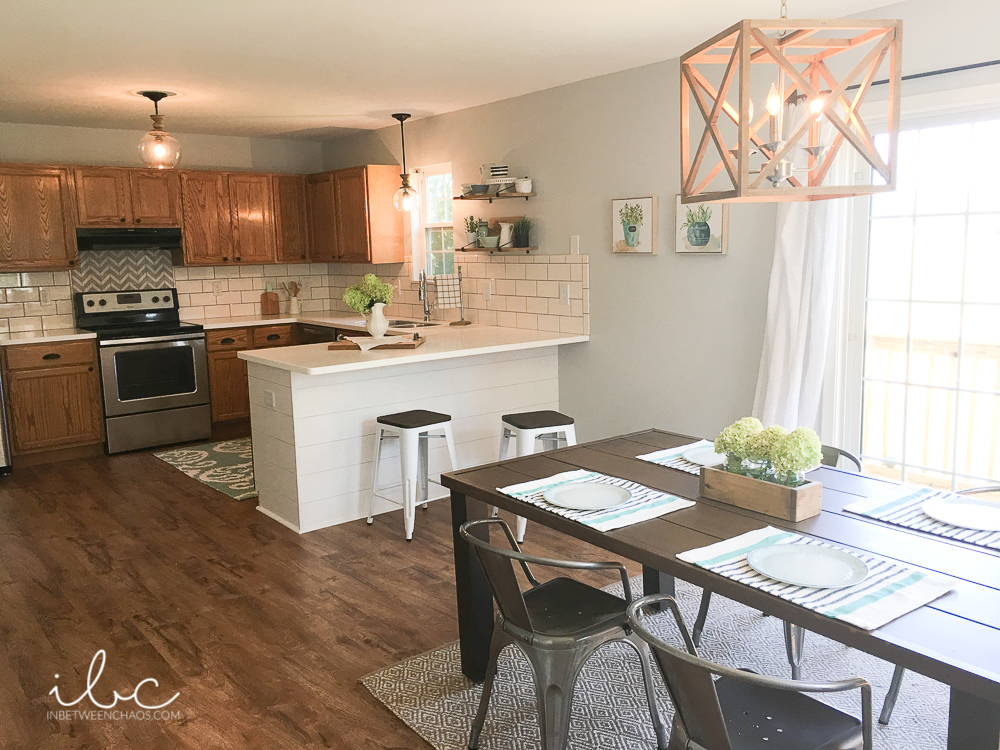 If you don't want to remove cabinets to tone down the wood, you could always paint just a select few. Upper cabinets take a lot less abuse than base cabinets, and therefore a new paint job will last longer.
Wood Tone and Other Color
Embrace the wood look and pick a paint color accordingly. Before I had done anything else, removing the creamy countertop and painting the walls a cool gray-white really made a huge difference in the look of the cabinets. Find a cool, light neutral you like, even a cool white, and your cabinets will feel much more modern.  Also watch for other colors you use.  In my kitchen, the pops of green will paired well against the warm cabinets.
In terms of the cabinets themselves, they really rang orange…. and not in a good way. To tone them down and bring them more into the realm of brown, I waxed them with Briwax in Tudor Brown (I'll be doing another post on this soon). But in short, it's easy (no sanding or top coat), it makes your cabinets look and feel new and clean, and it brought out the natural woodgrain. Oh and one container costs about $20 – I did the whole kitchen, the stair railings, shelves, and I still have a good amount leftover.  Talk about budget friendly.
Hardware, hardware, hardware
I can't say enough about hardware. Find statement pieces. You never saw black cup pulls, like these, on 80s or 90s cabinets, so just adding them brings the cabinets forward a couple of decades.  Find something modern – like some statement-making square bar pulls and go for it.
Countertops
Ok, so maybe you don't need to replace the cabinets, but if you have a laminate countertop with a matching 4 inch backsplash, it IS going to be hard to bring your cabinets out of the 90s. Now, I'm not a materials snob… laminate countertops can be awesome. But if they've been around since the kitchen was built, you probably will need to replace them anyway. Sometimes, with labor, laminate can be almost as expensive as solid surface or stone, so go shopping without preconceived notions. Find something simple with minimal action, and don't even think about adding a matching backsplash! Keeping the edges simple gives it a clean look, and helps the budget.
Depending on the layout of your kitchen, you may be able to find premade laminate countertops that will work beautifully with your décor and your budget. IKEA sells premade countertops that range from $50 to $100 for an 8 foot length. A simple white would look awesome with the warm wood cabinets.
If you have an island you need to top, consider a butcher block top that would complement your cabinets. If necessary, in this case you could paint just the island cabinets, but at least you're not painting all the cabinets!
Backsplash
Go simple and classic, like white subways and a contrasting grout. Avoid the mosaics trying to call your cabinets back a decade or two. Not only do simple and classic, by definition, have more staying power from a style perspective, but they are also budget friendly!
Lighting
Lighting options are aplenty.  Amazon, Target and Lowe's all have awesome budget-friendly but stylish options.  Here are a few of my favorites (sources here).

Or you can go the DIY route… check out The Ultimate DIY Lighting Guide for ideas to make your own.  In my kitchen, I made light fixtures with wooden accents, which made the cabinets feel like a choice rather than what I was stuck with.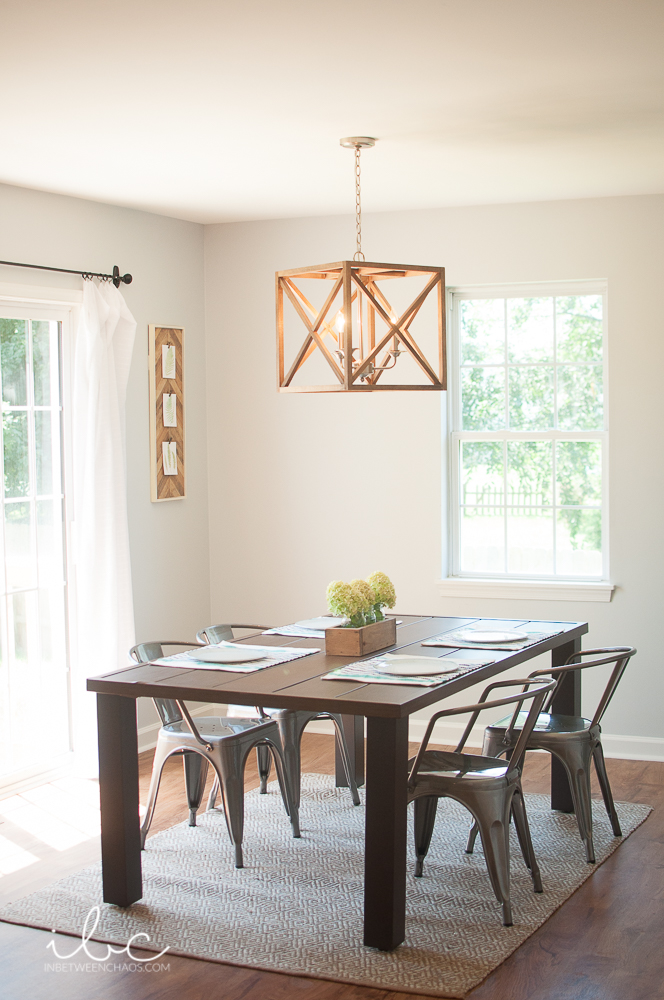 Shelves
Open shelving, in moderation, can also update the look of your kitchen.  Unless you're a neat freak or don't mind a more cluttered look, limit them, though, to what you can style easily if for show, or keep looking neat if you're using them for storage.
via rooms for rent
via Bigger Than the Three of Us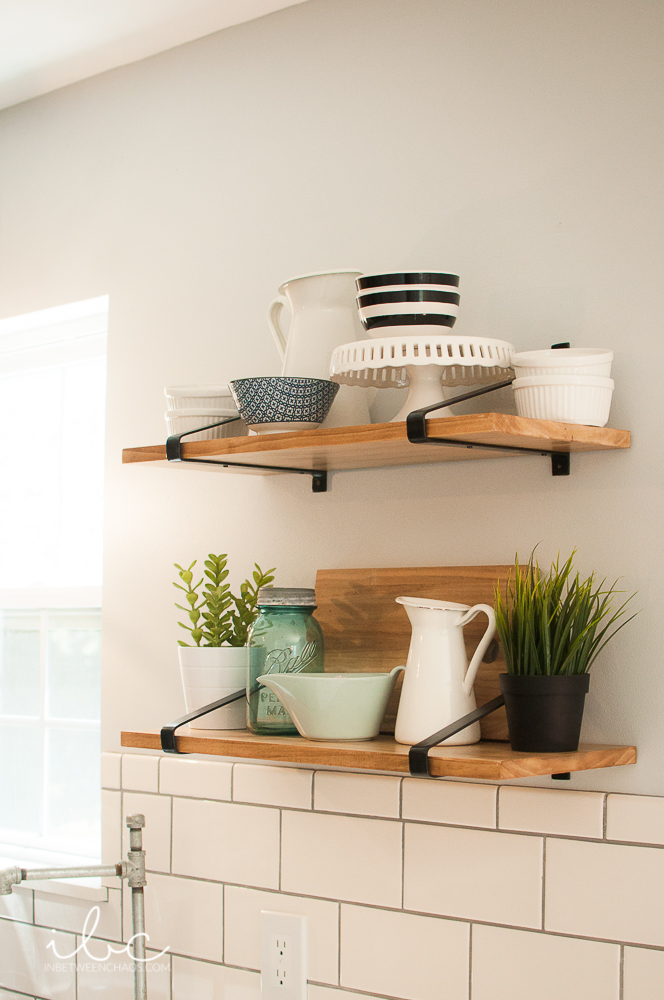 from the skinny house
I hope I've given you some great inspiration to tackle your budget-friendly kitchen reno! Let me know your tips – I may need them very soon on our next flip 🙂
You May Also Like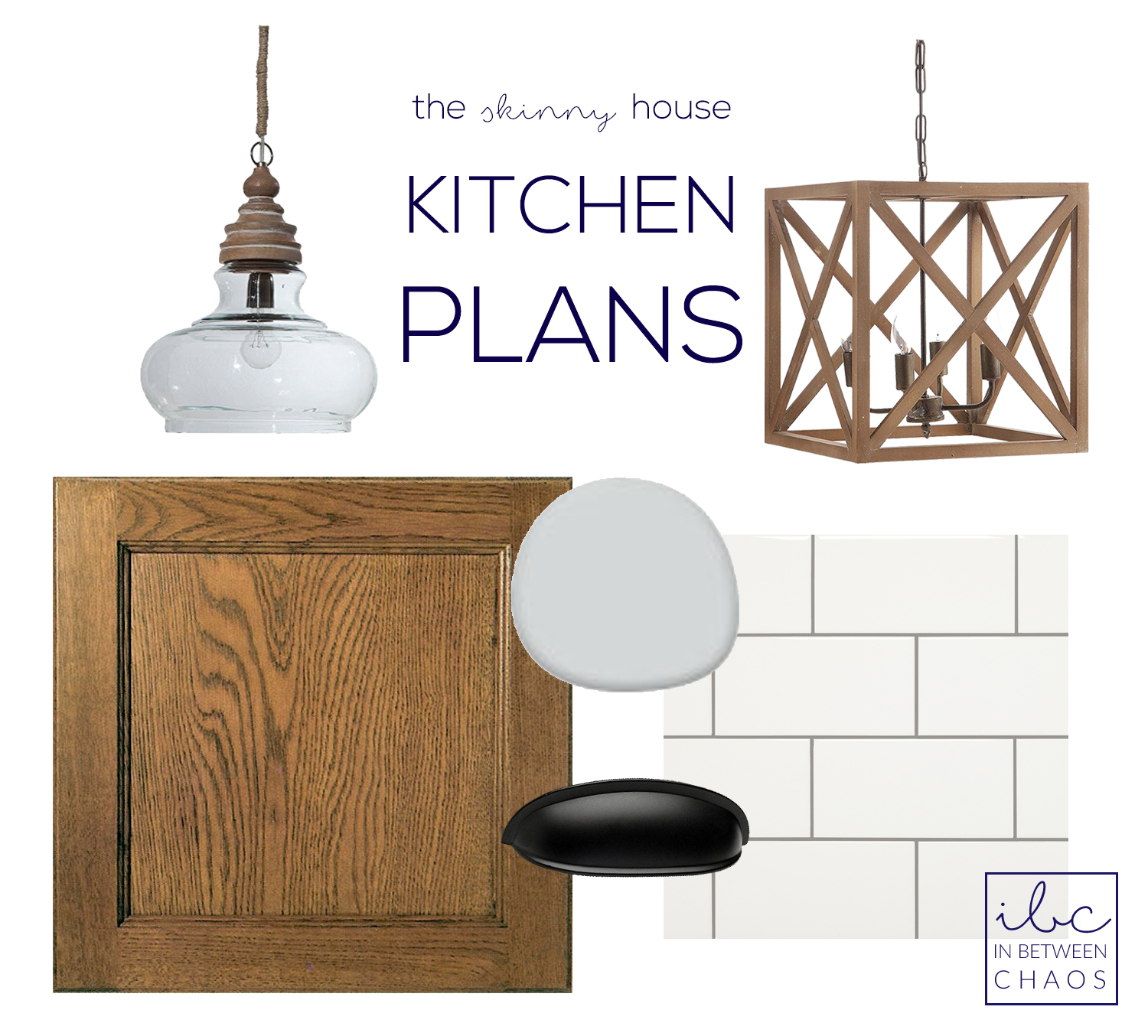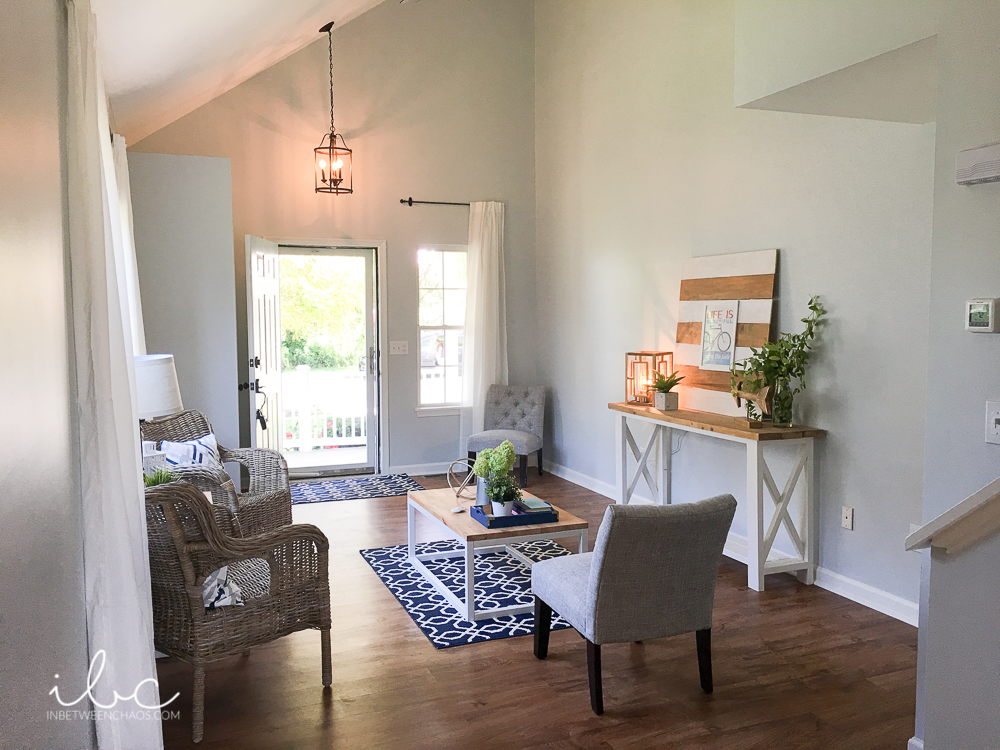 ---
This post contains affiliate links, which cost you nothing but may pay me a small commission should decide to make a purchase. Thank you for your support and for stopping by!