Writing this post is like a victory dance for me! We've crossed the finish line and are ready to list. And I'm ready to share! Enjoy!
Front Porch
A little foliage, a new light, and a new front door color and hardware go a long way. I added the address plaque to bring out the wood theme from inside. Oh, and we took out the trash 😉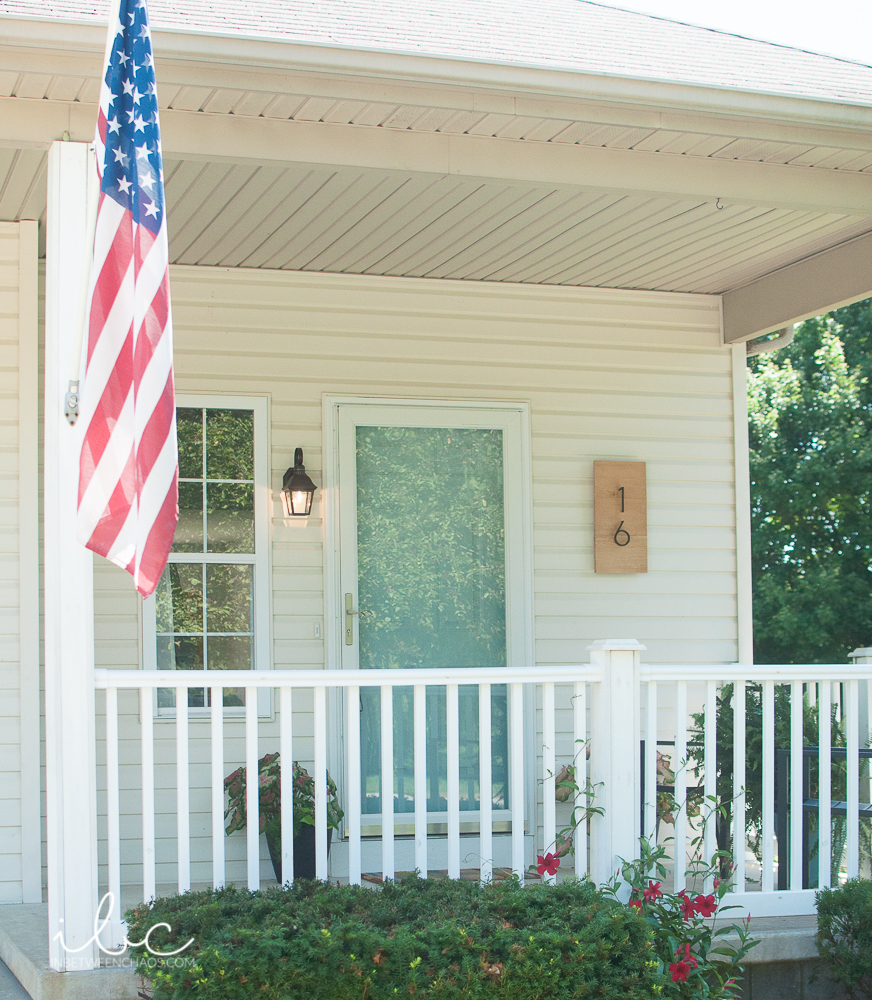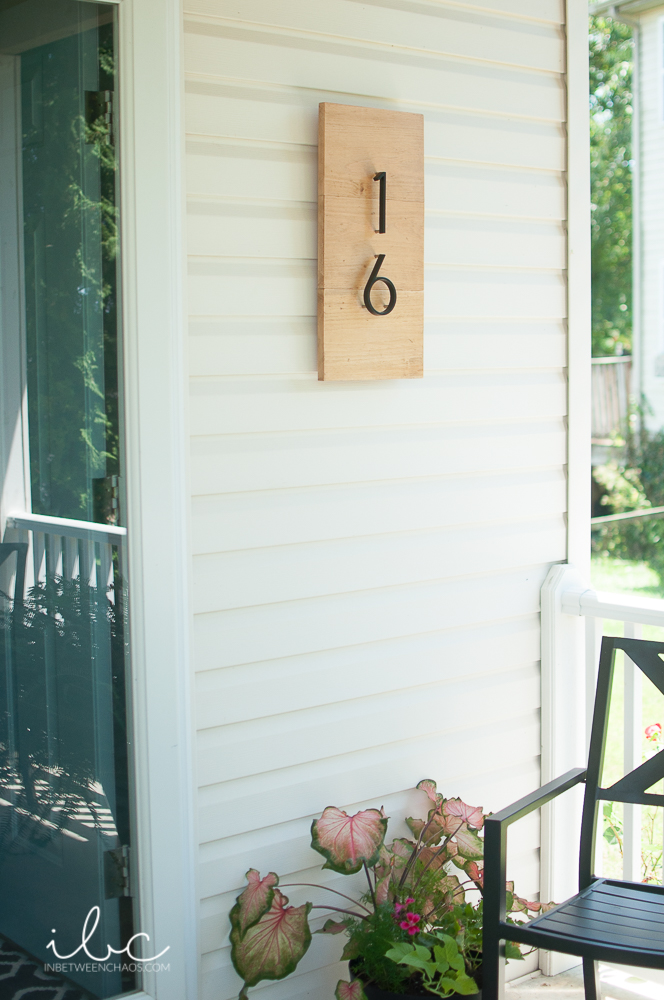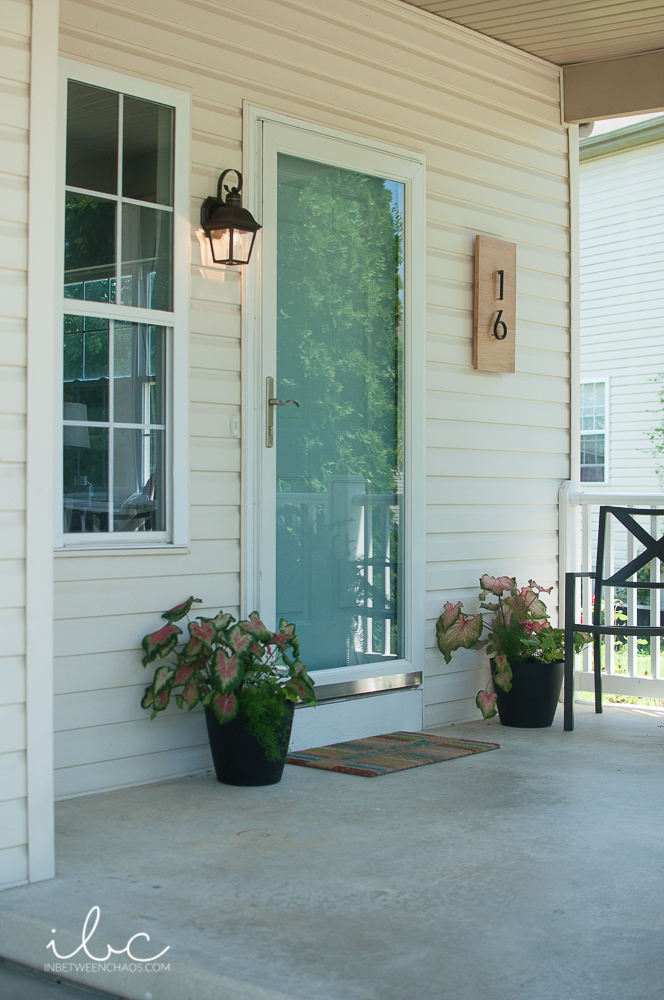 Living Room
The living room felt incredibly awkward from the get-go. There was a random cutout for the "foyer", and with no furniture the room felt very uncomfortable. Frankly, it's a tough layout. But with some furniture and curtains, as well as clean walls and continuous flooring, it feels much better!


Kitchen + Dining Room
I'm really happy with the way the kitchen turned out.  It's big and bright and has a nice, clean feel to it. The vibe is so very different and updated from before, even though we didn't change the cabinets. They shine now, and combined with the other updated wood pieces, like the shelves and lights, they feel intentional. The window is opened up now and not squished in the cabinetry.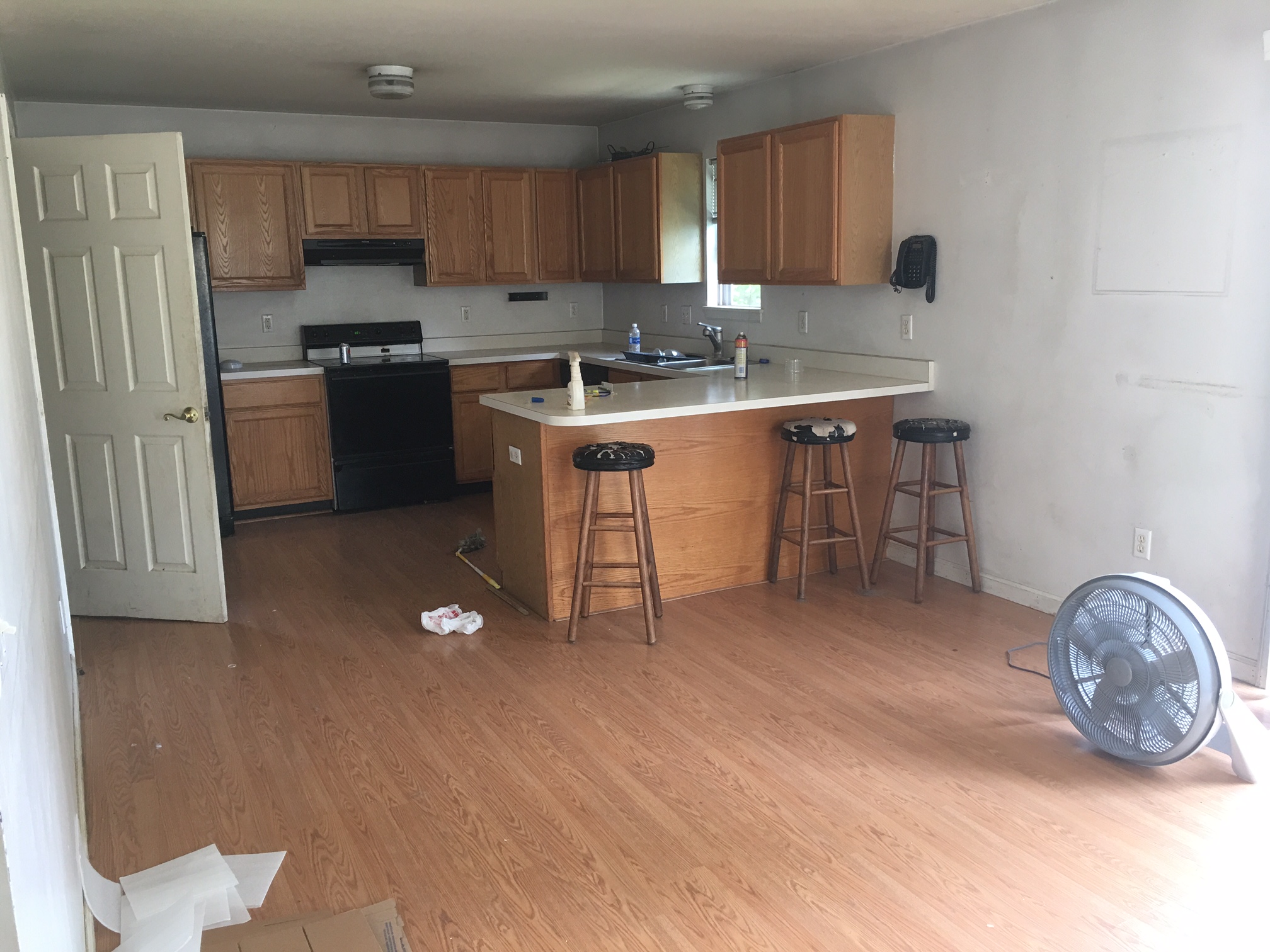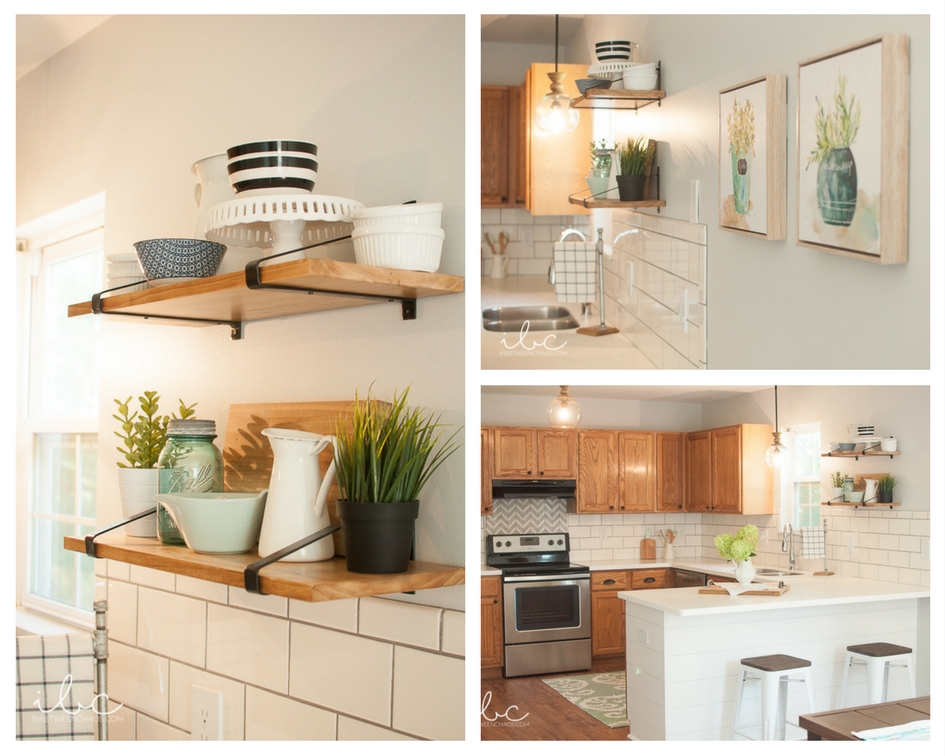 Powder Room
The powder room feels much more modern and open. Quite frankly, it's huge as far as some powder rooms go. But I didn't realize that until the dark paint was replaced. Loving the wooden barrel mirror with the black light.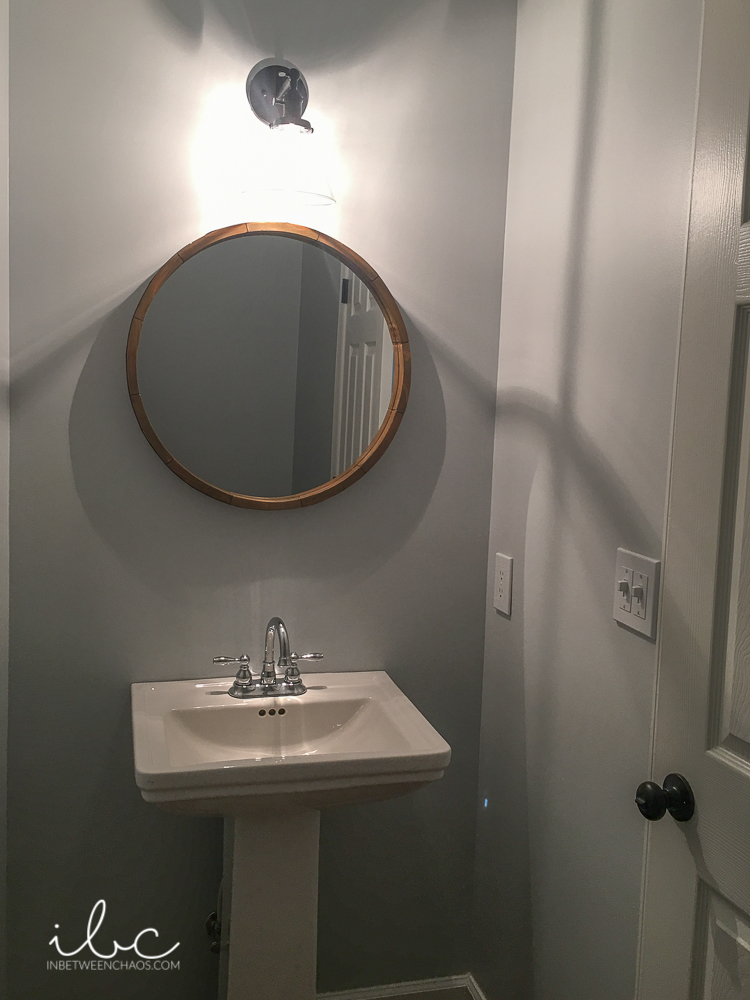 Laundry and Mudroom
Nothing monumental here, but the space feels much more functional now. This is agreat space right next to the garage entrance for the new owners to create a functional mudroom.
Full Bath
The full bath was updated with new… everything.  My vision for this room evolved over the course of the reno, but part of this process is being able to adjust as issues arise.  And they always do. I added planking to the sink wall to give the room a little character, and I really love the black finishes in the pulls and hardware.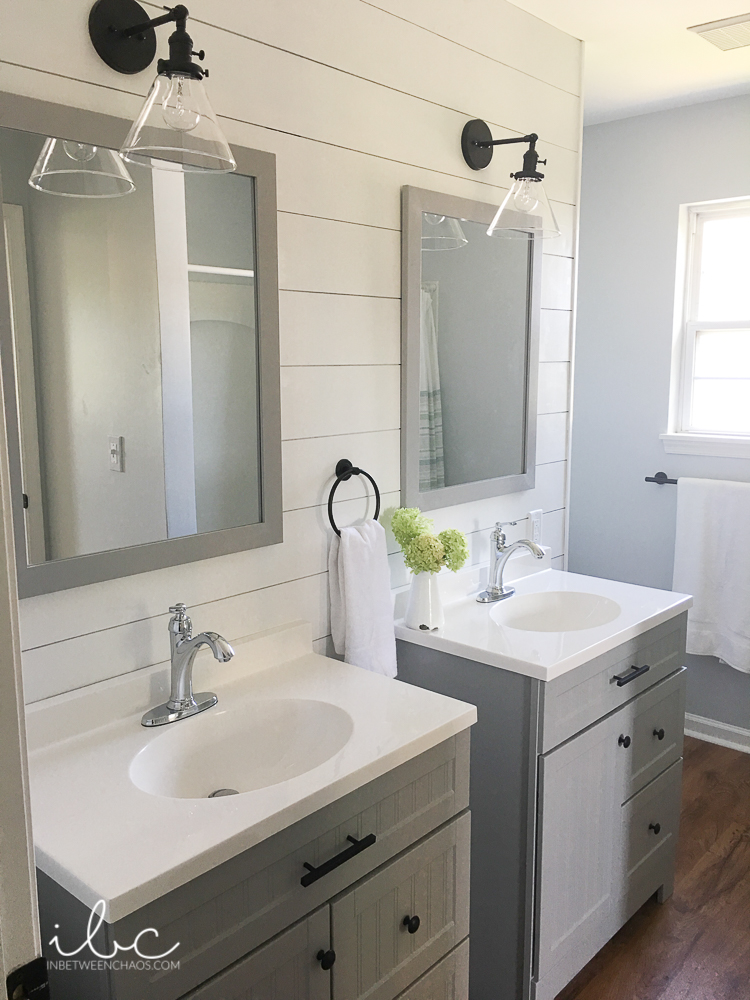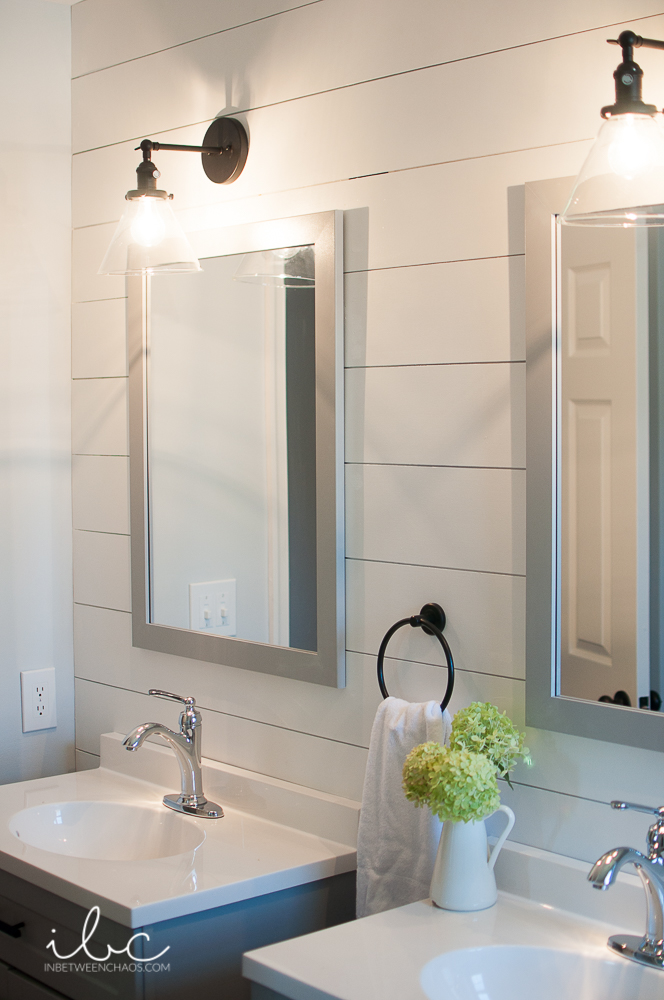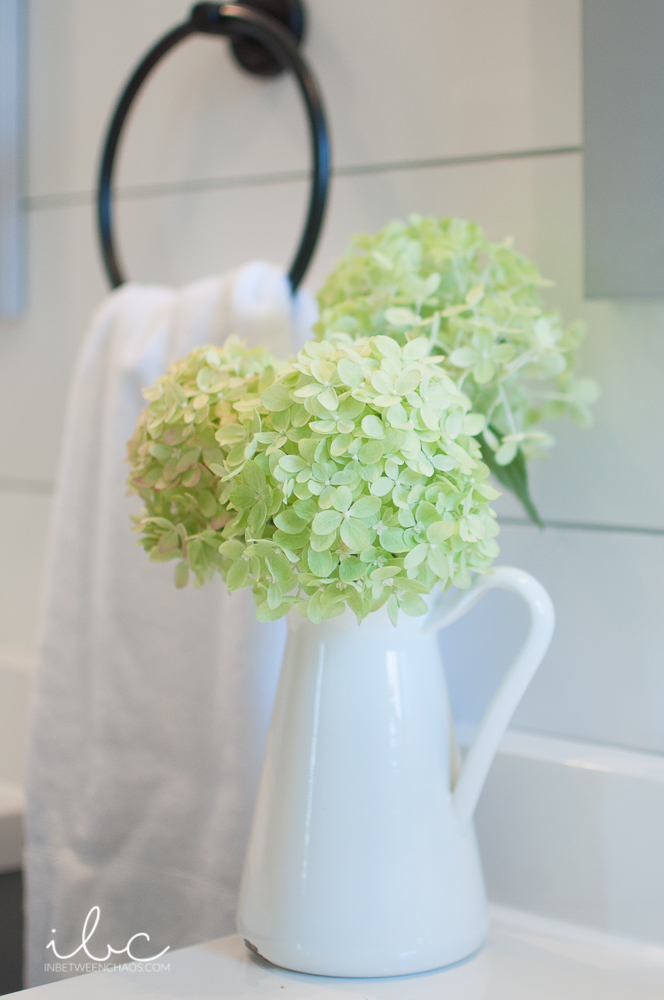 Master Bedroom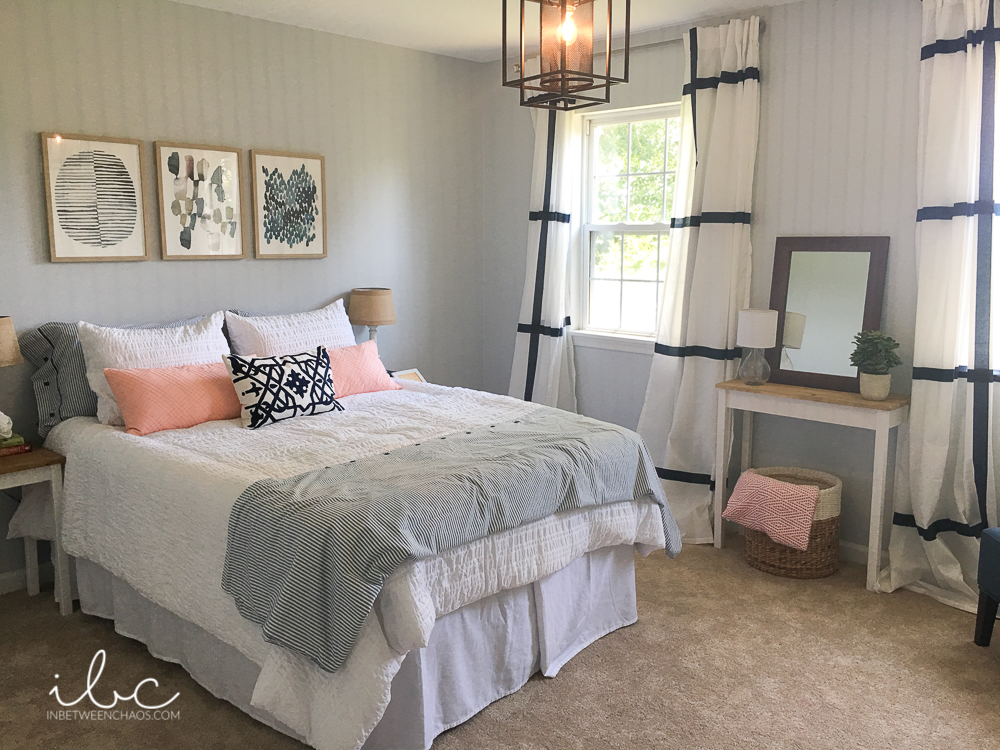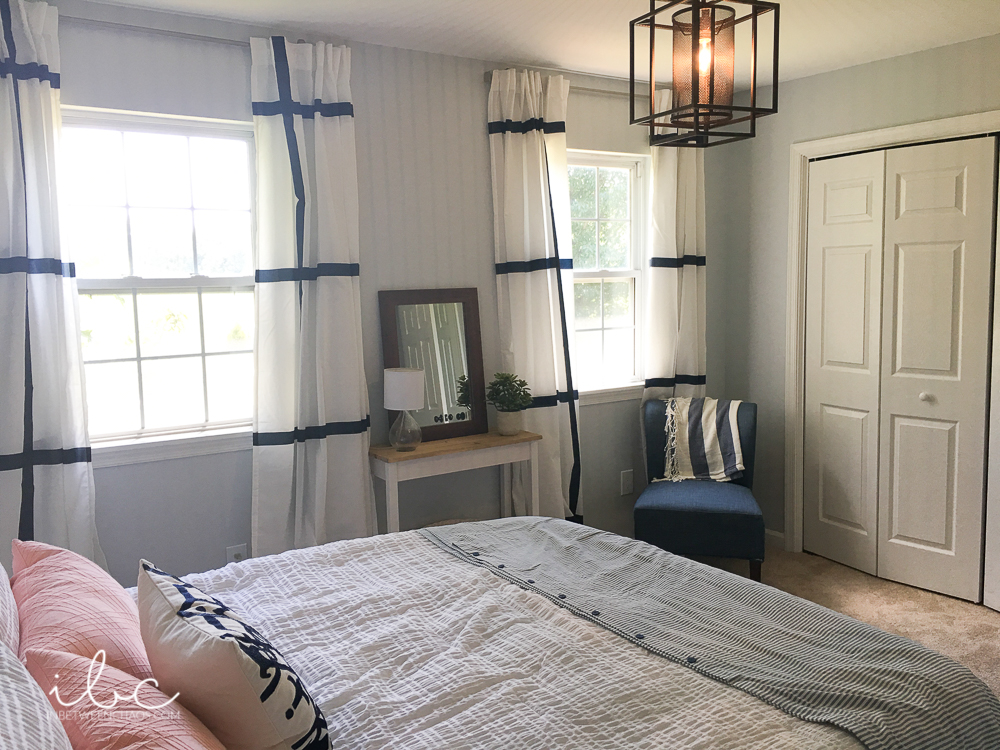 I hope you've enjoyed the tour.. I know I've enjoyed wrapping it up and showing it to you! I'll be sharing some more projects from the house soon, so stay tuned 😉 Be sure to pin for later!
---
Sources
Front Porch
Door Color – Sherwin Williams Interesting Aqua
Address Numbers – Hillman Distinction Series
Chairs – Afton Series
Kitchen
Kitchen Lights – DIY
Counters – LG Hi Macs in Arctic White
Herringbone Backsplash Tile – Splashback Dart White
Pulls – Flat Black Cup Pull
Stools – Hampden
Shelf Brackets – Handmade
Wood Tray – DIY
Towel Holder – DIY
Dining Room
Chairs – Carlisle
Light – DIY
Gather Sign – DIY
Curtains – Nate Berkus
Mudroom
Bench – Boardwalk Bench
Welcome Home Sign – DIY
Living Room
X Console Table – DIY
Small Console Table – DIY
Grey Chairs – Geneva Tufted Accent Chair
Blue Chair – Scooped Back (blue no longer available)
Wicker Chairs – Byholma
Pillows – Winston Navy
Coffee and End Tables – Butcherblock DIY
Striped Wood Sign – DIY
Table Lamp – Fretwork Lamp
Bathrooms
Lights – Permo Single Sconce in Black
Round Mirror – Wood Barrel
Square Pull – Liberty Hardware
Towel Ring and Bar – Gatco Latitude II in Black
Master Bedroom
Artwork – Framed Watercolors