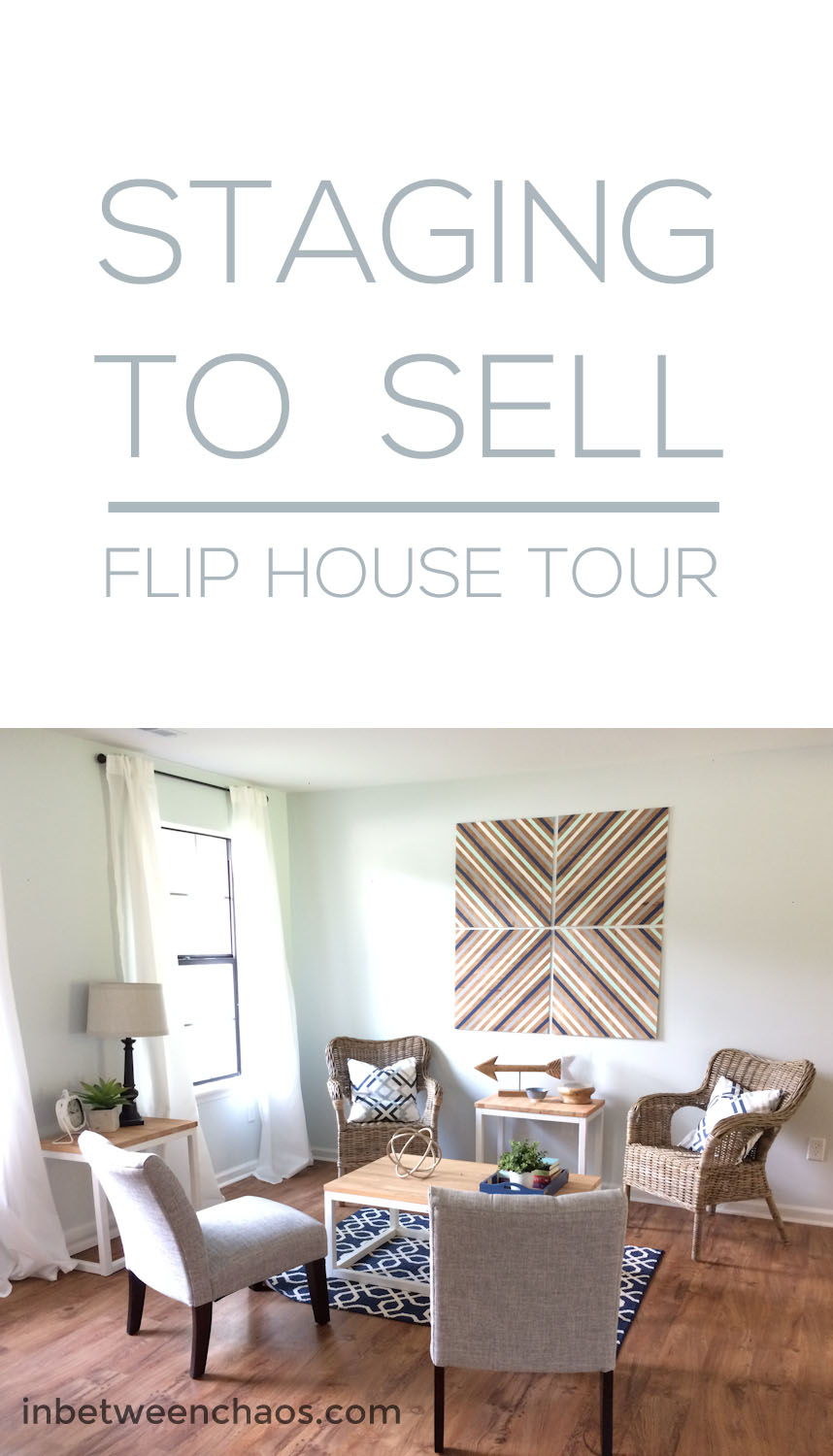 In case you missed the first part of the reveal, check it out here!  I just had too many pictures to put it into one post.  But next we will move on to the room that gave this house its nickname… the downstairs powder room!
Powder Room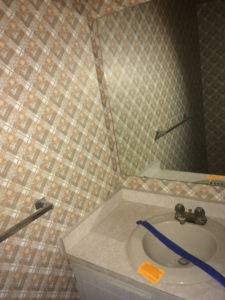 As with almost any powder room, it was tough to get a good picture of this one.  And that is a shame because it was hard to capture the true dungeon this room was in all of its plaid glory.  It's a low ceiling… that was covered in plaid wall paper.  It felt like a cave.  And with the large mirror over the sink, the plaidness multiplied endlessly!  Seriously, just removing the wallpaper and giving it a fresh coat of paint would have improved it dramatically, but I wanted to go a little farther.  I decided to give the sink wall a faux shiplap treatment.  And I love the results!  It's one of my favorite rooms in the house!
The round mirror and barn light add just the right feel to the space.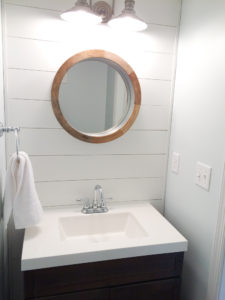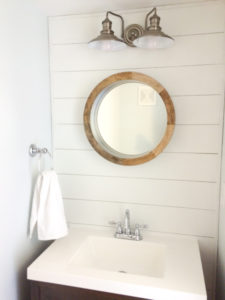 Loft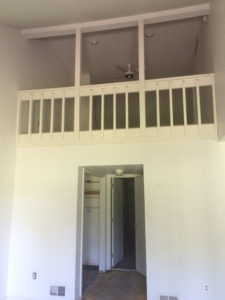 The loft overlooking the fireplace room is a great flex space.  The possibilities with this room are endless. It required little work other than a new light fixture, some paint, and beefing up the railing!  Before the railing was very short and the spindles so widely spaced that a baby could have fallen through.  In fact, my kids were not allowed in that room unsupervised until it we increased the height and added spindles.  Other than that, there was little to be done here.  I made a light fixture (which you can find the details for here), and then staged an office space and a play space.   I made the X desk and hanging folder stand.  The lamp is from the Olson Collection at Target which I've been swooning over.  Love the wrapped cords and all of the beautiful colors 🙂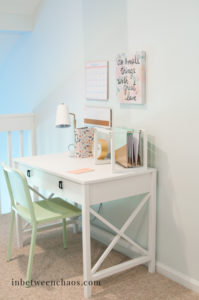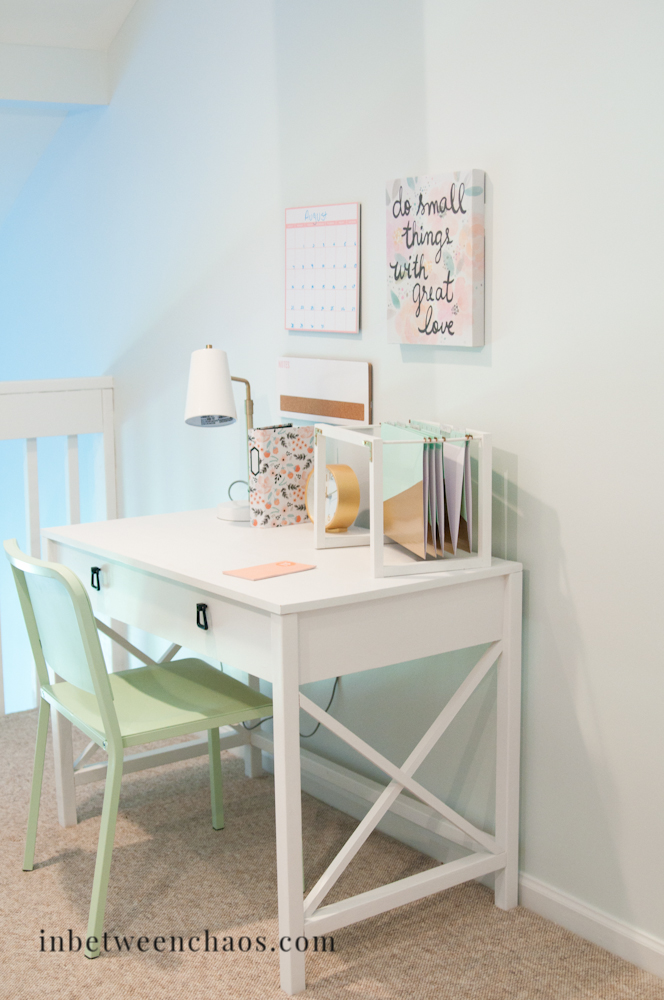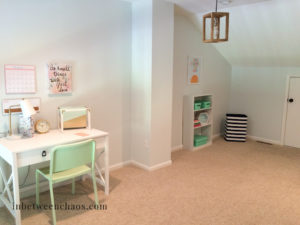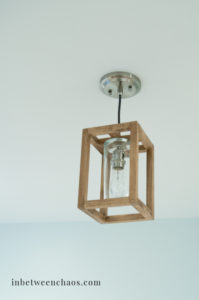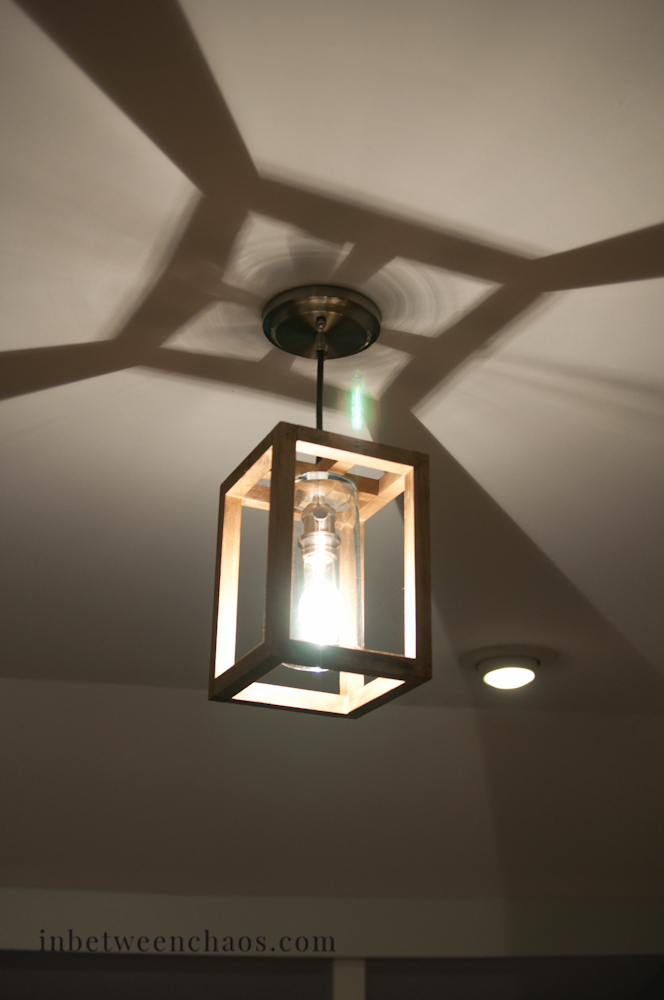 Bedrooms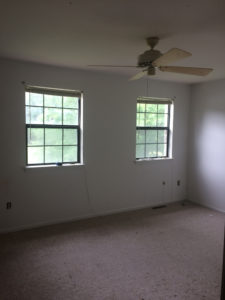 The bedrooms were pretty easy… they really just needed paint, carpet, and new lights.  The staging was fun though!  In the girls' room, I used colorful comforter sets and added fun details from there, like the Wild and Free art and aqua stick lamp.  I had made the curtains a few years ago by ironing coral grosgrain ribbon onto plain white panels.  I made a fun modern desk, and added some artwork made from pieces of scrapbook paper.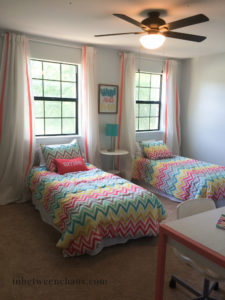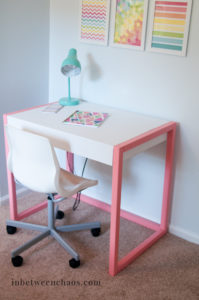 In the master bedroom, I started with plain white bedding and added some color in the throw and pillows.  I also painted a simple geometric art piece to hang above the bed.  In the sitting area, scooped back chairs anchor the space, along with and a striped throw, and console table.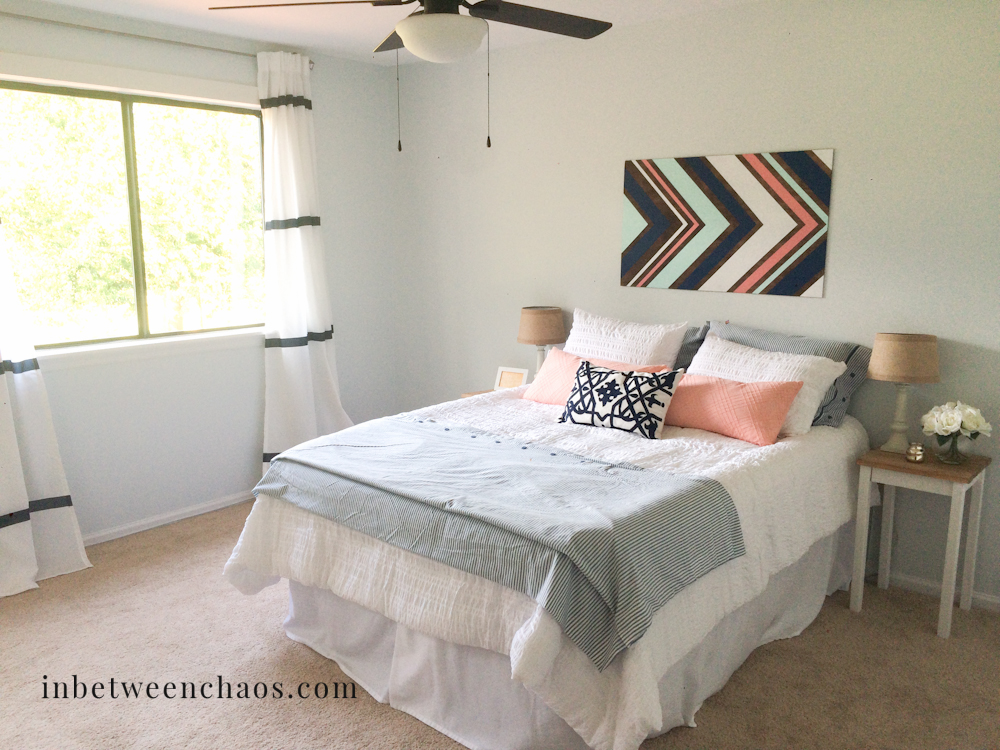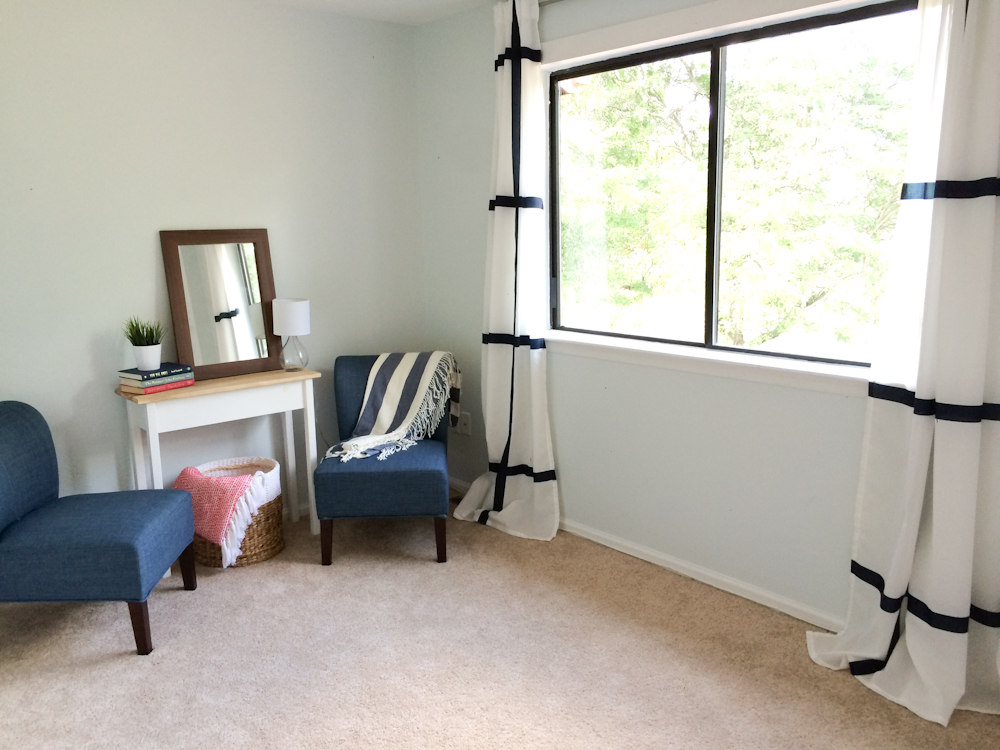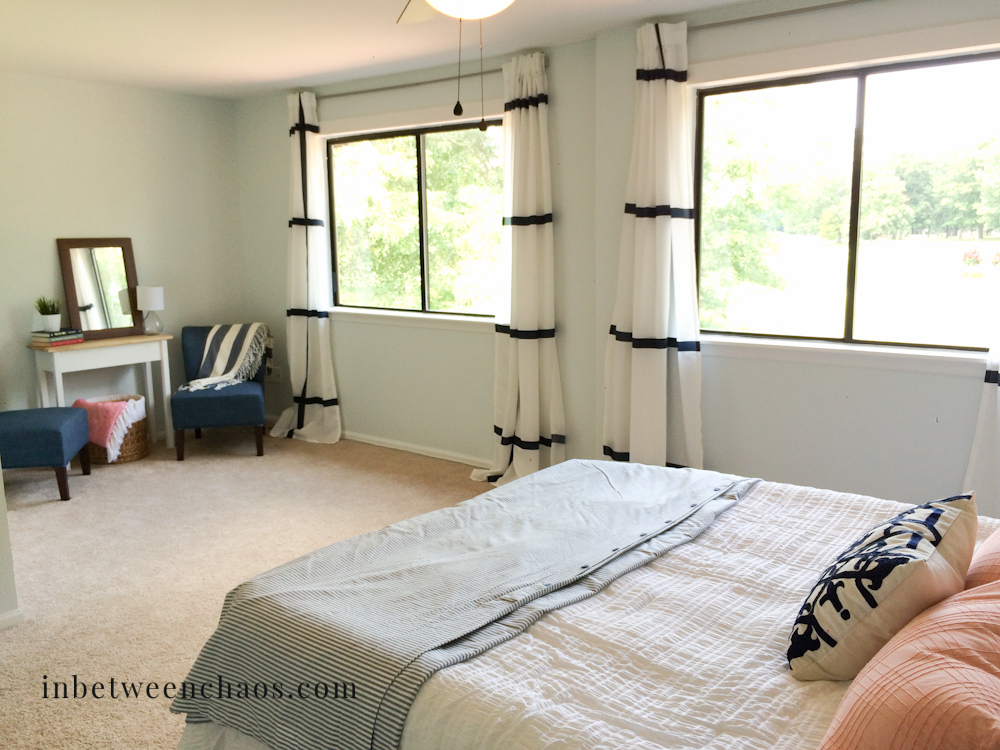 Bathrooms
And last, but certainly not least, the bathrooms… I know you are itching for some more plaid, right?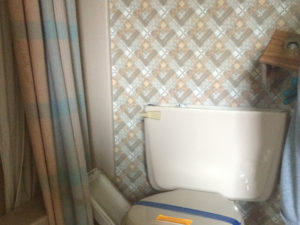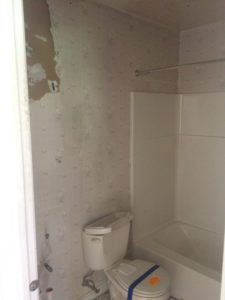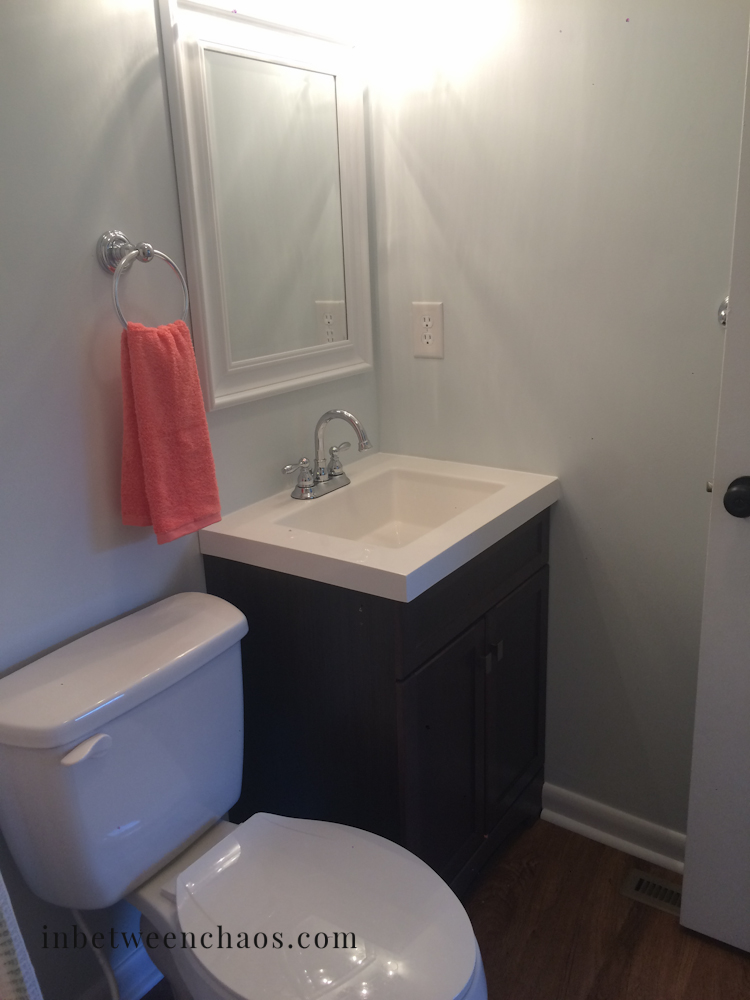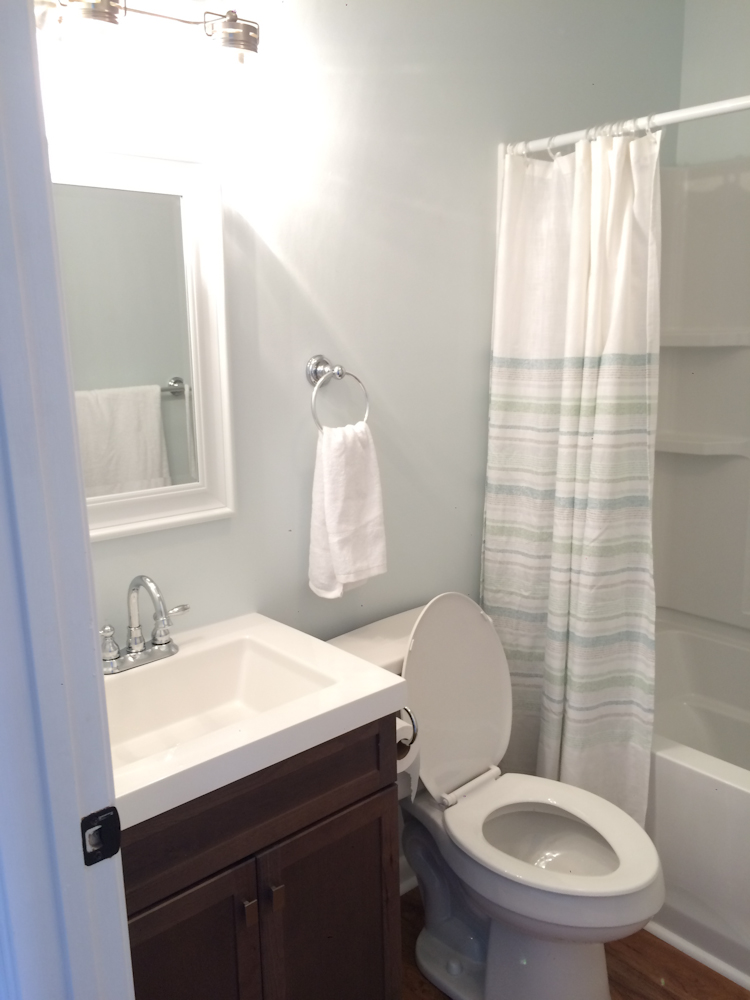 And that's it!  I will be starting to share project details next, so be sure to follow me on Facebook and Pinterest so you don't miss a thing!
---
This post contains affiliate links, which cost you nothing, but gives me a small commission to help support this fledgling blog… win – win!  Thanks for stopping by!